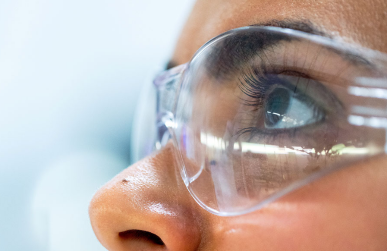 Resilience
Covid-19 has radically changed the needs and focus of a number of our key portfolios. We have worked tirelessly to support businesses and people across the region. In this section you can find out more about our Local Economic Recovery Strategy and the interventions we have made to help the region recover, renew and grow back better in the wake of the pandemic.
Business Recovery
A Coordinated and Tangible Response
The Combined Authority was quickly able to mobilise a coordinated and tangible response to support businesses following the impact of COVID. Importantly the Mayor and the Authority were able to fulfil an important local leadership role.
Over £6 million delivered to businesses in the form of grant funding to 260 successful applicants.
800 forecasted protected jobs and 287 new jobs from the grant funding.
Over 6,000 businesses reached to offer support, signposting, funding and grants.
Business Triage Service established to handle significant increase in calls. Virtual 1-2-1 Support Sessions with professional business coaches established.
A series of 12 Webinars on key Business Considerations in light of COVID for local Business community.
A £390,000 Visitor Economy and Restart & Recovery Grant rolled out.
Full partnership of local organisations brought together to produce the Economic Recovery Strategy, including adapting investment up to the value of £163.6 million.
Supporting Economic Recovery
With a regional focus on providing a sustainable and healthy region in which we live and work, our Covid-19 Economic Recovery Strategy Mission is to:
"To lead the nation out of recession – by accelerating the recovery, rebound and renewal of our economy achieving our ambition to double by 2025 – in a new and more digitally enabled, greener, healthier and more inclusive way than ever before.
We will achieve this through a Local Economic Recovery Strategy that accelerates our recovery by strengthening our businesses' and workforce' capacity for rebound and regrowth. Our local strategy is constructed to address the key phases of recovery and consists of 5 Pillars of delivery: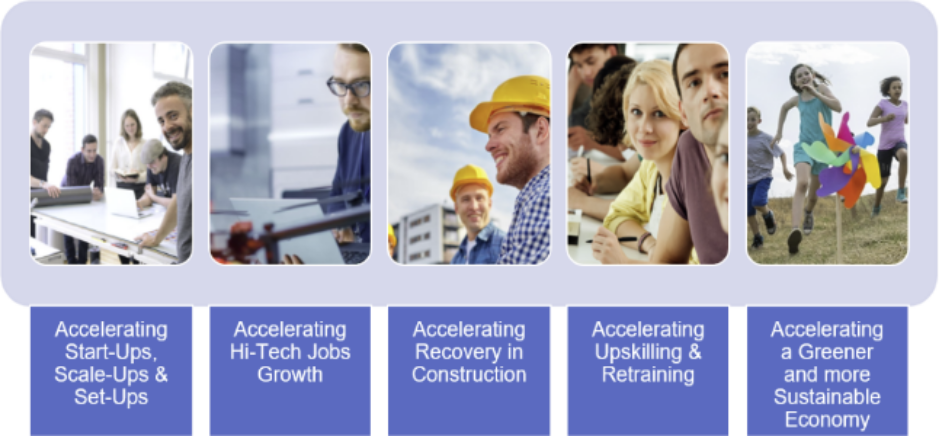 Metrodynamics Covid-19 Impact Data
This live dashboard shows key information on local businesses in the context of Covid-19.
Transport Recovery
A Coordinated and Tangible Response
The Combined Authority is coordinating the recovery of the transport sector within the region; including implementing a range of emergency measures.
The Combined Authority approved the spend of £2.9 million to improve cycle and pedestrian facilities across the region, of which £575,000 has been spent over an 8-week period on rapid, pilot upgrades to get more people walking and cycling through the active travel schemes.
The Combined Authority is also to become the first region in the country to roll out e-bikes and e-scooters to the public, offering the potential for fast, clean and inexpensive travel that can help to ease congestion on the roads and transport networks, reduce pollution and allow for social distancing.
European e-scooter operator Voi have been appointed on a 12-month trial basis to provide e-bikes across the region and test out e-scooters in the centre of Cambridge where they will be assessed closely for safety and viability from 14th September onwards with e-bikes rolled out in early October.
Transport will be key to helping build our local economy out of recession. The Combined Authority working with constituent councils are focused on speeding up our future transport investment where possible and we will continue to look for opportunities for quick wins and overlapping phases of Business Case development to quicken delivery whilst maintaining quality and assurance.
Major transport projects including the A10, CAM and Soham Station are expected to deliver at least £39 billion GVA over the period up to 2045.
Supporting Transport Recovery  
With fewer people opting to make journeys by public transport because of COVID, there was an urgent need to boost alternative modes of travel to the private car, to avoid heavy congestion on the roads, poorer air quality and an unwelcome rise in carbon emissions.
The Combined Authority has worked closely with Department for Transport over the creation of CBSSG (the COVID 19 Bus service Support Grant), and the funding has been used to provide financial support to bus operators where fare revenue has been very considerably reduced. This includes running services for NHS key workers and for intensive deep cleaning of the major bus stations in Cambridge and Peterborough.
RELATED NEWS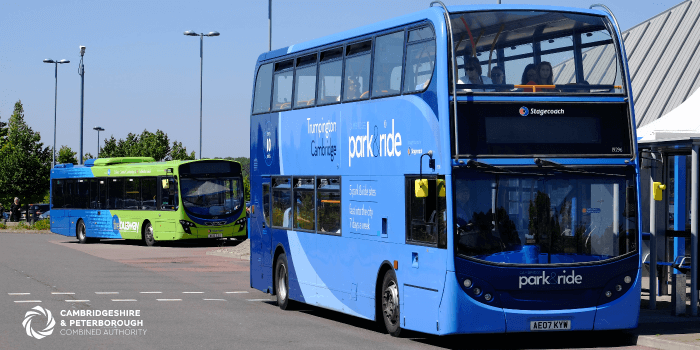 16/08/2022
Cambridgeshire County Council
Stronger project assessment will help make sure Cambridgeshire and Pet…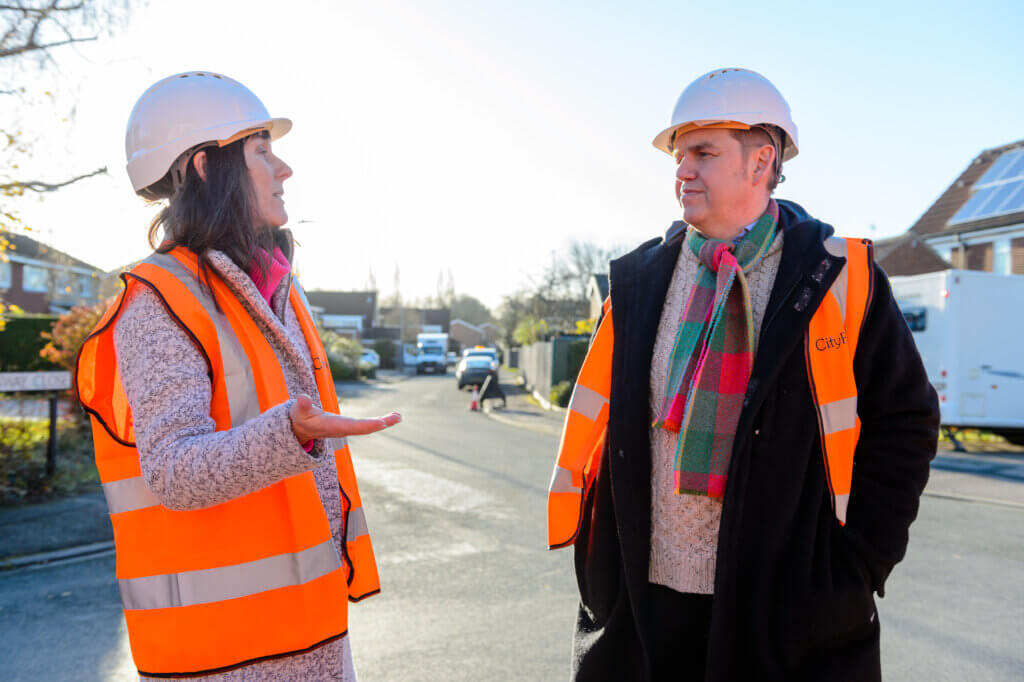 02/02/2022
Mayor
Mayor Dr Nik Johnson statement on the Levelling Up White Paper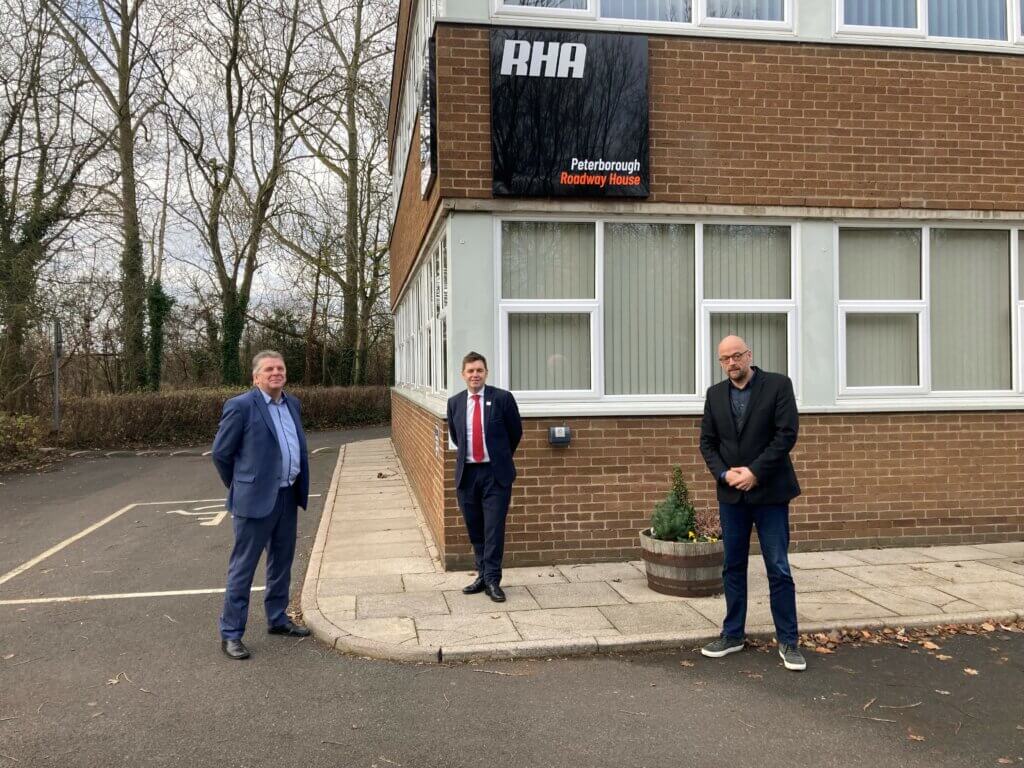 16/12/2021
Adult Education Budget
Mayor meets haulage industry leaders as Combined Authority funding con…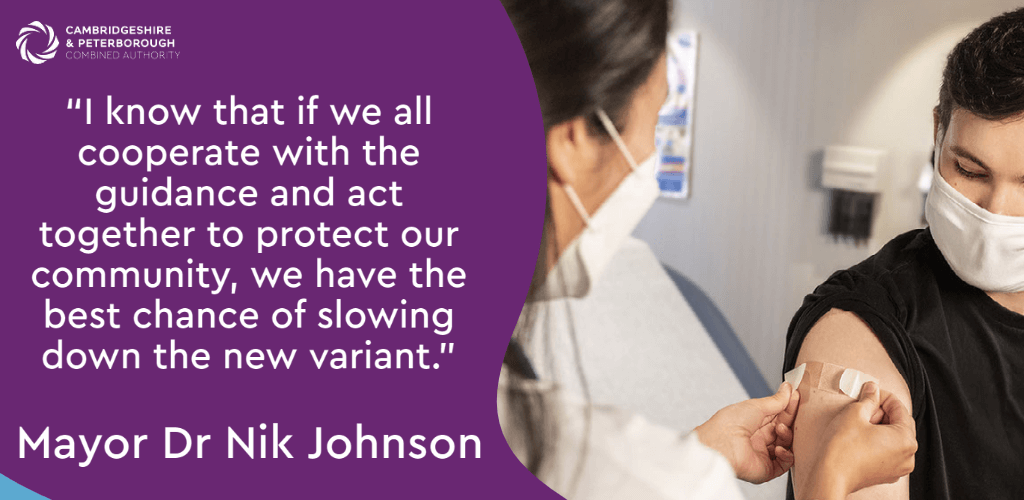 30/11/2021
Covid-19
Message from the Mayor: Covid 19 Update