FAQs
What is the Mayoral Precept that's appearing on my council tax bill?
The Mayor is allowed to ask for money from every household who pays council tax in Cambridgeshire and Peterborough. This money must be spent on the issues for the region that the Mayor works on, like transport. It is paid with your council tax. On your council tax bill this will be called the "Mayoral General Precept". 
How much am I going to have to pay? 
The amount of money you pay per year is different depending on your house's council tax band. The precept is paid per house, like council tax, not per person. You can check your council tax band here.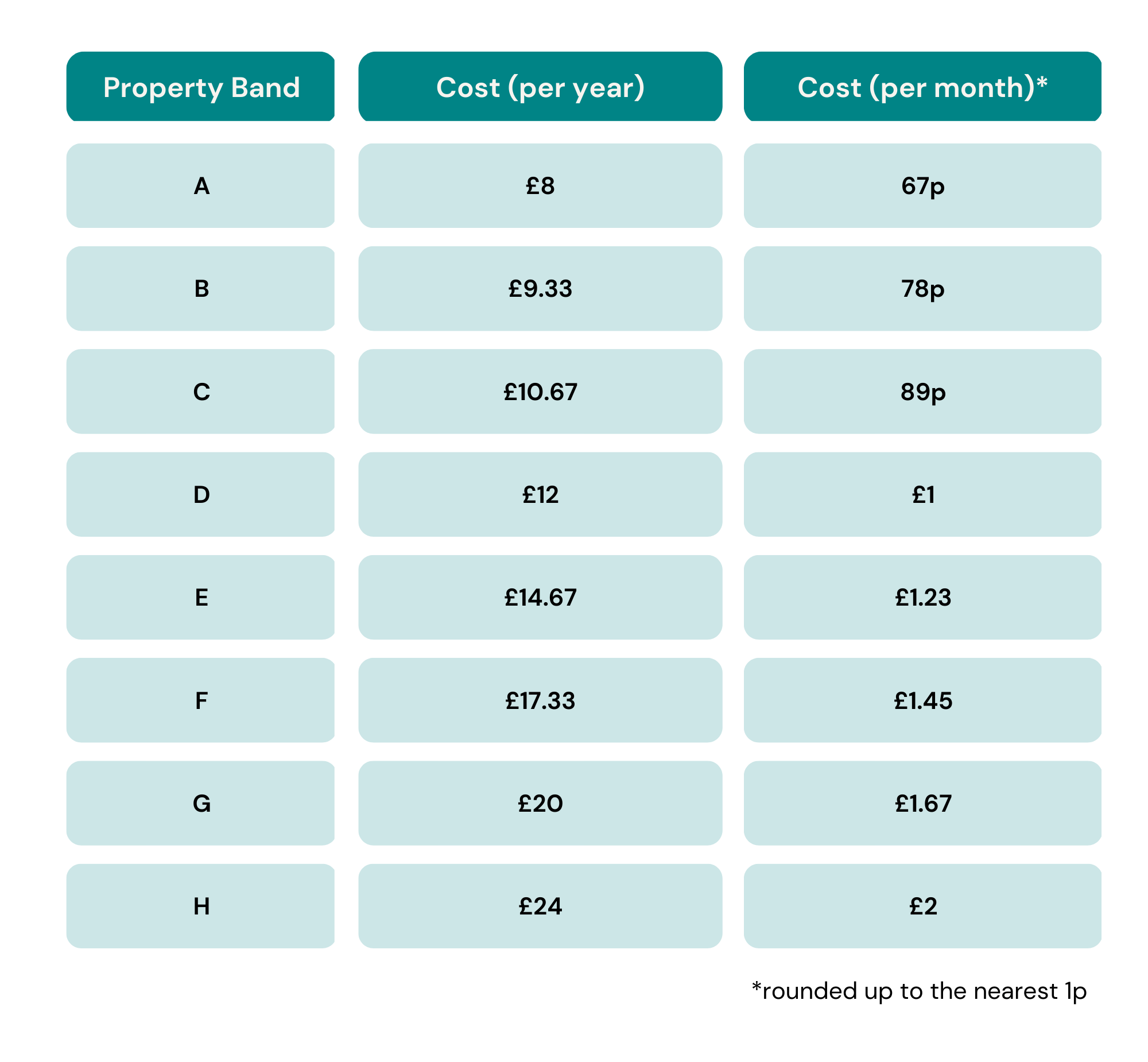 Why should I pay for buses when I don't use them? 
Buses are very important to our region even for people who don't use them. Buses help other people get to their jobs, which helps our area to grow. For every £1 we spend on buses, it helps the region grow by about £7. Buses are also very important for the environment. Three buses replace up to 200 cars on the road.
When Stagecoach cut routes last year, the Combined Authority gave money to keep buses running. We saved 18 services and parts of 5 more. If these routes had been lost, more cars would have been on the road, meaning more traffic jams and more pollution.
The money for buses in your council tax bill (the Mayoral Precept) will make sure those buses run for another year.
Why am I being asked to pay more in a cost of living crisis? 
At the Combined Authority we understand that times are hard for lots of people. Services like buses are also costing more to run. This means that we need to find more money to help. We know that the buses we can keep running will help many people in our area.
Why isn't there enough money for buses? 
In October 2022, Stagecoach East stopped running buses on 18 bus routes and used fewer buses on 5 more. They said that fewer people were using buses, especially after the pandemic, which meant they were losing money. Local people were very angry and worried, because these buses got so many of us to school and work.
The Combined Authority had to quickly find other companies to run buses on these routes. This was very expensive. We expect to spend £3.5 million to keep the same number of buses running for the next financial year (This means until March 2024).
The Combined Authority is given a fixed amount of money every year from the government. We are given £20 million per year for 30 years. Although this sounds like a lot of money, it does not change. We get the same amount of money even when it costs more to do the same things. We cannot afford to keep more buses running without more help.
Sadly we do not get as much for public transport like buses as other parts of the country. The government only spend £16 per person on public transport in our area. They spend £32 per person in Yorkshire and £36 per person in East Midlands.
Will I have to pay this every year? 
The extra money (the Mayoral Precept) is decided every year. If we do not need it in another year, we can decide then whether to stop charging it with your council tax.
I don't pay council tax. Will I have to pay this? 
No. Only people who pay council tax will pay the Mayoral Precept.
How is the Combined Authority funded?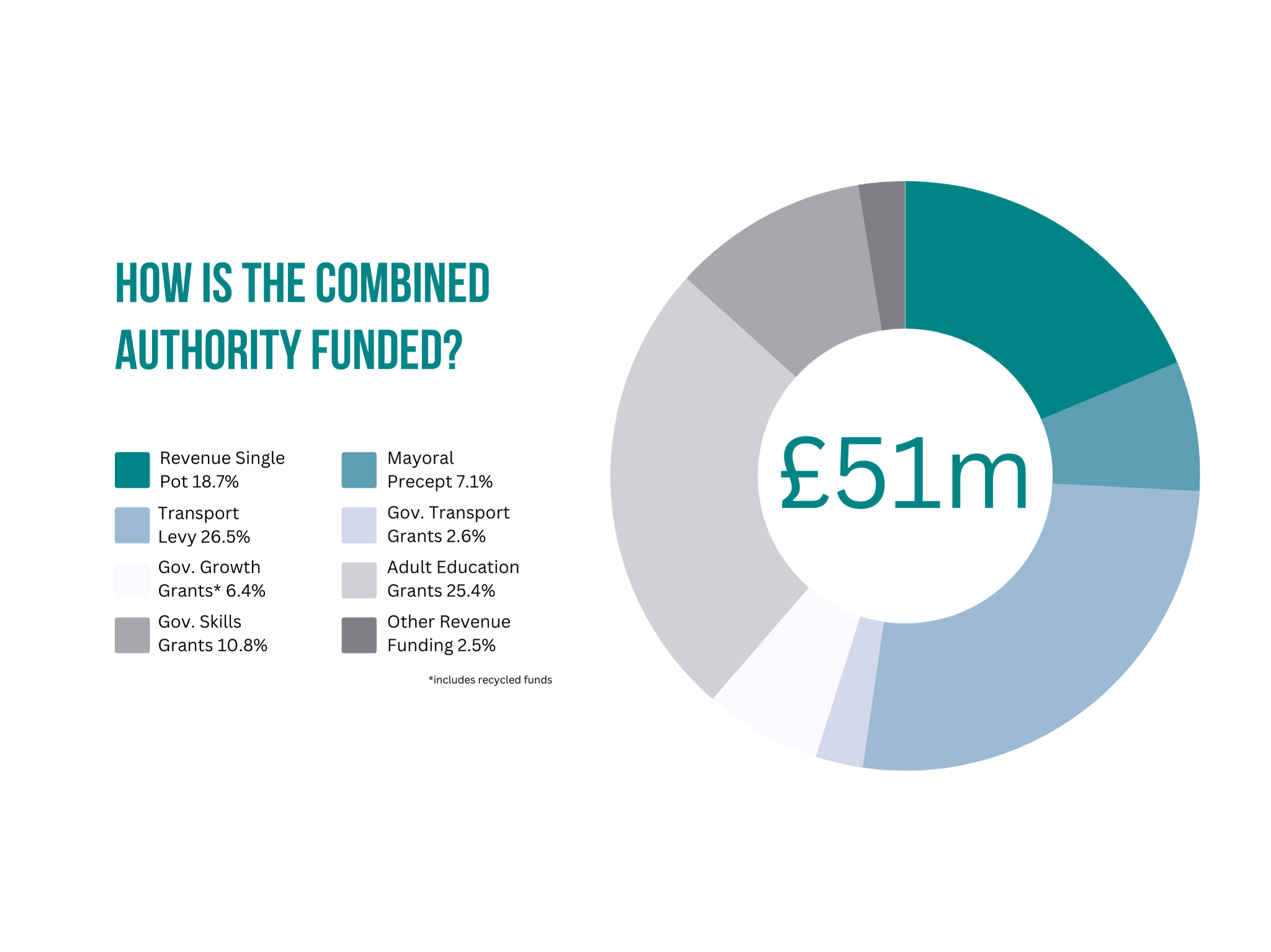 What are all the funds?
Adult Education Budget and Level 3 Funding: This is money from Central Government which we can only spend the Adult Education Budget on education for people who are 19+.
Capital and Revenue Gainshare: This is money from Central Government which the Combined Authority can use on anything we think best fulfil our devolution promises.
EU Funding for Growth: The European Regional Development Fund and the European Social Fund provide money to help EU countries to help people get jobs and companies to innovate in socially conscious ways. Since the UK exited the EU, our funding from these will soon finish.
Housing: The Housing Fund is mostly money received from the Department of Levelling Up, Housing & Communities to fund our affordable housing programme; the housing programme is nearing completion and no further new funding for new housing projects is expected.
Recycled Growth Funds: Recycled Growth Funds are made up of repayments from loans given out by the Business Board using grants from Central Government to help grow the area. As funds are received these can be used in new projects delivering jobs and skills in the area.
Transport Levy and Highways Maintenance Grant: The Transport Levy is paid to the Combined Authority by Cambridgeshire County Council and Peterborough City Council to be spent on Local Transport needs. The Highways Maintenance Grant is money that we are given by Central Government to then hand over to local councils, who look after road maintenance.
Enterprise Zone receipts and LEP Core funding: The Business Board have several funding sources including a 'core' money from Central Government to fund their operating costs and agreements to receive a share of business rates raised within the two Enterprise Zones within the Combined Authority area.
UK Shared Prosperity Core and Rural England Fund: These are funds announced for 3 years from March 2022 to empower local areas to identify and build on our strengths focussing on building pride in place and increasing life chances.
Treasury Management Income: This is interest on loans and deposits the Combined Authority uses to ensure that it has the cash it needs to pay costs while minimising the risk of holding large amounts of cash.