Published on October 21, 2021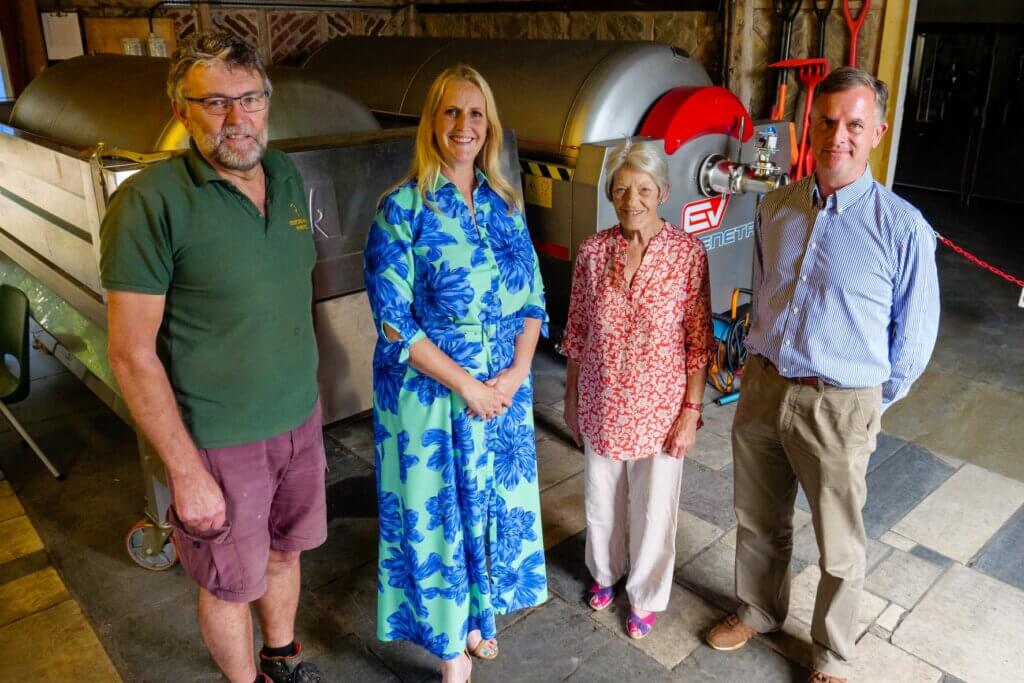 Business Board grant funding helping vineyard meet growing taste for English wine
A south Cambridgeshire vineyard whose primary revenue stream was reduced to zero when the Covid-19 pandemic hit is bouncing back thanks to support from the Business Board.
Chilford Hall Vineyard derived at least 90 per cent of its income to public tours which included a meal and wine sales. But for 18 months from the start of the pandemic, that revenue was reduced to zero.
Business Board member Faye Holland visited the vineyard to see how grant funding has helped it to expand its winemaking capacity in a bid to adapt and grow the business in the face of what has been a seismic shock.
Chilford Hall recognised the opportunity to offer a contract wine making service to the rising amount of growers throughout East Anglia over recent years. More and more land is being turned over to viticulture – the growing and harvesting of grapes – with growers encouraged by the increasingly favourable conditions for wine, and the growing reputation of English vintages.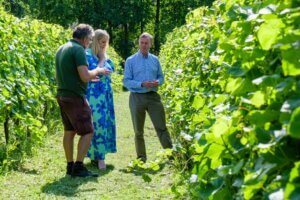 An opportunity was spotted to expand its operations to cater to this growing industry. Chilford Hall applied to the Business Board for a grant in 2020, during the midst of the Covid-19 crisis. The funding paid for a new press and fermentation tanks which has enabled the vineyard to offer the contract wine making service to other local growers. The £53,000 grant came from the Eastern Agri-Tech Growth Initiative, which supports business growth and jobs in the food, drink, farming and horticulture sector, aiming to spur the strength of agri-tech in the East generally.
Public tours have also now returned at what is one of the UK's oldest vineyards, but the wine making capability now represents an important strand of the business's future.
This recent grant builds on previous funding from the Eastern Agri-Tech Growth Initiative in 2016, which enabled Chilford Hall to take on more subcontracted bottling and to establish its own sparkling wine processing facility.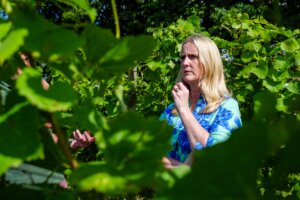 Previously their wine had to be shipped down to Hampshire, but now Chilford Hall has control over the process and quality of the product, while also providing the same service for other growers in East Anglia.
It has come a long way since Sam Alper first took a leap of faith to plant the first vines in 1972. Fast forward nearly half a century, and sparkling English wine is now giving its more established rivals, even of the famous Champagne region, a run for their money in taste tests. The vineyard now covers 20 acres, with 9 different vine varieties each chosen to match the climate and soil conditions of the estate. It produces more than 18,000 bottles of still and sparkling wine each year.
Faye Holland said:
"I really applaud Chilford Hall Vineyard for its ability to adapt its business model in what must have been an extremely challenging time after the outbreak of Covid-19.
"They've recognised a clear opportunity in the growing market for English wine to do more of the processing, including for other growers locally. It was fantastic to see first-hand how grants from the Business Board have helped them take that opportunity, supporting the business's future, and creating and protecting skilled jobs.
"English wine is a success story for the country, and it's great to see Chilford Hall at the forefront for our region."
Andrew Vince, Director at Chilford Hall Vineyard, said:
"Chilford Hall Vineyard is very grateful for the support of the Business Board in awarding this grant, which helped us create a step-change in capacity to provide more wine-making services to the increasing number of vineyards growing grapes in our region."