Published on September 28, 2023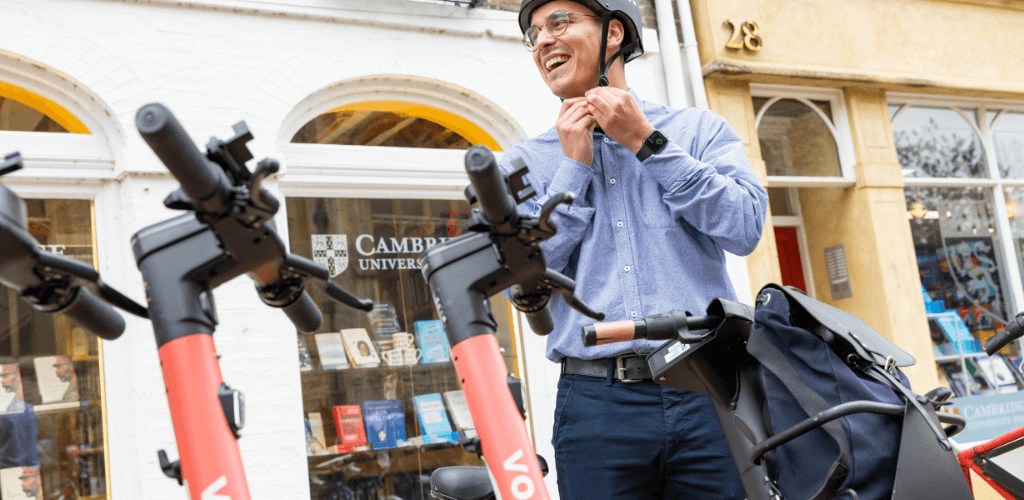 Cambridge celebrates the benefits of Voi shared e-scooters three years on
Over 800,000 car journeys have been taken off Cambridge's roads thanks to the availability of shared e-scooters and e-bikes, delivered by Cambridgeshire and Peterborough Combined Authority.
The figure has been revealed by operating company Voi as the shared e-scooter and e-bike scheme celebrates its third anniversary operating in the city.
Since the e-scooter and e-bike trial was launched in September 2020, public hire e-scooters and e-bikes have become an important addition to transport in Cambridge, with over 150,000 people now signed up to Voi, using them to commute to work and education, with 2.5 million trips taken.
E-scooters and e-bikes are a much greener way to travel and since their introduction in Cambridge have replaced over 800,000 car journeys, clocking up over 3.5 million miles and reducing CO2 emissions in the city by 389 tonnes CO2e and air pollution by 76 kg.
The Combined Authority has worked closely with operator Voi and local partners throughout the trial to innovate and improve safety for riders, pedestrians and vulnerable road users.
The Authority recently worked with Voi to deploy physical parking racks, designed in collaboration with the RNIB, at several key sites across the city to help encourage parking tidiness.
Voi have also pioneered a new "Travel at Work" pilot program in partnership with the University of Cambridge to provide free, sustainable travel alternatives to University employees, offering a green substitute to traditional car-based travel.
In June 2023, Voi launched its newest model of e-bike, the EB2, to replace and upgrade its previous fleet of e-bikes in the city.
Safety is Voi's top priority with the company hosting a number of online safety webinars which cover all aspects of safely riding a Voi e-scooter or e-bike, from wearing a helmet, to the correct position in the road and how to park without causing an obstruction for pedestrians.
Mayor Dr Nik Johnson said:
"Embracing e-scooters has helped transform how people get around Cambridge, reducing car journeys and paving the way for a healthier, less congested and more vibrant community.
"Our commitment to sustainable mobility is not just a change in how we move; it's a commitment to a brighter, cleaner future, where every journey is an opportunity for a healthier, happier city."
Jack Samler, Voi general manager UK, Ireland and France, said:
"Our Cambridge trial has grown in popularity, with more and more people choosing to use scooters for short trips to work, for socialising, to go to the shops or appointments and to get to university.
"Since the scheme was launched in partnership with Cambridge and Peterborough Combined Authority, we've increased the number of scooters and e-bikes and upgraded them so more people can benefit from using micromobility across a wider area, providing a new, easy-to-use and affordable means of transport."
"At Voi, we are delighted to be working with our partners in Cambridge, and we look forward to seeing further progress being made in changing the way we move around our cities and towns to create healthier places to live."
As part of Voi's mission to provide safe, sustainable and reliable micromobility for all, Voi riders can take advantage of Voi for All discounts which provide discounted travel to people on low incomes, disabled people and people over 65, Voi 4 Heroes which supports NHS, emergency service workers, military personnel and veterans, and Voi for Students which offers a 20% discount for students and staff at higher education institutions.