Published on September 14, 2018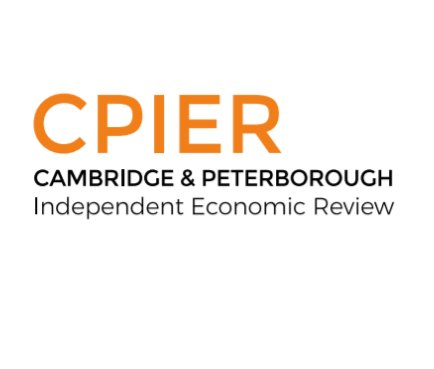 Cambridgeshire and Peterborough Combined Authority welcomes ground-breaking independent report by UK
The Cambridgeshire and Peterborough Combined Authority (CPCA) today (Friday, September 14) welcome the findings of an in-depth, independent study by leading economists and academics, revealing why this area is so important for the future of the UK economy and how we can build on that success.
The Devolution Deal with Government, secured in March 2017, included a target to increase economic output by nearly 100% in the next 25 years, from £22bn to over £40bn. The Cambridgeshire and Peterborough Independent Economic Review (CPIER) highlights the actions needed to achieve this and make the region a leading place in the world to live, learn and work.
Mayor James Palmer said: "The interim CPIER report in May detailed just what a dynamic, fast growing economy we have in Cambridgeshire and Peterborough and also the challenges we face in making that growth sustainable into the future. This final report is about identifying what meaningful actions need to be taken to ensure we do just that.
"The report shares my view that we must not shy away from the major skills, housing and transport issues which threaten that continued prosperity and supports my view that urgent action and bold and ambitious thinking is needed to tackle those challenges head-on.
"So I'm pleased to see it supports, for example, a CAM Metro system, major upgrades to rail and roads like the A10, A47 and M11 and a comprehensive reshaping of our bus service. It also suggests increasing housebuilding rates to 6-8,000 per year, something which I fully support and which can only be delivered with the right transport infrastructure in place.
"The report rightly recognises that new approaches to funding this infrastructure are also needed. That includes innovative mechanisms like land value capture and fiscal devolution – being able to retain more of the tax generated in this area – being brought together through investment funds to lever private sector funding. Further devolution to allow mayoral development corporations would also help us deliver the infrastructure we need.
"Overall, the report supports key transport, housing and skills projects we are progressing, describing them as necessary and deliverable. This is an important endorsement of our direction of travel as we look to seize the opportunity devolution has brought us to significantly improve our area as a great place to live, learn and work."
See full Mayoral Statement here.
The review was led by the Cambridgeshire and Peterborough Independent Economic Commission (CPIEC), chaired by Dame Kate Barker, a British economist who has worked on many independent reviews for central government including the hugely influential Kings Fund report for the NHS.
The Commission invited views from local businesses and authorities, visited all parts of the county, and commissioned brand new research into important subject areas.
The work was jointly funded by the Cambridgeshire and Peterborough Combined Authority, the Greater Cambridge Greater Peterborough Local Enterprise Partnership (replaced by The Business Board on April 1, 2018) and Cambridge Ahead, a leading, independent business and academic member group.
It finds startling evidence that national figures miss the true scale and pace of the business growth that has happened here over recent years. Employment growth is found to be 3.3% per year rather than the 2.3% used by the Office for National Statistics.
The review also highlights many of the characteristics that already make us stand out as a region making a significant and broad contribution to the UK economy, including:
Cambridge is the number one city in the UK for patent applications, with three times that of its closest competitor

Peterborough's population growth makes it the fourth fastest-growing city in the UK

The Fens hold the area's highest natural asset of extremely high quality arable land –  50% of England's grade one agricultural land is found here
The full report, available here https://www.cpier.org.uk/final-report/ makes key recommendations about infrastructure, housing, productivity, skills, health and market town masterplans.
The Combined Authority will now work with local industry to agree this area's main priorities for future action and investment on the back of this report to produce the Local Industrial Strategy.
The strategy will be owned by the newly formed Business Board made up of industry leaders from across the county who will meet for the first time on September 24.