Published on June 28, 2022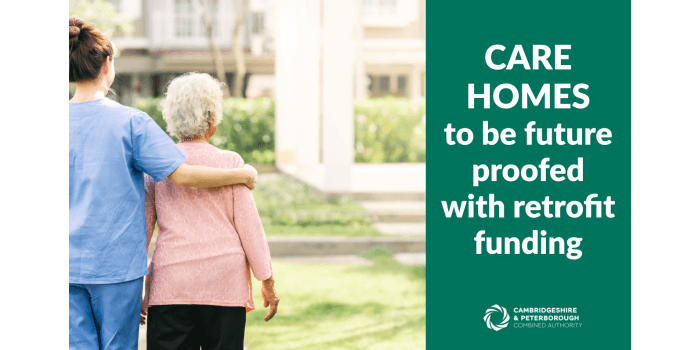 Cambridgeshire care homes to be future proofed with retrofit funding
Care homes in Cambridgeshire and Peterborough are set to benefit from funding for nature-based solutions to reduce carbon emissions. The business case for the programme was submitted for approval at the Combined Authority Board (June 2022) alongside six other major climate projects for Cambridgeshire. Unanimous approval was given to support up to forty care homes in retrofitting projects to meet climate challenges.
The funding will reduce the financial burden of energy costs for care homes to ensure that heating and cooling systems are sustainable and cost-efficient. Where possible, project managers will look to adopt nature-based solutions over technological investments, for instance, the cooling effect from trees rather than air-conditioning.
The increasing likelihood of extreme summer heat means there is expected to be future pressure on care homes to protect vulnerable residents from heat-related health dangers. By facilitating care homes in reducing emissions, the risks of extreme weather events on vulnerable residents can also be reduced.
This project was inspired by recommendations from the Cambridgeshire and Peterborough Independent Commission on Climate which highlighted heating and energy in existing buildings as significant contributors to greenhouse gas emissions in the region. Investment in the private sector was therefore recommended to increase awareness of the need for local action and behaviour change.
The Care Home retrofit programme is referenced in the Climate Action Plan which was constructed in response to the Commission's recommendations.
Dr Nik Johnson, Mayor of Cambridgeshire & Peterborough said:
"Retrofitting care homes is a win-win. It's obvious that modifying existing buildings to emit fewer greenhouse gases is great for the environment. But this is also fantastic news for residents who are ultimately more vulnerable to the impacts of climate-related weather such as the recent record-setting temperatures that we've seen in Cambridgeshire.
Given the financial difficulties that the last few years have presented, it is all the more important that the Combined Authority support businesses and residents in improving the energy efficiency of properties where possible."