Published on January 26, 2023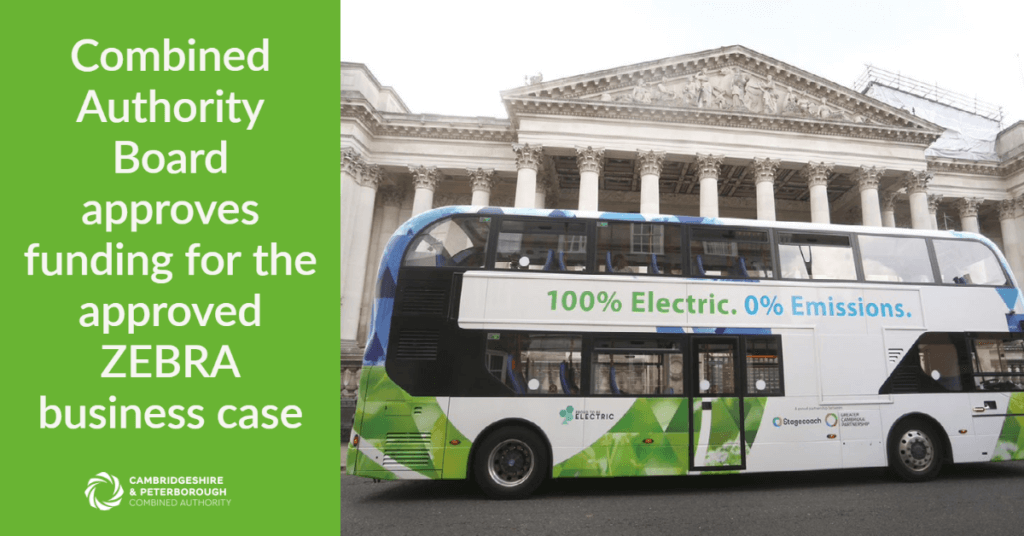 Combined Authority Board approves funding for the approved ZEBRA business case
At the Combined Authority Board meeting on 25 January 2023, a recommendation that capital expenditure of £2,994,000 of funds be allocated to the approved ZEBRA business case was approved. 
30 new zero emission electric double decker buses are due to join Cambridge's ever expanding fleet of cleaner vehicles by the end of April as part of the Zero Emission Buses Regional Area (ZEBRA) scheme. By replacing 30 city centre buses with zero emission vehicles there will be a positive impact on public health by improving air quality for the residents and people of Cambridge. It is anticipated that the reduction in bus emissions in the city centre/Air Quality Management Zone (AQMZ) will equate to 40-45%. Crucially NOx, PM, and carbon emissions in the city centre/AQMZ are expected to return to environmentally acceptable levels following this intervention. The buses will be used on the five Cambridge park-&-ride routes, as well as the Citi 2 service which links Cambridge North Station with the city centre and Addenbrooke's Hospital.    
In addition to the delivery of the buses, works are close to completion on refitting Cowley Road bus depot in Cambridge with simultaneous overnight charging facilities for all thirty buses. Work is has also commenced at Babraham Road Park & Ride to provide a charging facility for the five Park & Ride services that will be replaced under the scheme. 
Speaking of the decision, Deputy Mayor of Cambridgeshire & Peterborough, Cllr Anna Smith, said "Electric buses are going to play a huge part in the future transport network of our region, and it will be wonderful to see these buses on the streets of Cambridge this spring. This is a big step towards our goal of ensuring all buses and taxis operating within the Combined Authority area are zero emissions by 2030, and will have a positive impact on the health of our region by improving air quality in the city, which is something that cannot be underestimated. 
I hope this is just the beginning of seeing electric buses out on our roads across the whole of the Combined Authority region."