Published on September 2, 2022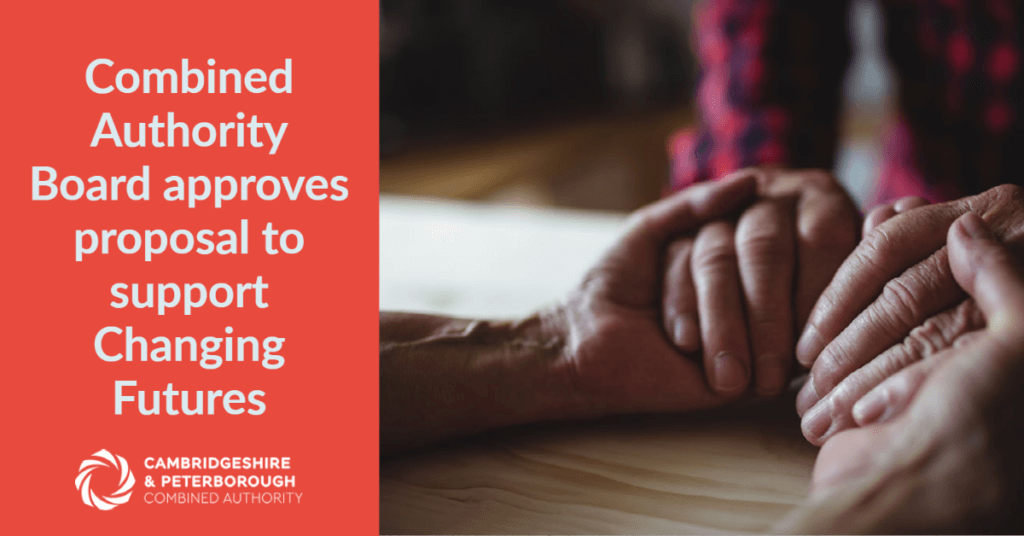 Combined Authority Board approves proposal to support Changing Futures
At the Cambridgeshire and Peterborough Combined Authority Board Meeting on August 31st, the proposal to allocate £60,000 per annum for three years (2022-2025, total £180,000) to support the extension of the Making Every Adult Matter (MEAM) work aligned to the national Changing Futures Programme was unanimously approved.
Changing Futures is an example of a joint leadership approach from Cambridgeshire Public Service Board. It is a project that aims to improve the life position of those affected by from multiple disadvantage including ill mental health, lack of social networks, homelessness, alcohol and drug dependency, financial instability, and the risk of offending. In addition, the project supports the development and coordination of a range of public services to support those individuals.
As part of the Combined Authority's 'Six Keys to unlocking your future', the Changing Futures project aligns clearly to the Combined Authority's Sustainable Strategic Growth Ambition. It has clear connections to the keys of Health & Skills, Reducing Inequalities and Finance & Systems.  The high-level outcomes for the programme include improving outcomes for people with multiple disadvantage and extending their network of support, which should in turn reduce the system costs needed to support them.
By working towards equality of opportunity across our region, we will be able to support people in such a way that should see reductions in A&E attendance, emergency housing use, and arrest, prosecution, and imprisonment, leading to a positive impact on public health across our regions.
Mayor of Cambridgeshire and Peterborough, Dr Nik Johnson said: "It is through the willingness of many organisations to collaboratively work together that we can see great things happen in Cambridgeshire and Peterborough . Changing Futures is a system wide partnership, led by the County Council, that will get better outcomes for those who need them the most, and I am delighted that the Combined Board supported this initiative so wholeheartedly and unanimously."
Robert Pollock, Cambridge City Council, the lead CEO for this programme on behalf of the Cambridgeshire and Peterborough Public Service Board said: "This is another really positive step forward by the CPCA and brings the total contributions made by local partners to Changing Futures to over £1m. This will enable the programme to expand its impact by providing a 'hand-held not a hand-out', to some the most disenfranchised people across our region, in particular through a new partnership across East Cambridgeshire and Fenland to complement additional capacity in Greater Cambridge and Peterborough."