Published on September 29, 2021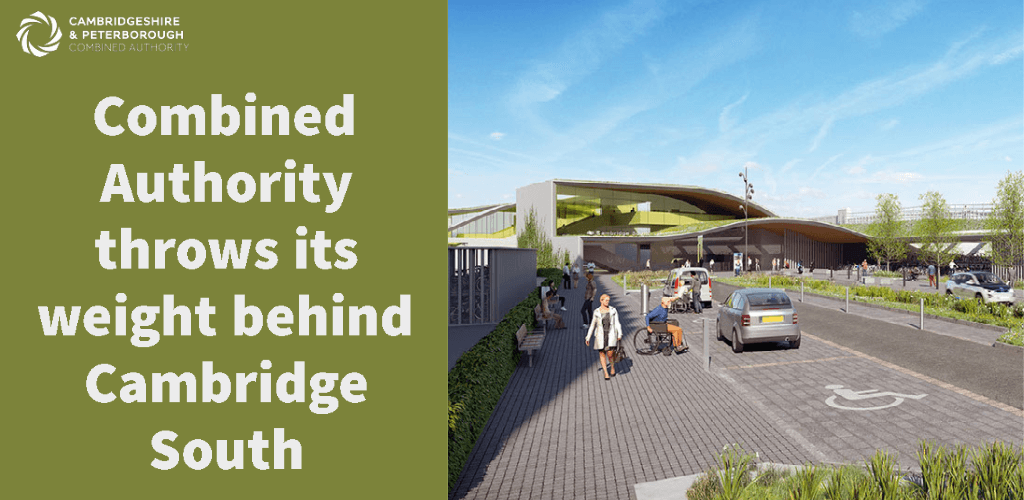 Combined Authority throws its weight behind Cambridge South
The Board of Cambridgeshire & Peterborough Combined Authority today threw its weight behind the development of Cambridge South rail station with a unanimous vote to allow Network Rail to hang on to savings made on planning to put toward future work.
Development of the Cambridge South station remains on time and on budget, with a planned opening date in 2025. This project is being led by Network Rail and the Combined Authority has funded previous stages of the project, been part of the project board, and remains a key stakeholder.
The proposal to allow Network Rail to retain the money was considered by the Transport and Infrastructure Committee on 14 July 2021. Following discussion, the committee resolved unanimously to recommend the proposals to the Combined Authority Board for approval today.
Network Rail has underspent on the most recent development stage ([GRIP3]) and has asked the Combined Authority to roll the saving forward into the next phase.  Although the Combined Authority's financial contribution to the Department for Transport for this project is coming to an end, further funding is being provided by DfT to take the project up to the planning stage.
Network Rail underspent on the previous phase of the project by £1.3 million. The Combined Authority, as part-funder, is entitled to the return of £217,000 as a result but today agreed Network Rail's request to commit that underspend to support the next phase of the project.
Although now fully funded by DfT, a Combined Authority contribution demonstrates the Authority's commitment to the Cambridge South project as a key public transport hub that can form a vital centrepiece for Mayor Dr Nik Johnson's plan green and active travel development.
Other funding partners have agreed this request.