Published on October 19, 2022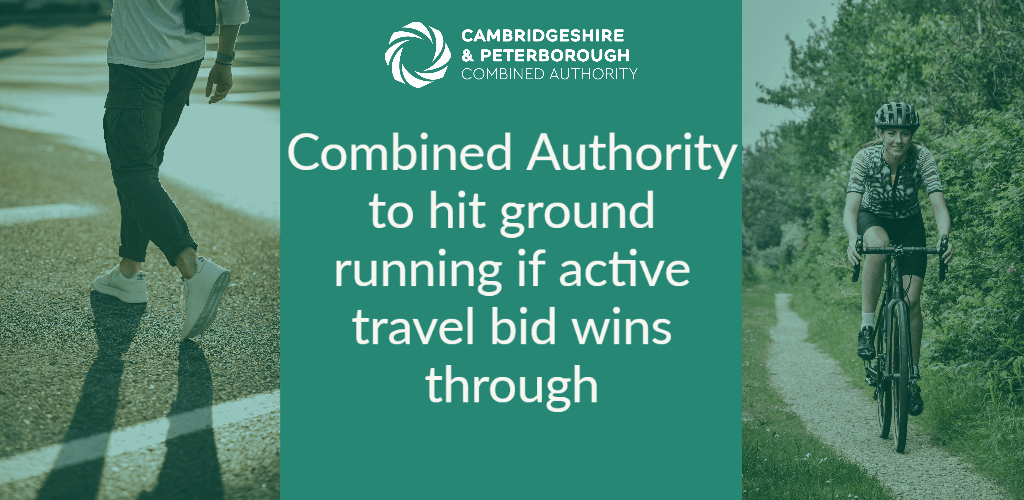 Combined Authority to hit ground running if active travel bid wins through
Members of the Board today voted to hit the ground running if the Combined Authority pitch for active travel funding from the Government is successful.
The Board approved the release of funding for walking and cycling infrastructure, subject to the Combined Authority's bid being approved by Active Travel England, an executive agency for the Department for Transport.
The 'Capability and Ambition Fund 2022/23' bid was submitted at the end of September, in collaboration with officers of Cambridgeshire County Council and Peterborough City Council. Today's approval means the Combined Authority and partners can be ready for a successful outcome and waste no time in getting the projects off the ground within the 12-month timeframe stipulated by ATE.
The fund is in two parts. The first is a £30m Capability and Ambition Fund for 2022/3 to support revenue projects, and the second is a total of £500m of grant funding to support both capital and revenue schemes nationwide across a multi-year settlemen t period 2022/23 to 2024/25.
Following the Combined Authority's self-assessment and ATE's own evidence on Cambridgeshire & Peterborough's delivery performance, ATE gave the bid a good rating and invited the Combined Authority to submit proposals to the Capability and Ambition Fund 2022/23 up to £823,637. And where bid proposals are considered strong by ATE, a further 25% of funding can be awarded.
In a very good result, the Combined Authority was rated Level 2 (the range was between 0-4, 4 being high) when the majority of authorities were Level 1 and none were classed as Level 4.
The Capability and Ambition bid deadline was 30th September with the decision  expected in October and funding issued by ATE in November.  Funds should be spent within 12 months of the first payment being issued.
The Fund enables ATE to focus investment on authorities with high ambition and capability, whilst giving support for all committed authorities to boost capability to deliver high quality schemes.
In the Combined Authority bid, building capability enables development of Local Cycling and Walking Improvement Plan priorities over 1,3-, and 10-year periods – resulting in future infrastructure to encourage more active travel.
Behavioural change programmes within the bid focus on schools, workplaces, and communities, encouraging non cyclists to become new riders, whilst encouraging occasional riders to perhaps try cycling to work or a specific trip.
Subject to ATE approving the bid, the Board authorised the Combined Authority's Interim Head of Transport to enter agreements with Peterborough City Council and Cambridgeshire County Council, the authority's active travel delivery partners.