Published on September 23, 2021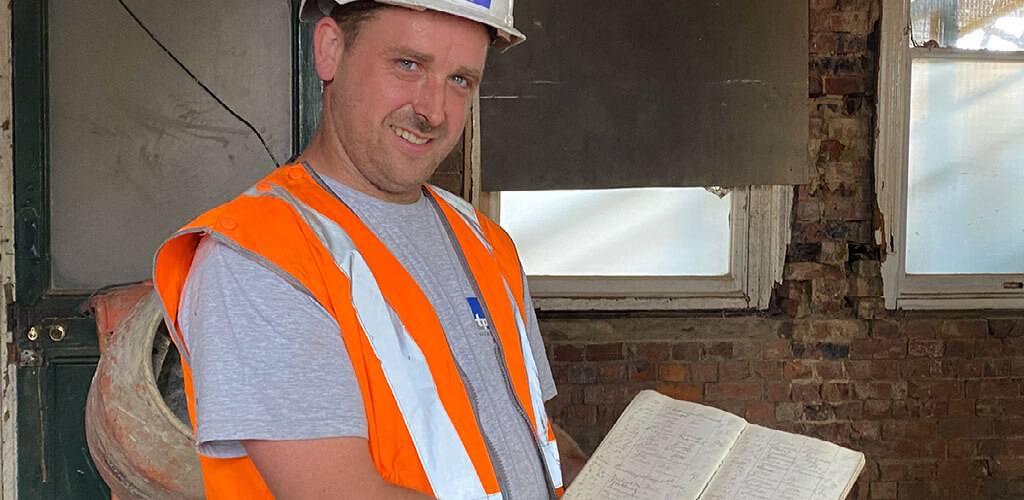 Contractors uncover 'hidden treasure' during Combined Authority's revamp of March rail station
Contractors carrying out improvements at March rail station have unearthed an ancient ticket ledger from when the station first opened over 130 years ago. 
The ledger, dated April 1885, contains carefully hand-written entries of all the passenger luggage and parcels sent from the station, providing a unique record of daily life in the area in Victorian times.  
Contractors working on the ceiling in one of the old buildings discovered the ledger, known as a Day Book back in the 1800s, when they removed some rotten woodwork and it fell through from the disused loft space. 
They also found another ledger, three small log books from the 1800s, a Victorian Great Eastern Railway sack and documents over 100 years old detailing goods trains passing through the station with records of the signal boxes contacted by telegraph and the confirmation records. 
Area Customer Service Manager, Anita Stuart, commented, "We couldn't believe it when the contractor showed us the ledger. It was like finding hidden treasure! 
"It's lovely to have uncovered this link to the past as we take March station forward to become a station fit for the needs of rail travellers now and in the future." 
Local historian and Board Member of the Railway Heritage Designation Advisory Board, Mike Lamport, commented, "These fascinating items all reflect the pivotal nature of March station to the area, having as it did the authority of senior staff based there, along with a loco shed and sidings from which managers could draw locomotives and rolling stock from to run special services as demand arose." 
Funded by the Combined Authority, March station is currently undergoing work to remodel the entire station with the creation of an open-plan ticket hall and waiting area, accessible modern loos, retail outlets, and an upgraded and extended car and cycle park at the station. 
The upgrade is part of a multi-million pound regeneration of Fenland's railway stations which is pushing forward with major improvement works on the rail line between Ely and Peterborough. 
The programme is being delivered through Fenland District Council's Railway Station Masterplans project, with a £9.5million package of funding from the Cambridgeshire & Peterborough Combined Authority, chaired by Mayor Dr Nik Johnson, and support from Greater Anglia. 
The project aims to improve passenger facilities at the three Fenland stations – Manea, March and Whittlesea – along the Ely to Peterborough Hereward Line. 
Together the partnership anticipates that the upgrades to improve connections between the Fenland towns and other regional centres of education and employment, creating an attractive alternative to the car for more sustainable journeys. 
March station's remodelling should be finished by the end of 2021.