Published on June 29, 2022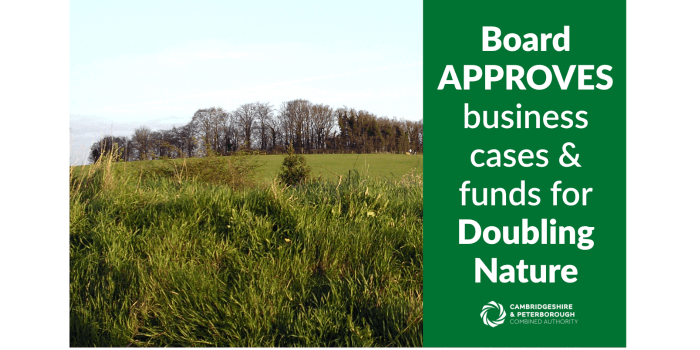 CPCA Board approve business cases and funds for Doubling Nature in Cambridgeshire and Peterborough!
Further to in principle budgets being agreed at their meeting in January, the CPCA Board at their reconvened meeting on 27 June approved business cases that will enable significant gains to be made for Doubling Nature across Cambridgeshire and Peterborough.
Over £1.3 million was awarded to Natural Cambridgeshire and partners for measures that will enable the acceleration and delivery of sustainable nature projects across our nature depleted county. This includes a £1m fund for nature that it is hoped will incentivise and attract further investment in large landscape scale natural capital projects and small parish level community projects that will benefit people and nature in our county, as well as mitigate climate change; £210,000 of revenue funding that will enable Natural Cambridgeshire to expand its capacity to support the delivery of the above; and £125,000 awarded to partner organisation, BCN Wildlife Trust for metrics, which will enable ecology baseline setting and monitoring.
Chair of Natural Cambridgeshire, Richard Astle said:
"We are delighted that resources have been identified to accelerate Doubling Nature in all districts and communities across Cambridgeshire and Peterborough. Our county is one of the most nature poor counties in the country, yet is distinct and important for its agriculture and food production, as well as the presence of one of the world's leading universities.
We launched the Doubling Nature vision in 2019, and have been campaigning hard to put nature at the heart of decision-making across the county since then. With thanks to Mayor Nik Johnson for his bold commitment to climate and the environment, the leaders of our local authorities that make up the CPCA Board, and to the CPCA team we can now turn that vision into a reality, and look forward to working with all of our partners, local authorities, farmers and landowners, communities and investors to make that a reality".
Dr Nik Johnson, Mayor of Cambridgeshire and Peterborough said:
"Natural Cambridgeshire have given the Combined Authority a unique opportunity to support residents and communities in their efforts to support nature conservation and expansion.
They are already doing fantastic work to involve local people as well as large influential organisations in protecting and enhancing natural spaces and our biodiversity. I am pleased that the Combined Authority is funding the much needed work to grow the abundance of natural spaces in Cambridgeshire, which has currently one of the smallest areas of land managed for nature of any county in the UK relative to size."