Published on December 12, 2018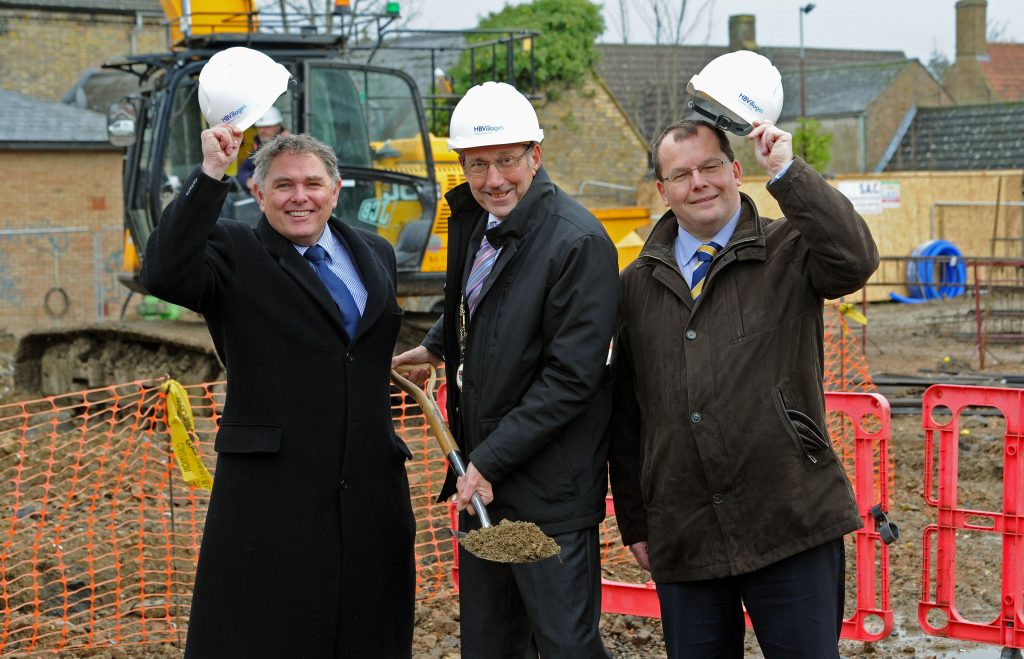 CPCA supports collaborative approach to deliver new £4m specialist supported living scheme in Chatteris
The Cambridgeshire and Peterborough Combined Authority have shown their support for a collaborative approach to deliver new homes for disabled adults in Cambridgeshire.
Work has officially kicked off at the site of a former agricultural garage in Chatteris to build fifteen new apartments and three bungalows at the site on Huntingdon Road. The £4m scheme, called Barber Gardens after two young brothers from the town who perished in World War 1, is expected to be completed in summer 2020.
It is being delivered by specialist supported living developer HBV who collaborated with Chatteris Town Council, Fenland District Council and Cambridgeshire County Council to get the scheme started.
Mayor of Chatteris, Councillor Bill Haggata and Roger Thompson of Cambridgeshire & Peterborough Combined Authority officially opened works at the site in a special ground-breaking ceremony which included parents of prospective residents.
Councillor Haggata, said: "I'm delighted to start work at this site in the heart of our community. We need to ensure that the most vulnerable in our society are well cared for and looked after in suitable accommodation. This development will put a lot of smiles on a lot of people's faces when it is completed next year. I'm looking forward to visiting the site when it is completed and meeting the new residents."
Roger Thompson, director of housing and development at Cambridgeshire & Peterborough Combined Authority, said: "This development is a perfect example of collaboration between the private and public sector and is a tangible demonstration of real teamwork. Barber Gardens is set to be a fantastic example of what can be achieved through innovative partnership, working not only between statutory, not for profit and private sectors, but importantly between the NHS and Adult Social Care Teams.  We're proud to support this scheme and the best bit is yet to come; welcoming the residents into their new home. We are looking forward to exploring further ways we can support such projects in the future."
Alastair Sheehan, Business Development Director at HBV, said: "We have had tremendous support from the planning team at Fenland District Council and the adult social care officers at Cambridgeshire County Council.  Along with positive guidance from local ward councillors in Chatteris and engaging with the local community we are delighted that everyone recognises the need for specialist supported living accommodation for some of the local community's most vulnerable people."