Published on October 14, 2020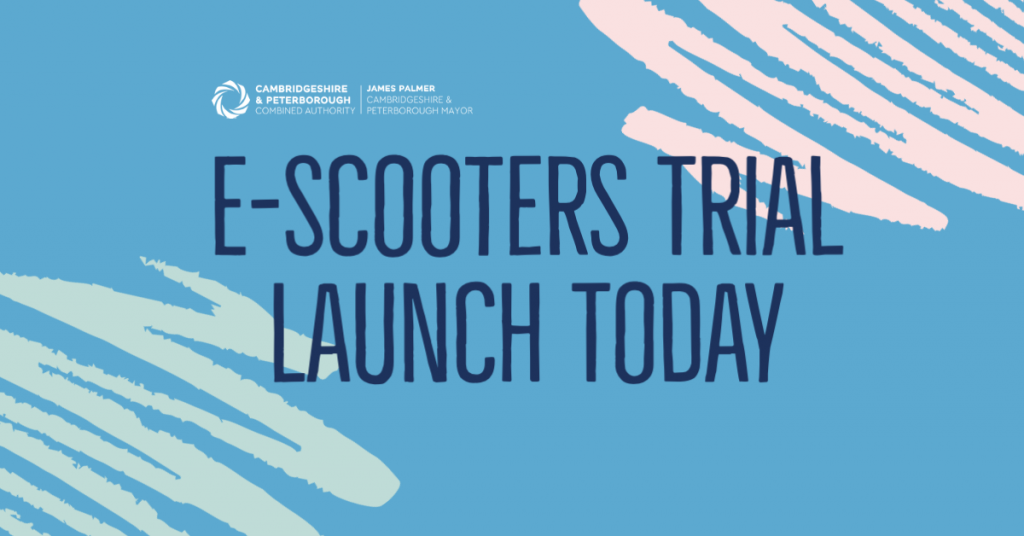 E-scooters in Cambridge City Centre – new carbon-neutral and socially distanced way to travel launched by Mayor James Palmer and Voi Technology
The Cambridgeshire and Peterborough Combined Authority, led by Mayor James Palmer, along with Voi Technology, the U.K.'s leading e-scooter operator, will launch its e-scooter trial in Cambridge City Centre this Thursday, 15 October.
For the next 12 months, residents and visitors will be able to take a ride on a Voi e-scooter whether they are on their way to work or seeing the city's sights. The new carbon-neutral mode of transport will take the pressure off Cambridge's public transport and help people travel in a socially distanced manner whilst leaving their cars behind.
Initially, there will be 50 e-scooters available in Cambridge City Centre, with more being introduced over time.  E-scooters will be available to unlock for £1 and cost £0.20 per minute between 6am and 8pm. There are also a variety of subscriptions available, as well as discounted passes for students, key workers, and low-income individuals. To ride a Voi e-scooter, a user must have a provisional driving licence and be at least 18 years of age. Users can download the Voi app for free in the Apple App Store or Google Play.
Introducing e-scooters as safely as possible is an absolute priority for both the Combined Authority and Voi. E-scooter speeds will be capped at 10 miles per hour with geo-fencing to ensure the scooters do not go outside the trial area. Slow-ride and no-ride zones are also in place to enhance safety.
On launch day, a pop-up safety tents will be erected at Cambridge Station and Guildhall with Voi staff giving out helmets and safe riding information. These pop-up safety events will be repeated weekly, and Voi will deploy on-the-ground-staff who will be on hand across the City Centre to answer questions, help people and monitor activity. Riders are also encouraged to complete Voi's digital e-scooter traffic school, #RideLikeVoila.
A recent survey, led by the Combined Authority of people across Cambridgeshire and Peterborough, found 65% of respondents were excited or welcoming to the idea of e-scooters coming to Cambridge.
Since e-scooters launched in Northampton, there have been more than 57,000 rides in the town, with more than 8,200 users registered and active.  In Coventry, 85% of all rides taken are from repeat customers. In Birmingham, Voi users have travelled a total of more than 46,000 km — a greater distance than the entire length of the U.K. coastline.
Transport accounts for 39% of all greenhouse gas emissions across Cambridgeshire and Peterborough. Like other electric vehicles, e-scooters can help to limit transport emissions as well as reducing congestion in cities. The U.K. is particularly suitable for e-scooters because 60% of car trips here are for 1- to 3-mile journeys.
Based on a forecasted 12–16% car replacement rate and standard utilisation rates, it is expected the e-scooter trial will save 48–115 tonnes CO2 eq. in Cambridge over the next 12 months.
The Mayoral Combined Authority has a vision for healthy and sustainable travel for all, across Cambridgeshire and Peterborough. Rolling out e-scooters is the latest in a range of initiatives by the Cambridgeshire and Peterborough Combined Authority to improve cycle and pedestrian facilities across the region to help get more people walking and cycling.
Mayor James Palmer, said: "Electric scooters have the power to transform the way we travel and I am delighted to be making them available in our historic City Centre so that commuters and visitors alike can enjoy quicker, healthier journeys.
"Active transport solutions like this will become a vital part of our future public transport network; a cleaner, more efficient way to get around."
Rachel Maclean MP, Parliamentary Under Secretary of State at the Department for Transport said: "The trials of rental e-scooters starting in Cambridgeshire and Peterborough could offer cleaner, efficient and more affordable travel for local communities.
"Learning from trials already taking place, Cambridgeshire and Peterborough's will see strict safety measures introduced – including license verification and responsible parking incentives, while also helping us better understand any impacts on public spaces."
Fredrik Hjelm, co-founder and CEO of Voi Technology, said: "We're delighted to be launching Voi's e-scooters in Cambridge, the world's most renowned city for innovation and technology. Cambridgeshire has some of the best cycling infrastructure in the U.K. making it an ideal location for people to sample this revolutionary form of transport.
"This trial heralds an important opportunity for the citizens of Cambridgeshire and Peterborough to explore their local area using one of the most environmentally-efficient ways to travel, saving significant carbon dioxide and particulate emissions. By transforming how we move around, we can also shape our cities for the future, making them better and safer places to be."
James Sutherland, Superintendent of Cambridgeshire Constabulary, said: "E-scooters are a safe, convenient and environmentally-friendly way to travel around, as long as you follow the rules and stay on the roads and off pavements. We have been working very closely with Voi in setting up the trial to make sure it is a success and we will continue to be involved, ensuring that the vehicles are used safely and responsibly in the city. Please remember that if you are riding an e-scooter that you need to have a provisional license and wear a helmet."
E-scooters allow riders to remain socially distanced and operate in the open air, making them a safer choice for commuters than other forms of public transport. Scooters in Cambridge will be disinfected every 24 hours and Voi are rolling out copper tape on handlebars, which inactivates 99.98% of the coronavirus. Voi is also providing COVID-19 information and advice via its app.
It is expected that this trial will create more than 50 new jobs in the region. Voi will work closely with local transport providers, including train and bus operators in the cities. Voi will also support local businesses to enable them to offer or extend delivery services.