Published on May 13, 2020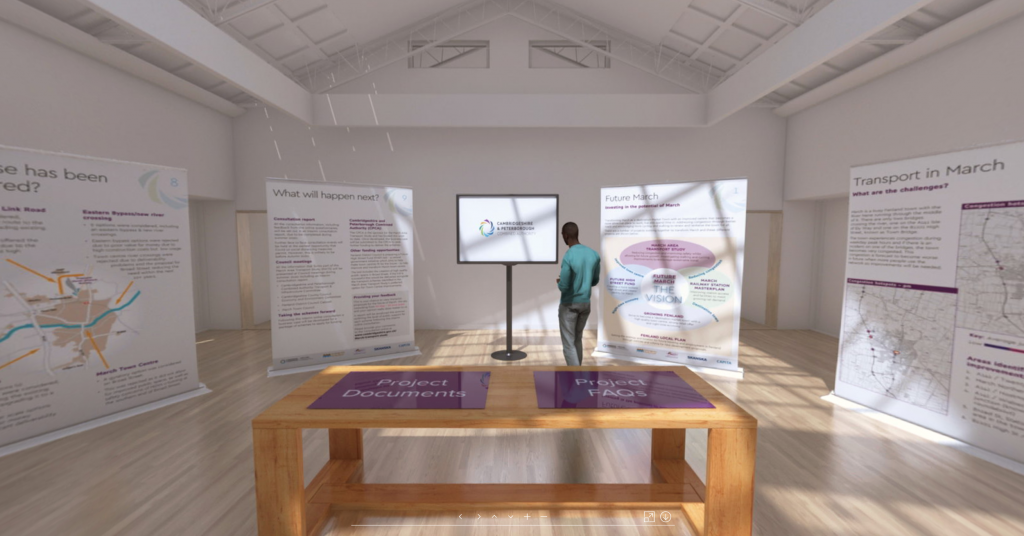 'Going virtual' to keep March transport consultation going despite coronavirus
A public consultation on how best to improve the future vitality of March will be 'going virtual' thanks to an innovation being used by the Cambridgeshire and Peterborough Combined Authority to adapt to coronavirus safety measures.
Local people are being invited to step into an online virtual consultation room to take part in the March Area Transport Study (MATS). The consultation will explain a range of upgrade options to tackle challenges like congestion hotspots and encourage more cycling and walking.
The virtual survey room is easy to use and offers the same look and feel of a conventional public consultation, including information boards to browse and the ability to leave feedback.
Joint working between local councillors, the Mayoral Combined Authority, Cambridgeshire County Council and Fenland District Council has brought the scheme to its current phase.
Mayor James Palmer has said it is vital the Combined Authority, which is leading the transport study, finds new ways to keep key work such as this on track during the coronavirus pandemic.
The consultation is also asking for feedback on plans to improve the town centre for residents and visitors through better accessibility and attractiveness, which in turn will help local businesses. It launches on Friday, May 15, via https://futuremarch.consultation.ai/ which will take visitors to the online consultation room.
The six-week online consultation closes on Sunday, June 28.
Those who do not have internet access or would prefer not to engage in this way will not miss out. A conventional face-to-face consultation will take place in the town when public health guidelines allow. Details will be issued in due course.
Mayor James Palmer said:

"Coronavirus is forcing everyone to adapt and engage with new technologies and the Combined Authority is no different.
"I'm hugely impressed with this online consultation platform, which takes online surveys to another level and allows us to continue our momentum on investing for March's future.
"I would encourage people in March to engage with this consultation because the proposed improvements will affect everyone. From road users, cyclists and pedestrians, to those who use the town centre and anyone who wants a thriving future for their town, we want to hear from you.
"This sits alongside our work to invest in upgrading March rail station and increase its rail services as well as our ongoing Masterplan which will support the regeneration of the town overall.
"Putting right the historical underinvestment in Cambridgeshire's market towns is one of my key priorities."
Cllr Jan French of Cambridgeshire County Council and Fenland District Council, who represents March on both authorities, said:

"It is fantastic to be able to keep the momentum going on our wider ambition to invest and secure a thriving future for March through this innovative online consultation. Not only do we want to deliver better, faster, healthier and safer journeys, we also want to support a sustainable high street, which encourages more visitors.
"It is vitally important we get feedback and input from the people who in their everyday lives rely on making journeys into and around the town, via car, public transport, walking or cycling. Their responses to this consultation will make the work we are doing better. I look forward to hearing what people have to say.
"We have never had the opportunity before to get this kind of funding to improve our town and I want to thank James Palmer and all Cambridgeshire County Council officers and committee members who have worked on this for the past two years."
Options for improvements being consulted on include:
A new Northern Industrial Link Road to reduce congestion and improve journeys
Improving safety and reducing congestion on the A141
Making the town centre more pedestrian friendly, including redesigning Broad Street to be more attractive to visitors and repositioning the Coronation Foundation to be a more accessible feature.
A series of simple, speedy improvements to improve traffic flows and safety for all, including new pedestrian crossings, footways, speed restrictions and signage
Improvements to accessibility and safety to encourage more walking and cycling, especially for shorter journeys, to reduce care use
A report on the consultation findings will be presented to the town, district and county councils.
A business case will follow this study and will be submitted to the Mayoral Combined Authority to seek further funding to deliver the schemes. The upgrades will provide infrastructure needed to support planned housing and jobs growth.
This transport study also supports other schemes to rejuvenate March including the Mayoral Combined Authority's Fenland Stations Regeneration Programme and the March Masterplan for Growth, part of the Growing Fenland market towns scheme being developed in partnership with Fenland District Council.