Published on March 21, 2023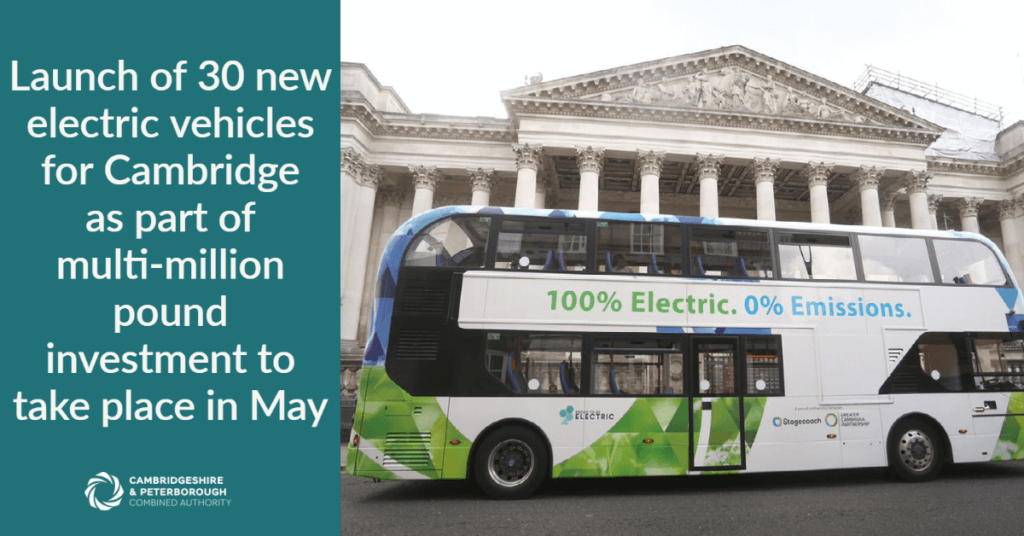 Launch of 30 new electric vehicles for Cambridge as part of multi-million pound investment to take place in May
Multi-million pound investment in green travel for Cambridge
30 new electric buses to enter service in May 2023
Funded by the Cambridgeshire & Peterborough Combined Authority, Department for Transport, Greater Cambridge Partnership (GCP) and Stagecoach East
The launch of 30 new electric vehicles for Cambridge will be taking place in May.
The zero-emission, double decker buses, which are due to come into service in May 2023, will see the Cambridge Park and Ride network and Citi 2 service become fully electrified and carbon-free.
All 30 buses will be in operation in May 2023, signifying a major milestone in the commitment to a rolling bus replacement programme, to replace 30 vehicles a year across the Combined Authority area. There is an ambition to convert the entire bus fleet from diesel buses to zero emission vehicles within the Combined Authority region by 2030 to hit carbon emission targets and help tackle climate change.
The announcement represents a significant investment in green travel for the region, with the new vehicles costing close to £500,000 each. The new fleet is being funded by by the Cambridgeshire & Peterborough Combined Authority, Department for Transport, Greater Cambridge Partnership (GCP) and Stagecoach East.
The new buses will take Stagecoach East's total zero-emission fleet up to 32, joining their current two electric vehicles which have been in service since February 2020 as part of a jointly funded partnership with the Greater Cambridge Partnership.
Since their launch three years ago, the two ULEB (Ultra Low Emission Buses) vehicles have covered over 124,000 miles between them, saving over 215 tonnes of CO2 and have carried over 200,000 passengers in 2022 alone.
Mayor of Cambridgeshire and Peterborough, Dr Nik Johnson said "The delivery of these buses is a major step forward for the bus network of our region and has been a fantastic collective effort by all those involved.
"We know what a positive impact this is going to have on the health of those living in the city of Cambridge. With these 30 buses we can expect to see a 40% reduction in emissions in the central zone, leading to improved air quality and better public health. I look forward to seeing the buses on the roads and to the next steps in reaching our carbon emission targets by 2030".
Cllr Elisa Meschini, Chair of the GCP's Executive Board, said: "It is fantastic to know the 30 new electric vehicles will be with us later this spring to demonstrate our joint commitment to providing cleaner buses to help to reduce carbon emissions in Cambridge. This will improve air quality and make our city a greener, healthier place to live, work and visit. By working in partnership with the Combined Authority and Stagecoach East, we are demonstrating how together we can transform the way we travel around the area and improve the quality of bus services and vehicles to benefit our bus users and residents."
Darren Roe, Managing Director at Stagecoach East, said: "We are delighted to introduce 30 new fully-electric buses to our Cambridge fleet this Spring. This news indicates a crucial step towards our overall goal of decarbonising our entire UK network by 2035 and demonstrates our commitment to tackling climate change by investing in sustainable and green transport options for our local communities.
"We must all do what we can to protect our environment. By swapping their car to travel on one of our electric buses, passengers will be making a choice to reduce their carbon footprint and harmful emissions, improve air quality and traffic congestion as well as helping to support greener and more environmentally-friendly modes of transport.
"We look forward to seeing our buses roll out on the Park and Ride and Citi 2 service in Cambridge and celebrating this fantastic milestone at our launch event in May."
The new vehicles, which are currently being built, will be rolled out to the five Cambridge Park and Ride services which include Madingley, Newmarket, Trumpington, Babraham and Milton, and the Citi 2 service which operates between Milton, the City Centre and Addenbrooke's Hospital.
The state-of-the-art Volvo BZL buses are full battery electric vehicles which offer zero tailpipe emissions, enhancing the passenger experience by enabling a quieter and smoother journey.
The electric vehicles also emit 72% less* well-to-wheel CO2 emissions than an equivalent size diesel bus. They can travel on average 200 miles between a full charge, which takes approximately 2.75 hours, and uses around 1.2 kWh of electricity per kilometre.** The buses also use state-of-the-art batteries that use regenerative braking to recharge every time the bus slows down.
To accommodate their expanding fleet, Stagecoach East is also investing £2 million into charging infrastructure for its Cambridge depot, to provide smart charging overnight.
*72% less well to wheel CO2 emissions calculated using the Zemo ZEB certificate for a 12m vehicle as a reference which takes into account the CO2 intensity of UK grid electricity (currently around 40% renewable), the reduction in CO2 emissions as a result of the test compared to an equivalent diesel bus.
**200 miles full charge range based on annual average consumption of 1.2 kWh/km and can vary over the life of the vehicle. Full charging time of approximately 5 hours, and usage of 1.2 kWh of electricity per kilometre based on the use of a 150kW charger and is dependent on variable factors such as charging infrastructure power and battery temperature.
To find out more about Stagecoach East, please visit: www.stagecoachbus.com/regional-service-updates/east