Published on July 10, 2023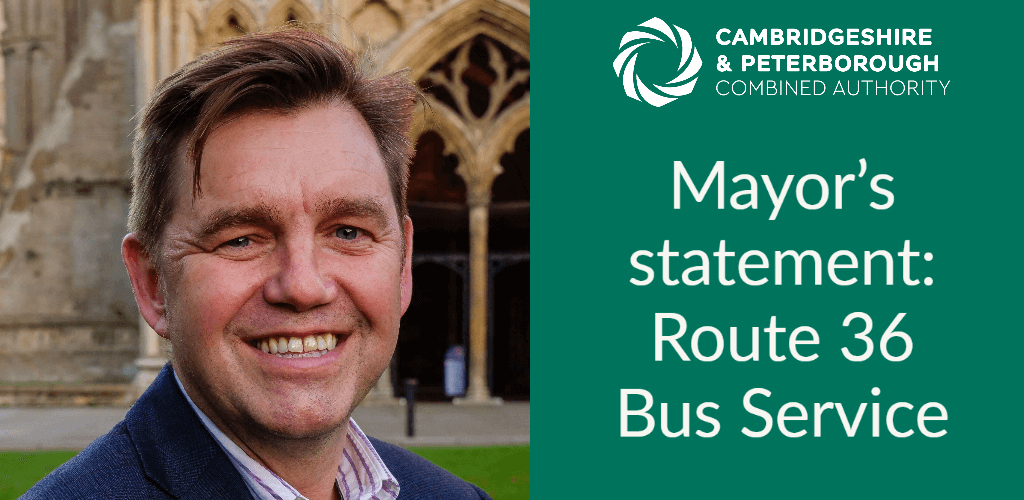 Mayor Dr Nik Johnson statement: Route 36 Bus Service
The below is a statement by Mayor Dr Nik Johnson on the future of the Route 36 bus service and the work being done to mitigate the impact of the changes:
 Mayor Dr Nik Johnson said:
"Ever since Stagecoach made the Combined Authority aware on 18th May 2023 that they were making changes to their Peterborough services on 30th July 2023 we have been working to mitigate the impact of these changes on local communities.  
"These changes include the withdrawal of bus service 36 with some enhancements to bus service 37 in order to maintain an hourly frequency, Monday to Saturday, and once every other hour on Sunday. This leaves residents of Thorney and Eye without a direct bus service. 
"Stagecoach insists that bus service 36 is no longer commercially viable. This assessment is obviously hugely disappointing, and my focus is on what can be done in both the short term to ensure residents and not left isolated and in the medium to long term on the much wide-ranging bus-reform that we so vitally need right across the region.  
"Combined Authority officers, along with my lead member for transport, Deputy Mayor Anna Smith, are currently exploring a range of potential options to support the affected communities. I will provide a further update once the viability and financial impact of these options has been explored in detail. 
"My team, and I, remain in ongoing discussions on these with bus operators and Peterborough City Council and we will leave no stone unturned to support those impacted. I also want to thank everyone who has taken the time to contact me about these route changes.   
"Every lost service means someone is losing their access to work, education, health services, and other important things. This situation cannot continue. That's why I recently announced my bold vision for Bus Reform which, driven by our Bus Strategy, will create an affordable, reliable, convenient and sustainable bus network that the people of our region need and deserve. I invite all political leaders across Cambridgeshire and Peterborough to work with me to make this happen."