Published on April 15, 2019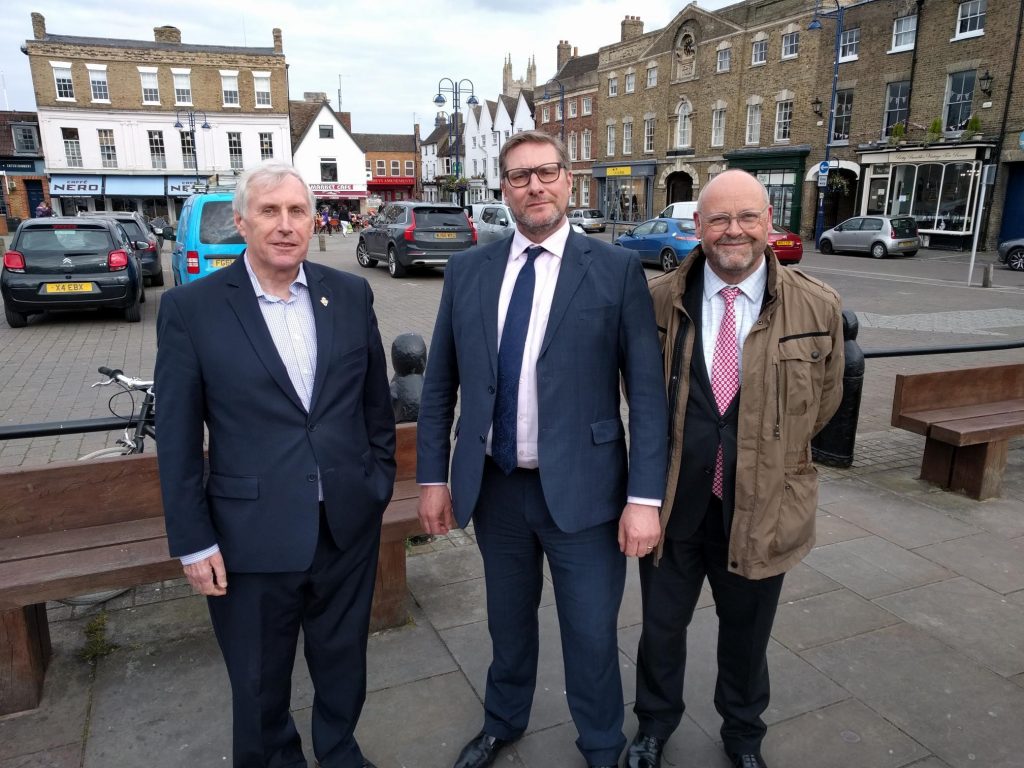 Mayor James Palmer visits St Neots to see how £4.1m Masterplan funding will boost town
Mayor James Palmer went on a tour of St Neots on Friday to see how the town will benefit from £4.1 million of Combined Authority investment into its new Masterplan aimed at helping it continue to thrive.
The Masterplan funding for the first phase, approved last summer, is focussed on creating a more vibrant town centre for residents and visitors. Among the schemes are a new pedestrian and cycle bridge over the river to help increase accessibility into the town. The location and design of the bridge, which will link Regatta Park with Priory Lane, have been chosen following public consultation, and construction is due to commence in May 2020.
Before the tour Mayor Palmer met members of the St Neots Masterplan Steering Group including its chair, Cllr David Wells, and town Mayor Cllr Barry Chapman, to hear about progress with a range of schemes designed to improve the prosperity and future sustainability of the town.
The tour included a view of where the bridge would be located, followed by a walk through the Priory Quarter before it made its way to the market square.
The market square is being improved through new cycle parking, bus shelters and other improvements and the Masterplan is also being used to unlock further funding. For example, it is set to be used to work up a multimillion pound bid into the UK Future High Street Fund, which is administered by the Government.
Given St Neots' position in the Cambridge to Oxford growth corridor, the civic and business community are working with Mayor Palmer to showcase the town's role as the premier market town within the 'Arc' to live, work and visit.
Other transformational infrastructure plans for the town include the CAM Metro and this will also feed into the Masterplan as further details of the route and other technical work comes forward.
Work on the Masterplan is a partnership between the Combined Authority, the town, district, and county councils, the business community, and other key organisations in the town. The Masterplans for market towns across Cambridgeshire and Peterborough are one of the Combined Authority's priority projects as set down in its 2019/20 business plan.
Mayor James Palmer said: "It was great to be in St Neots to hear some of the great work that is progressing as a result of the town's Masterplan.
"Our market towns play an important and sometimes underappreciated role in the making Cambridgeshire and Peterborough a great place to live and work. We know our town centres are under real pressure right now, so it is vitally important we invest in them to ensure they have a thriving, sustainable future.
"St Neots is experiencing growth. With its road and rail links, the forthcoming A428 dualling, its position in the corridor of East-West Rail, and the proposed CAM Metro route extending to the town, we have a centre with huge potential. With the Combined Authority's £4.1 million, as well as other sources of funding, it is encouraging to see the energy and work of the Steering Group in making sure this Masterplan will really deliver for St Neots."