Published on October 19, 2020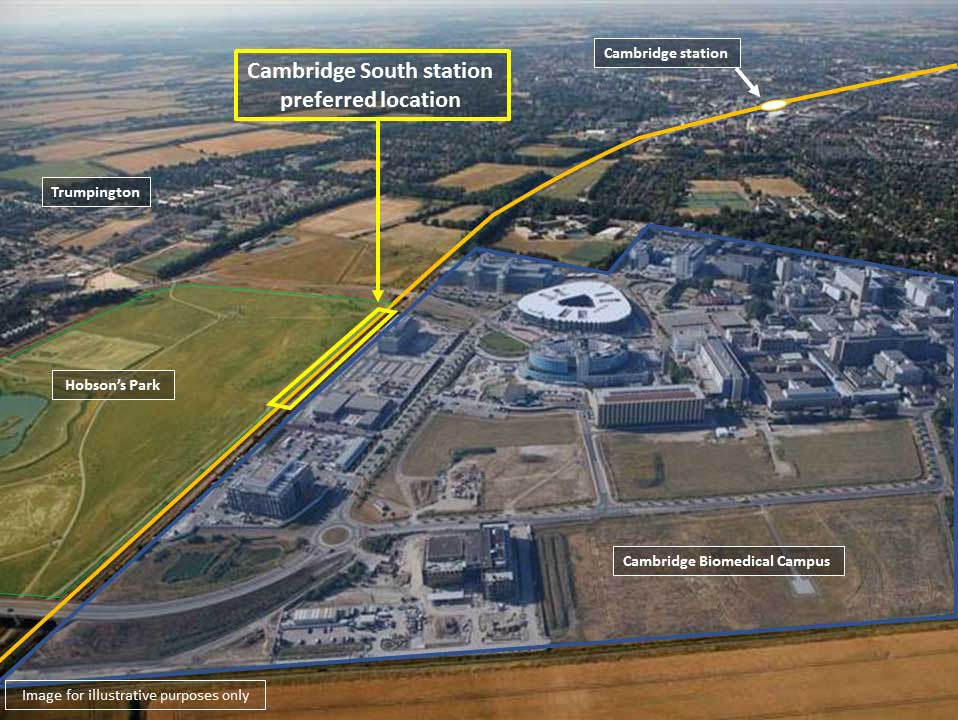 Mayor seeks 'people-centred' and integrated Cambridge South hub as Network Rail launches consultation 2nd round
As the new Cambridge South station comes closer with today's launch of the second round of public consultation, Mayor James Palmer has welcomed Network Rail's stepped-up delivery date while issuing strong warnings on service provision.
Mayor Palmer, who leads Cambridgeshire & Peterborough Combined Authority, a major funder of the new station, has always insisted that Cambridge South could and should be delivered by 2025, much earlier than Network Rail originally suggested.
In a letter to Network Rail, coinciding with the latest stage of public consultation, Mayor Palmer has said he is pleased that Network Rail now accepts his timetable and has accelerated its plans to meet his delivery target.
But in the letter, Mayor Palmer has also voiced concerns that Network Rail's proposal for Cambridge South does not show the station as an interchange centre with the stops and services to link passengers into Cambridgeshire's evolving transport hub.
Mayor James Palmer said:
"This consultation is very important – I urge the public to look carefully at the plans and raise questions. I've championed Cambridge South and fought successfully to bring forward the delivery date, but the station must have the needs of people at its heart.
"I've written to Network Rail because it isn't clear that the current Cambridge South proposal offers people the links and services they need. One big reason for the station is to serve the many thousands who'll be commuting to the Cambridge Biomedical Campus. And they will need services with frequent stops at a wide range of stations across the region.
"We're building for a greener, cleaner future so this new station must integrate with all types of transport – bikes, e-scooters, footpaths, buses and coaches, and the Cambridgeshire Autonomous Metro. It must be able to flex for the development and growth of the surrounding area.
"I'm concerned that this interchange potential isn't an obvious priority in the proposed design, and I hope that, when people have their say in the public consultation, they will speak up to ensure Cambridge South brings them the stops, services and facilities they need.
"The station needs to dovetail into both national and local rail timetables, with stopping services for commuters from places like Ely and March. That's key to getting people to leave their cars for rail and public transport.
"The central case for building this station is to wean us off our cars and on to a more people-centred public transport system. So I'm pleased that we'll now see this station open in 2025, but I will continue to press Network Rail to make it a really useful hub that will link our county and change lives for the future," said Mayor Palmer.
The second round of consultation, beginning online today, (Monday October 19), focusses on station facilities and access arrangements to the site on Cambridge Biomedical Campus .
Lasting until November 29, the six-week consultation offers a chance to view proposals, discuss the plans with Network Rail representatives via a webchat, submit comments, or call a dedicated consultation phone line.   Have your say: https://cambridgesouthconsultation.com/
This phase of consultation comes after the preferred location for Cambridge South   was announced in June. The most northern site, nearest the guided busway, was selected after 55 per cent of those responding backed it.
A Transport and Works Act Order is expected to be submitted to the transport secretary next year to get consent to proceed. Assuming it is approved, work could start on the station in 2023 and it could open in 2025.