Published on August 28, 2020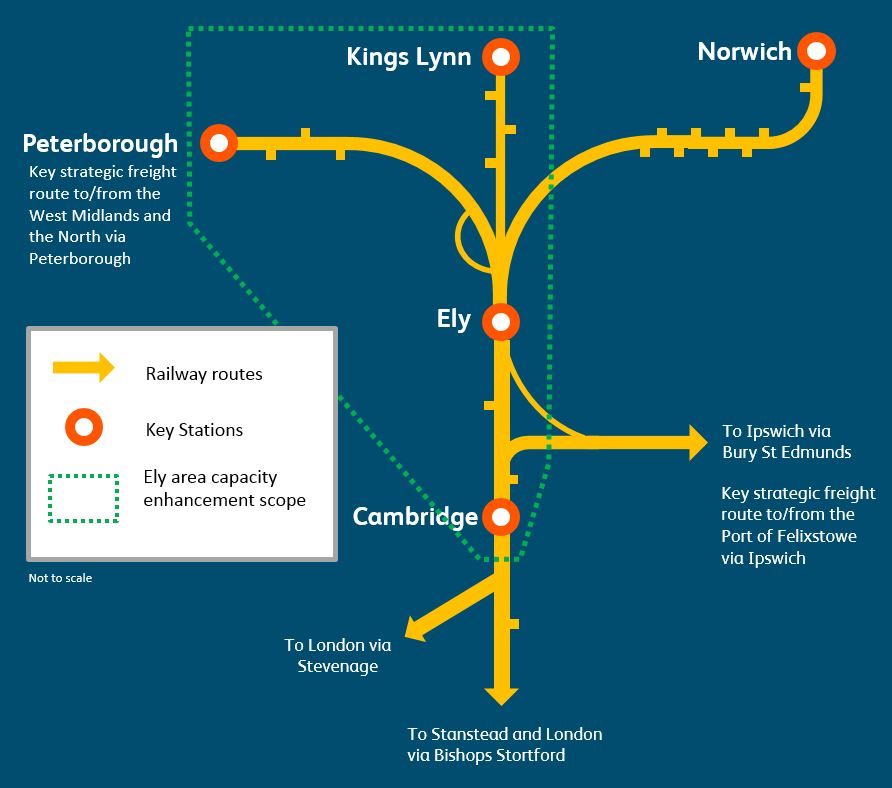 Mayor welcomes public consultation for Ely North upgrade plans
Following regular discussions and lobbying from Mayor James Palmer and the Cambridgeshire & Peterborough Combined Authority, Network Rail has announced it will begin the first phase of public consultation for proposals to upgrade the railway in and around Ely on 21 September. Phase 1 will run for six weeks.
The Ely Area Capacity Enhancement programme – EACE – is a proposal to improve the railway infrastructure to allow more trains to run through the Ely North junction; a vital East-West rail route. The aim is to boost connectivity and reliability for passenger services and meet the demand for more rail freight between the Port of Felixstowe, the West Midlands, and the North to support sustainable, long-term economic growth.
On top of the £9.3 million from the Combined Authority and other funding partners – New Anglia Local Enterprise Partnership and the Strategic Freight Network – the Department for Transport has now added £13.1million to help push forward the plan to increase capacity through Ely.
Mayor of Cambridgeshire & Peterborough James Palmer said:
"We've pushed long and hard for this.The notorious bottleneck of Ely North junction can't be allowed to block freight and passengers forever, and this very welcome Department for Transport money will allow Network Rail to start the next crucial stage of planning these improvements. It is vital work but it's also vital that people in the area have their say early so I'm delighted that the public consultation is beginning soon.
"Everyone's view matters and thoughtful insights from people on the ground can really influence the shape of this hugely important project, and help determine which option may finally go forward."
Through the consultation, residents and businesses in and around Ely will have the opportunity to understand and assess the benefits, the challenges to be addressed before capacity can be increased; the current funding position; how communities will be consulted as options are progressed.
Future rounds of public consultation are being planned for 2021 to present the options being considered. Responses from the community will help inform the design work as it progresses. Dates will be announced in due course.
Mindful of Covid-19 precautions, Network Rail is conducting the first phase of public consultation remotely to help maintain the safety of its staff and the public. The consultation will be run through an online web-portal which will be live for six weeks from 21 September until 1 November. There will also be opportunities to speak to project representatives via webchats at specific times throughout the consultation period, as well as by phone.
Ellie Burrows, Network Rail's route director for Anglia said:
"It is important that we provide opportunities to engage with the communities that are impacted by our work as it develops.It is even more important that we listen to people and gather their views to help inform our development and design process.
"By starting these discussions early, we hope to embark on this journey with the community and progress these proposals together, finding the right solution for the railway and for Ely."
More information about the consultation will be available via:
Network Rail's online webpage networkrail.co.uk/ely 
flyers at local stations
Network Rail's Twitter feed @networkrailLST using the hashtag #ElyRail
Hard copies of the consultation material can be requested (from 21 September) by contacting 03457 11 41 41 or ElyAreaCapacityEnhancements@networkrail.co.uk