Published on January 11, 2021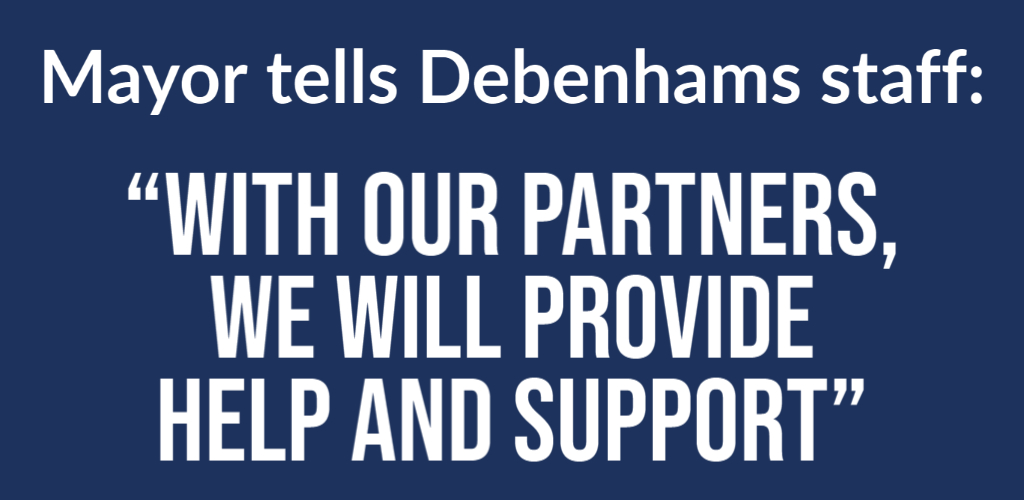 Mayoral statement on closure of Debenhams warehouse in Peterborough
Responding to the closure of the Debenhams warehouse Mayor James Palmer said:
"I am working with local leaders to ensure that the Combined Authority and its partners delivers a strong and robust package of support for those affected by the closure of the Debenhams warehouse in Peterborough.
"Through the Growth Hub, our skills service and in partnership with Opportunity Peterborough and the City Council we will provide help and support to those who have lost their job.
"We are currently confirming the details of the support on offer with our partner organisations and this will be released once finalised."
Growth Hub Support
• Those affected by this can contact the Growth Hub for support with CV writing and application forms as they seek future employment.
• Dedicated one-to-one mentoring support for individuals looking to start their own business or become a sole trader having been made redundant.
• Signposting impacted individuals to mental health practitioners to help safeguard emotional wellbeing.
Skills Support
• 17 providers delivering a range of virtual courses to help people upskill and reskill, call to action to colleges and independent providers
• Signposting people looking to change career to the National Careers Service, which offers people affected access to impartial advice from experienced advisors. The number for this service is 0800 100 900.
• Signposting to national redundancy support schemes through Department for Work and Pensions and local skills support for redundancy programmes.