Published on August 25, 2021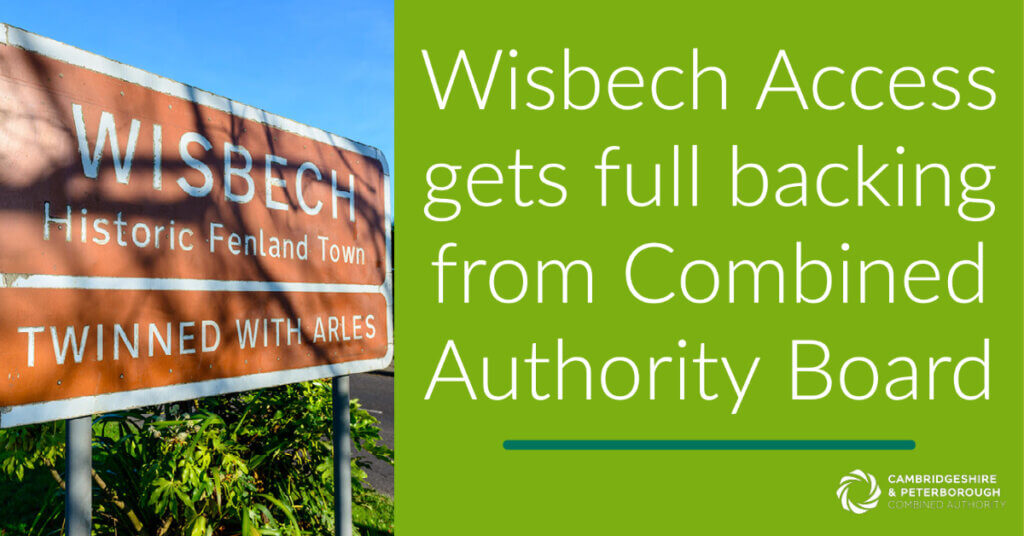 Mayor's rescue bid for Wisbech Access gets full backing from Combined Authority Board
At a meeting of the Cambridgeshire & Peterborough Combined Authority Board, members today unanimously supported Mayor Dr Nik Johnson's proposals to save a major transport initiative for Wisbech, 'Capital of the Fens'.
The multi-million pound improvement scheme was being delivered by Cambridgeshire County Council when it ran into trouble following a shortfall in funds. It faced being scrapped had the Board not agreed to bail the project out.
The Board, comprising Labour, Conservative and Liberal Democrat members, today unanimously voted through £1.88 million to take the project through to the design stage and into the pipeline as a 'shovel-ready' scheme ready to go if given funding.
In a joint statement, Cambridgeshire & Peterborough Combined Authority and Cambridgeshire County Council said:
"We're pleased that the Mayor's proposal and recommendation by officers was supported wholeheartedly by the Board of the Combined Authority.  Wisbech Access Strategy is a much-needed scheme and key part of the local plan for Fenland. This funding from the Combined Authority now clears the way for the County Council to complete the detailed design work for the three schemes and buy the land needed for these projects by the end of the year. This will put the project in a good position for any central Government calls for 'shovel-ready' projects in which to invest."
This £1.88 million – on top of the £2.09 million already spent – is expected to take the Cambridgeshire County Council project to the design stage, with all necessary land procured.
This total spend of £3.97 million brings back from the brink the Wisbech project, an important key to desperately-needed growth in jobs and housing for the most deprived community of Cambridgeshire.
After hearing the business case, Mayor Dr Johnson and members attending the extraordinary Board meeting agreed that funding should be moved to the project from the Combined Authority's medium-term financial plan.
Today's meeting saw members of the Board vote unanimously for Wisbech Access to be given the money.