Published on November 30, 2021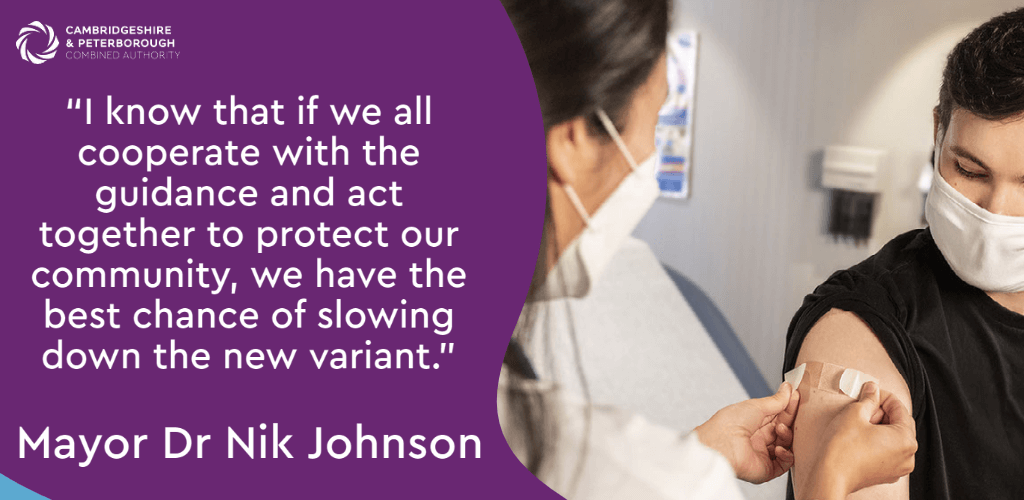 Message from the Mayor: Covid 19 Update
As you may have heard, the Government has confirmed new precautions following the emergence of the Omicron variant of Covid 19 here in the UK. 
From 4am this morning, Tuesday 30 November, face-coverings became compulsory in shops and in places like banks, post offices and hairdressers, as well as on public transport, unless you are exempted.  
The booster programme has also been extended to all 18-39 year-olds, and the time between the second dose and booster is now reduced to three months. Those aged 12-15 are advised to receive a second dose of the Pfizer-BioNTech vaccine, no sooner than 12 weeks after the first dose – and seriously immunosuppressed people who have had three primary doses should now be offered a booster dose. 
Scientists and medical researchers around the world are continuing to work night and day to understand how mutations like Omicron may affect the virus, its transmissibility, and its treatment but vaccines, face-coverings, and sensible social distancing remain our front line of defence, practical things we can all do to link ourselves into a wall of protection, with everyone supporting each other. 
I take this opportunity to urge all eligible people here in Cambridgeshire who haven't yet received their first or second dose of the vaccine, or those now ready for their booster, to come forward and help defend themselves and others. 
Vaccination is critical to build our strength against this new variant – so please help the NHS to protect you and get your first, second or booster jab if you possibly can. I continue to recommend that we should all wear a mask in any crowded places, not just on public transport and in shops, to help interrupt transmission.  
It's important that anyone with Covid symptoms isolates and gets a PCR test immediately.   
Across the country, other measures are coming in to help slow down the spread of the variant. These are: 
All international arrivals must take a Day 2 PCR test and self-isolate until they get a negative result.

 
If you've been in contact with suspected Omicron cases, you must self-isolate, whether you've been vaccinated or not.  You should be contacted by NHS Test and Trace.

 
As you know, I'm an NHS doctor, and I know that our NHS needs us  more than ever to help protect us all. I know that if we all cooperate with the guidance and act together to protect our community, especially with compassion for our most vulnerable, we have the best chance of slowing down the new variant, which may be more transmissible than its predecessor, Delta. 
Stay well and stay safe and let's cooperate as a community to do everything we can to slow down the spread of Omicron.