Published on November 3, 2021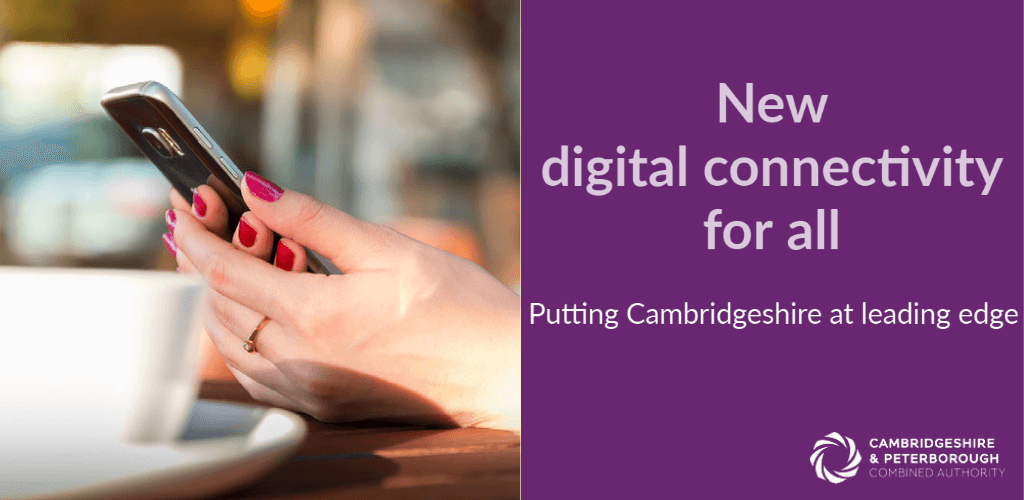 New digital connectivity for all to put county at leading edge
Many communities, businesses, and public services relied on digital connectivity as a lifeline during Covid. They will now benefit from Combined Authority plans to make digital technology and access more inclusive. This will facilitate increased contact with healthcare, education and jobs. 
The Combined Authority has set out a new Digital Connectivity Infrastructure Strategy for the next four years to help give the Cambridgeshire & Peterborough region the digital infrastructure local businesses need to thrive and communities need if they are not to be left behind. 
The new infrastructure strategy for 2021-2025 was today presented to the Combined Authority's Housing and Communities Committee for approval. It focusses on delivering next-generation broadband and mobile coverage, using 'Smart' technologies to improve the environment. The programme will also extend free public access Wifi, and push towards true digital inclusion. 
It pushes forward the ongoing work of the Connecting Cambridgeshire programme led by the Combined Authority.  Connecting Cambridgeshire has established a national reputation for collaborative working at the forefront of innovation. It continues attracting public and private sector funding to invest in future-facing digital infrastructure. 
The new strategy sets fresh and challenging targets for the different aspects of digital connectivity and advanced technology, so that: 
All businesses can access the leading-edge digital connectivity. This will help them grow and succeed in a strong and sustainable local economy

 

Communities are digitally connected allowing residents to access education, jobs, health, social care and other public services, wherever they live

 
Digital connectivity supports home working and remote training contributing to reduced commuting. This will reduce traffic congestion and offer more flexible and inclusive job opportunities.

 

'Smart' technology – including 'Internet of Things' based connectivity. This is used to provide access to real-time transport information for journey planning, and environmental monitoring, such as flooding sensors.

 
The Combined Authority also has ambitious targets to address the digital divide by levelling up. The aim is to improve access and reduce inequality in health, access to education, jobs and public services. This includes improving connectivity for social housing residents.
Research by Lloyds Bank found that manual workers with high digital engagement earn £421 more month than those less digitally engaged in the same roles. 
Dr Nik Johnson, Mayor of Cambridgeshire & Peterborough: "Digital connectivity is hugely important for meeting some of the key challenges we face – from sustainable growth to climate change mitigation and the management of scarce resources including water and energy. 
"Reliance on connectivity accelerated in an unprecedented manner during the Covid pandemic and is still incredibly important as we move towards recovery. However, at a time when access to healthcare, education and jobs has become increasingly dependent on digital connectivity it has also highlighted inequality of access and the need for us to show compassion by supporting digital inclusion. 
"This updated digital infrastructure strategy builds on the past success of our collaborative work with local councils, government and commercial providers, and sets new challenging targets to help ensure that we remain at the leading edge and well positioned to take full advantage of current and emerging technology advances. 
"I want Cambridgeshire and Peterborough to have a future-facing digital connectivity infrastructure that reflects the ambitions and aspirations of our area, shaped by our core values of compassion, co-operation, community, and tackling climate change."