Published on October 13, 2022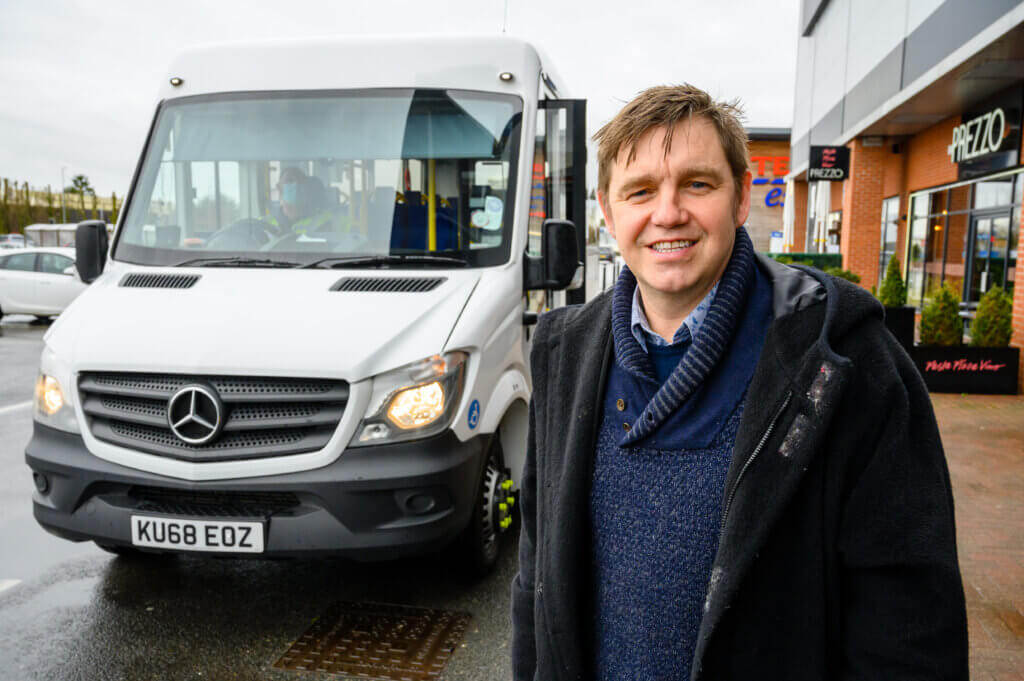 New tech to help keep communities connected with public transport
Users of FACT Community Transport's bus route 68 – connecting Horsefair bus station Wisbech with Tesco retail park – now have the option to view the real-time bus location and book a seat in advance to receive a notification of their exact pick-up time.
Through GoAscendal Labs, FACT is partnering with digital platform nemi to provide a new and improved travel experience aboard route 68. For those who want to use it, the new digital features are available by downloading the nemi app and registering.
Those not using the app will continue to use the service as normal.
The 68 service has recently been provided funding by the Combined Authority to run until March 2023, with the Combined Authority looking at further options for funding beyond this.
The nemi digital platform provides a software solution to create improved public transport services in rural areas. nemi was recently one of the first successful participants in the GoAscendal Labs accelerator programme. In partnership with the Cambridgeshire & Peterborough Combined Authority,
GoAscendal Labs brings new technology solutions to the bus industry, helping make transport greener and more inclusive. It is supported with a Combined Authority Business Board funding from the Local Growth Fund.
Together with FACT, the Combined Authority, nemi and GoAscendal Labs hope this trial will demonstrate how rural public transport can be better designed and operated to provide an enhanced service for users and increase passenger numbers.
Mayor of Cambridgeshire and Peterborough, Dr Nik Johnson said: "Rural bus services are under severe pressure up and down the country and it is certainly the case here too. The Combined Authority has provided funding to secure the Wisbech 68 bus in the short term, but it is also important to think about the long term.
"New technology is changing how we travel and new innovation which aims to deliver a sustainable future for our rural services is vital. I'm really looking forward to seeing how this trial proceeds on what I know is a much-valued service. The learnings from this trial could be applied to other rural services, which is exciting.
"It adds to the Combined Authority's other work to upgrade and innovate within our bus network through, for example, zero emission 'Zebra' buses and the demand responsive Ting service in Huntingdonshire."
Gary Christy, chair of FACT, said: "This is a great opportunity for FACT Community Transport to be taking a leading role in an innovation that will deliver great benefits to community transport using technology to deliver a service to those that need flexible transport services with the convenience of a timetable route, whilst at the same time having a positive impact on the environment by reducing unnecessary journeys. Through GoAscendal Labs and Nemi this has given FACT access to the latest technology and ideas."
Jenny Millard, Head of Programmes at GoAscendal and Lead for GoAscendal Labs said: "GoAscendal Labs works to innovate and drive technology in mobility and transport, making it greener, safer and more accessible. Through supporting nemi's partnership with FACT we are able to deliver a positive impact on the industry; we hope this collaboration will demonstrate the improvements which can be made to community transport which can be replicated throughout the UK. Importantly, collaborating with FACT means we are improving and developing a local service that supports the transport needs of those who may otherwise be unable to use private transport or scheduled services. This is one of many innovations we are developing and delivering in our Lab which will lead to important step-changes across the industry."
Lisa Grace, Chief Marketing Officer at Nemi said: "nemi is delighted to be working together with FACT onboarding new technology to create a reliable, transparent and improved quality of public transport service that we hope will attract previously uncaptured user profiles and usage moments, and disincentivise private vehicle use. Specifically the nemi digital solution will bring multiple benefits for users; improved information and accessibility and include bus timetables, real time arrival time and bus location, incidences such as road works and changes to the route that affect journey time and bus stops."
For more on the route 68 and FACT services, visit: https://www.fact-cambs.co.uk/