Published on November 11, 2022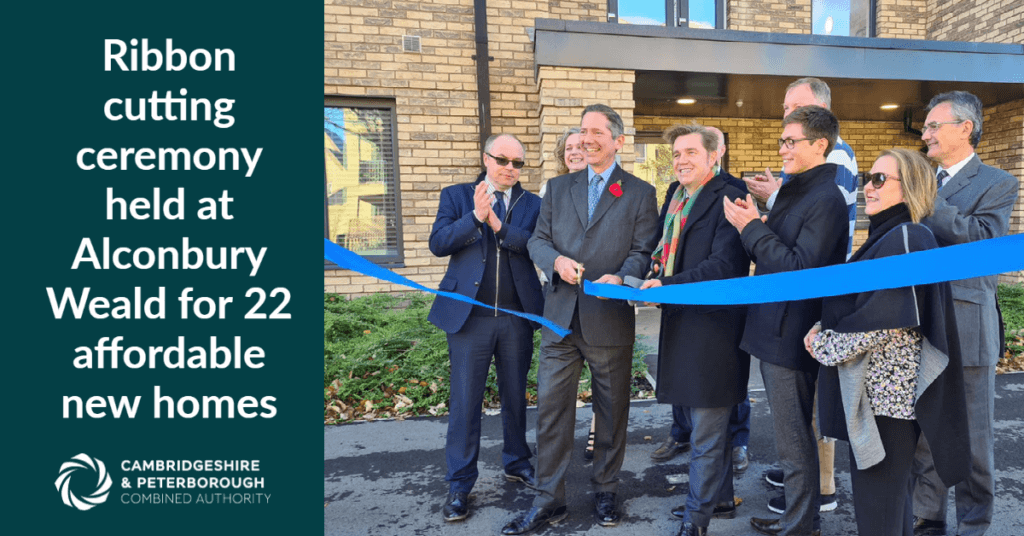 Ribbon cutting ceremony held at Alconbury Weald for 22 affordable new homes
Dr Nik Johnson, Mayor of Cambridgeshire and Peterborough, Jonathan Djanogly, MP for Huntingdon and Cllr Sam Wakeford, Executive Councillor for Jobs, Economy and Housing at Huntingdonshire District Council, visited Alconbury Weald on 4 November 2022 to celebrate the completion of 22 affordable new homes for first time buyers in Huntingdonshire, made available thanks to Rentplus-UK's innovative affordable rent to buy scheme. The homes are part of the celebrated Urban and Civic site which received funding from the Cambridge and Peterborough Combined Authority, and they include 8 x 1 bed flats, 11 x 2 bed flats and 3 coach houses.  All homes have been allocated and tenants have moved in.
With the average house price for first-time buyers in Huntingdonshire coming in at over £261,000, many working families on lower incomes are locked out of home ownership.  The majority can't save a deposit, even though they could afford the monthly mortgage repayments.  Under Rentplus' model, 22 families, the majority of whom are key/essential workers and nearly half drawn from the emergency services or armed forces, have been able to move into a brand-new home without the need for an upfront deposit.  Each family has previously lived in or have connections to the area.
Under the model, private finance funds new affordable housing. Those moving in pay no upfront deposit; they rent their home paying an affordable rent for between 5 and 20 years whilst they save and build a strong credit rating. When ready to buy, Rentplus gifts them 10% to put towards their savings for the deposit.
Commenting on the project, Jonathan Djanogly, MP for Huntingdon, said: "Both the affordability and natural beauty of Alconbury and its surroundings makes the area an attractive prospect for those looking to get onto the property ladder. It is, however, crucial that homes built within our local housing market remain affordable and accessible for local people. Schemes such as Rentplus assist in this and so I warmly welcome their participation in our community."
Dr Nik Johnson, Mayor of the Cambridgeshire & Peterborough Combined Authority added: "Now, more than ever, affordable housing is crucial to our communities. People deserve to be able to get onto the housing ladder, and this collaborative effort from Rentplus, Huntingdonshire District Council and the Combined Authority shows what can be done when we're all working compassionately together to deliver a much-needed project. It's wonderful to see so many families – including many key workers – starting their home ownership journey, and I hope to see more projects like this from Rentplus in the future."
Cllr Sam Wakeford, Executive Councillor for Jobs, Economy and Housing at Huntingdonshire District Council commended all parties for the partnership approach and said: "As a council, we will explore future opportunities to give local people the chance to own their own home. Affordable homes are a vital part of creating healthy spaces and communities around Huntingdonshire and we are looking forward to the possibility of helping local people onto the housing ladder in their area."
John Walton, Regional Director for the East of England at Rentplus, said: "Affordability is an issue across the country. Rentplus is an affordable rent to buy option which removes the deposit barrier – the biggest barrier to homeownership across the country.  This scheme will make dreams a reality for people in Huntingdonshire. Rentplus changes lives."
The first residents to move into the Rentplus Alconbury Weald scheme were 22-year-old Sophie and David who have always known that they wanted to own their home. "Rentplus has given us that opportunity earlier than we expected. We thought we would have to wait years until we'd saved a deposit. We are paying affordable rent, cheaper than local rent here, and that is allowing us to save. In five years we will be on the housing ladder thanks to this Rentplus scheme. The apartment is everything we wished for."