Published on August 24, 2023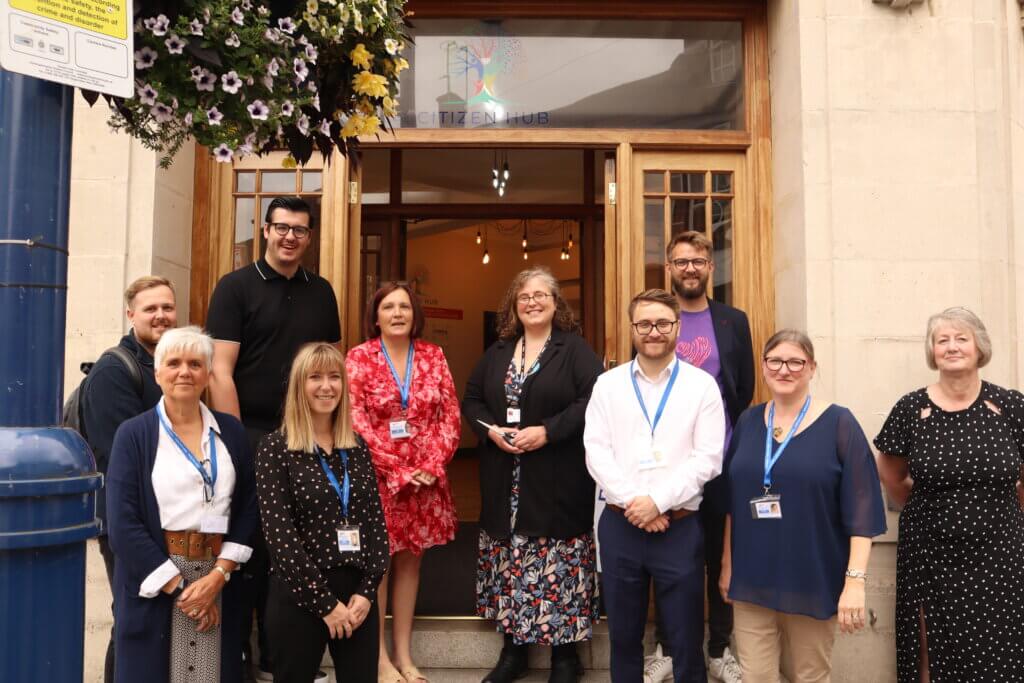 New St Neots centre connecting people with jobs and training already making a difference
Picture: Deputy Mayor of Cambridgeshire and Peterborough Cllr Anna Smith helps open the Citizen Hub. Picture: Harry Pauley.
A newly launched centre helping people in St Neots to find better jobs, access qualifications and training, and start and grow small businesses, has hit the ground running.
St Neots Initiative, a voluntary group, worked with the Combined Authority to set up the new Citizen Hub at 58 Market Square in the town, to give a range of advice and jobs and training support for residents to improve their skills in life and work.
And there are plenty of early signs of success.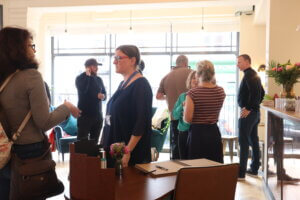 Since opening its doors on July 31, Citizen Hub has had well over 100 visitors already and plenty of positive feedback from the town's residents.
St Neots is growing, with an identified need for more services closer to residents – somewhere on the high street that they can visit and seek face-to-face support and advice.
The Combined Authority brokered a unique partnership with Evolve Your Future, which is also a commissioned training provider for the Combined Authority's devolved adult education budget, to partner with St Neots Initiative to make real their vision for the Citizen Hub.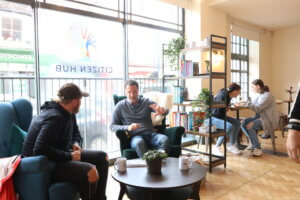 Another early success is the successful sign-up of more than 25 learners to the Evolve Your Future training courses on offer. Courses include self-employment skills, English as a second language, functional skills, and health and safety, all of which are useful for both personal and professional growth. Free courses to help adults improve their numeracy and budgeting skills are also on offer through Multiply funding. Evolve Your Future is also offering a free MOT in life and skills which is proving to be popular.
Local employers signed up as St Neots Initiative members have put adverts for job vacancies on display at the Hub and people have already been calling in to express interest in finding employment through the Hub.
As well as information, advice and guidance to help people with training courses, job search, careers counselling, volunteering and start-up support for entrepreneurs, the Citizen Hub also provides meeting space for local people and groups, and a community café.
The hub is open 10am-2pm on weekdays in August as the team continues to build and refine the Hub's offerings. Full opening hours will start in September.
Mayor Dr Nik Johnson said: "This is such a great example of community partnerships in action – all credit to the St Neots Initiative for seeing the gap, wanting to do something about it, and being so willing to work with the Combined Authority and Evolve Your Future to make the Citizen Hub happen."
Alex Hughes, chair of the St Neots Initiative, said: "We are thrilled with the enthusiastic response and engagement from the St Neots community. The early success of the Citizen Hub reinforces our commitment to empowering every member of our community and creating a vibrant and prosperous St Neots."
Kay Brockall Managing Director of Evolve Your Future said: "As soon as I was introduced to Alex, the Chair at St Neots Initiative via Parminder (Senior Responsible Officer for Adult Education) at the Combined Authority I could see straight away the vision, passion and the synergy between us all to create the Citizen Hub and it is extremely exciting to be part of this journey to bring skills in life and work to the heart of St Neots."
For more information on Citizen Hub, visit: https://linktr.ee/citizenhub
For more information on St Neots Initiative visit: https://www.stneotsinitiative.org.uk/