Published on June 27, 2023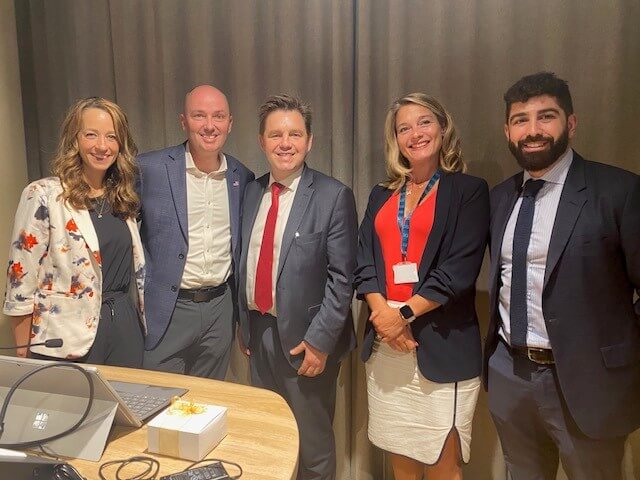 Utah Trade Mission calls Cambridgeshire highlight of UK and France tour
Pictured above from left: First Lady Abby Cox (State of Utah), Governor Spencer Cox (State of Utah), Mayor Dr. Nik Johnson, Rebecca Bekkenutte, Managing Director for Inward Investment, Growth Works, Richard Cuda, Programme Director, Growth Works
There was high praise from members of a trade mission from the US state of Utah for their visit to Cambridge last week where they were welcomed by Mayor of Cambridgeshire and Peterborough Dr Nik Johnson.
The mission, led by Governor of Utah Spencer J. Cox and First Lady Abby Cox, was seeking to understand how Cambridge and its region had become a globally recognised innovation economy and how it was working to sustain that success.
Speakers from Cambridge and the region gave them insight into what made the local economy unique, how innovation is commercialised, a briefing on the local AI sector, the investor and financial landscape, and how talent is attracted and developed.
The feedback from the Governor and his team about the region and their visit was glowing. Scott Cuthbertson, The Head of their Economic Development Office, called out the Combined Authority region as the best part of their trade mission which also included visits to other parts of the UK and France.
The visit to Cambridge was organised by Locate Cambridge, which is the inward investment arm of Growth Works, a consortium set up by the Combined Authority and Business Board to support economic growth and better skills in the region.
Like Cambridgeshire and Peterborough, Utah has a thriving life sciences sector – the fastest growing in the US. Engineering and computer science generated over $19 billion in Utah – 15 per cent of the state's economy. And like Cambridgeshire and Peterborough, Utah was working to keep its innovation economy thriving, including through better physical infrastructure and providing support for new and growing businesses.
Locate Cambridge will continue dialogue with Utah to support transatlantic business opportunities and knowledge transfer that will benefit the complementary economies of both areas.
Mayor of Cambridgeshire and Peterborough, Dr Nik Johnson, who was joined by Deputy Mayor Cllr Anna Smith for the visit, said: "It was fantastic to welcome Utah's Governor and First Lady and the whole trade mission to our region and share some of the things which makes Cambridgeshire and Peterborough a unique place to live, work and do business.
"Engaging with oversees partners, existing and potential, is hugely important for our region and I think we both took a lot from the visit and would both very much welcome keeping up the dialogue between our two regions. We both share dynamic, innovative economies, and it was striking how many of the challenges and opportunities we both share. Collaboration and learning with partners across the world will only benefit us in terms of how this region can move forward with the cleaner, fairer, healthier growth we need in the 21st century."
Kori Ann Edwards, Managing Director, Economic Development team for the state of Utah, said: "We had a fabulous trip to Cambridge. We have all discussed a strong desire to finding ways to partner with you. We see our trip there as a start to a beautiful relationship between Cambridge and the state of Utah!"
The visit took place at the Bradfield Centre, Cambridge Science Park.