Published on March 9, 2022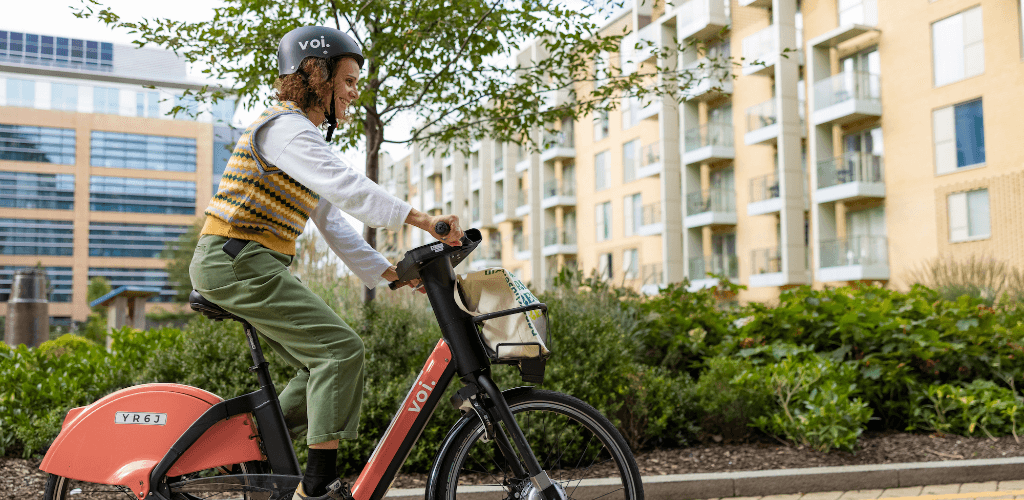 Voi e-bikes back on the streets of Peterborough
Relaunched with 40 e-bikes available to rent and continuing as a 24 hour, 7-day week service
Upgraded e-bike security features and staff on the ground monitoring the service closely
The scheme saved an estimated 3  tonnes of C02 and helped people get around town with 10,000 rides
Voi is giving away 50% off Daily Passes and free helmets to celebrate e-bikes returning to Peterborough
Peterborough, Wednesday 9 March: Voi, Europe's largest e-scooter provider, is delighted to announce that its e-bikes are back on the streets of Peterborough, as the rental service relaunches from 11 am today.
There will be 40 Voi e-bikes to rent, all available 24 hours a day, seven days a week, to give residents and visitors a greener way to travel around town.
Following the temporary pause of the service, due to unprecedented acts of vandalism in the city, Voi worked closely with its e-bike supplier to upgrade security features and prevent vandalism. In addition, Voi staff on the ground will monitor the service closely to ensure everyone can continue to benefit from this active, affordable and convenient mode of transport.
Voi's e-bikes had gone from strength to strength when the scheme launched last year in partnership with Cambridgeshire & Peterborough Combined Authority. Convenient, safe and a sustainable alternative to the car, the scheme has helped people commute, shop or enjoy the outdoors with nearly 10,000 rides and 21,000 miles peddled in total before the scheme was temporarily suspended.
Even in a short space of time, the scheme has also helped replace around 4,000 short car journeys and prevented an estimated 3 tonnes of C02 from entering the atmosphere, as more people began leaving their cars at home.
Voi discount – 50% off Daily Passes: To celebrate today's relaunch, Voi is giving away 50% off Daily Passes to all riders, including new users, as well as free helmets to remind people that safety is the number one priority. Riders can claim their 50% discount by entering code EBIKE0322 into their wallet on the Voi app, which will be valid until Monday 14 March 2022. The Voi app can be downloaded from Apple's App Store for iPhone and Google Play for Android devices.
Matthew Pencharz, UK's Head of Public Policy at Voi, said:
"We're delighted to be back on the streets of Peterborough as we know our riders have missed using the scheme.
"We're asking riders to Voi again and enjoy e-bikes as an active, affordable and convenient way to get around town – not to mention the fact that it's one of the best ways to reduce harmful emissions as well as being a great alternative to the car.
"As a company, we've been working hard to enhance the security of our e-bikes, and we are committed to deploying more staff on the ground to monitor the scheme, whilst continuing to work closely with the local police force. However, ultimately we rely on people's good behaviour and care for a shared service that brings significant benefits to the local community.
"This relaunch is a new beginning and we are determined to deliver a consistent, reliable service for our riders, because Voi is committed to changing the places we live for the better."
Mayor of Cambridgeshire and Peterborough, Dr Nik Johnson:
"Having e-bikes back in Peterborough is fantastic news for the city.
"Peterborough residents have very much missed the convenience and enjoyment that the trial has brought to their daily journeys, and so I am very glad to see them back with enhanced security.
"The e-bikes give people that extra push that we all sometimes need to move more and drive less. Also, as an ultra-low emission travel alternative to the car, they are an easy way to decrease your carbon footprint.
"The Combined Authority is committed to supporting transport schemes that have public health, safety and environment at their core. E-bikes are a forward-thinking answer to reducing carbon emissions and improving air quality in city centres."
Rider Safety: Safety is the number one priority for both Voi and the Cambridgeshire & Peterborough Combined Authority. The micromobility operator also continues to distribute free helmets and encourage riders to join its in-person or online safety training events and learn the rules of the road.
Voi's e-bikes have pedals that are assisted by an electric motor, giving a top speed of up to 15.5mph, and when fully charged, it has a maximum distance of up to 31 miles. Peterborough has its own geographical area to ensure that No Ride, Slow Ride and No Parking Zones are observed, and vehicles are fitted with number plates and GPS. This also makes it easier to identify and report instances of anti-social behaviour via the Report a Voi webpage to ensure the safety of riders, pedestrians and other road users.