Published on August 10, 2022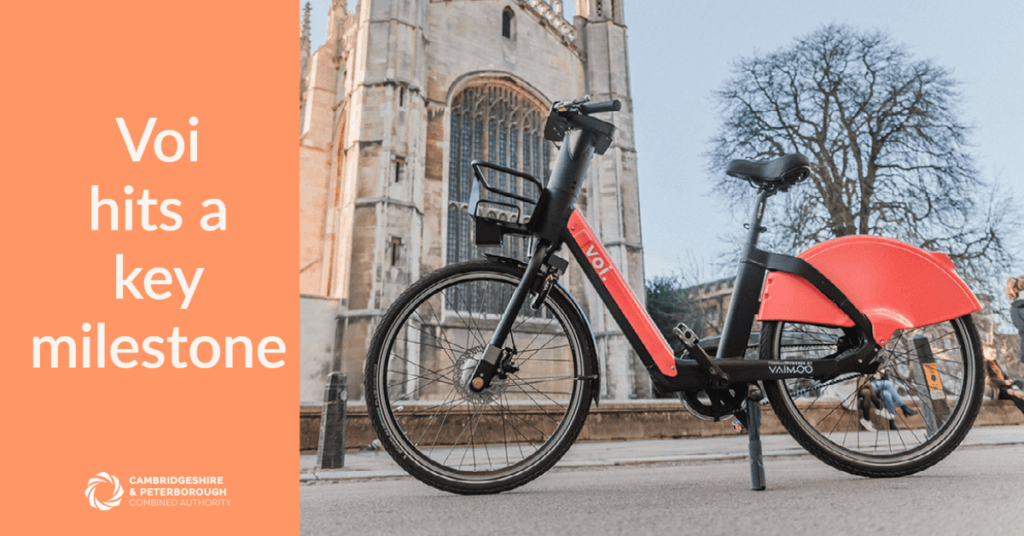 Voi hits a key milestone
Voi e-scooters and bikes, which have been running in Cambridge since October 2020, have reached a key milestone of one million rides since launch. In fact, over 1.15 million rides have taken place with over 2.7 million kilometres travelled.
Allowing users to get around the city quickly, these modes of transport have become a popular green alternative to the car as more and more members of our community think differently about inner-city travel.  As a result of this initiative, it is estimated that over 382,000 short car journeys were replaced since launch with a total CO2 reduction of over 186 tonnes.
Perhaps most importantly of all, Voi offer a number of affordability schemes for different parts of society. Voi 4 Heroes supports NHS, emergency service workers, military personnel and veterans with a 50% discount on a Monthly Pass. Additionally, Voi 4 All supports users from low-income groups with a 50% discount on a Voi Pass. There is also a 20% discount on a Voi Pass for students and staff at higher education institutions, meaning that safe, sustainable and reliable micromobility really is available for everyone.
Speaking of the milestone bike ride and affordability schemes, Mayor of Cambridgeshire and Peterborough, Dr Nik Johnson, said:
"I'm delighted to see that the Voi scheme has now reached such a landmark number of rides in the city.  This initiative is of benefit to the whole community and has shown how good Cambridge is at embracing new technologies and new ways of living.
By offering discounted rides to those members of our society most affected by the cost of living crisis, Voi are ensuring that everyone has the opportunity to make the most of quick, safe and sustainable travel around Cambridgeshire."
Jim Hubbard, Senior Policy Manager at Voi, said:
"As we pass the one million ride milestone in Cambridgeshire, with 90,000 unique riders using our e-scooters and e-bikes regularly to commute, shop or explore the city, we look forward to continue to work with our city partners to offer a safe, reliable and sustainable service to everyone across the city.
"To help those who need it the most and are feeling the pinch of the growing cost of the living crisis, we continue to offer discounted rides to those on a low income, NHS staff, emergency workers, military personnel, veterans, and students."