Published on September 20, 2022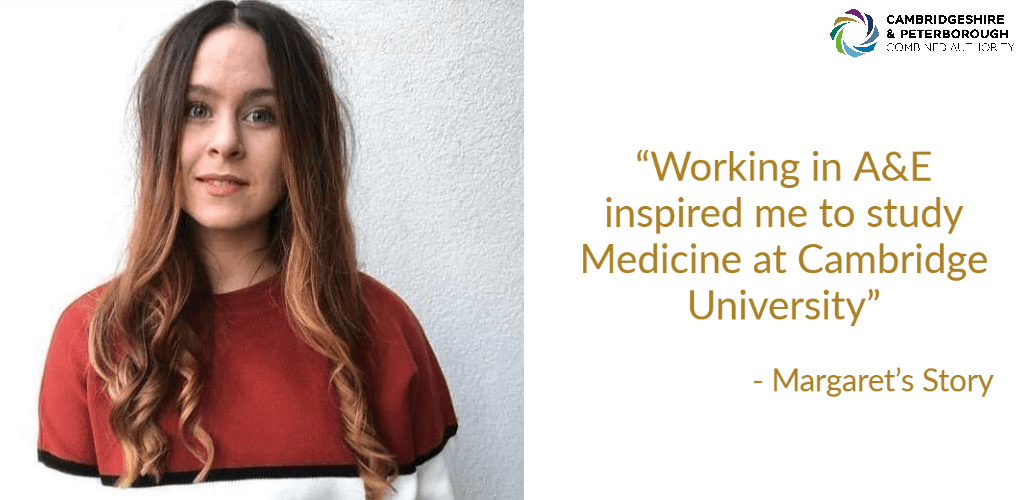 Working in A&E inspired me to study Medicine at Cambridge University
MARGARET Humphrey is getting set to begin studying Medicine this month at the prestigious Cambridge University after completing a yearlong Access to Medicine course at College of West Anglia. She took the lesser-known route to Medicine after discovering a passion for the subject while working in Addenbrookes A&E department for four years.
"I'm really excited to start my course at Cambridge University," Margaret said. "I started working at Addenbrookes while studying for my Performing Arts degree from Anglia Ruskin; working within the A&E department sparked a love for healthcare and medicine."
Access to Higher Education courses, such as the Access to Medicine course which Margaret completed, are designed to help adults prepare for higher education and are an alternative to the traditional route into undergraduate study.
"My Access course covered Chemistry, Biology and Physics and distilled everything that I needed to know to study Medicine at university," Margaret continued. "As part of my Diploma I had to complete a major research project. Given my background working at Addenbrookes A&E, I looked at the perceived effectiveness of the COVID-19 infection screening being used at the time."
The Combined Authority are responsible for ensuring high quality adult education is available for Cambridgeshire and Peterborough residents; that includes funding Access to Higher Education courses since 2019 to the tune of over half a million pounds.
The primary purpose of the Authority's Adult Education Budget is to provide adults with the skills and learning needed for work. In addition, it also provides employability skills including communication, self-confidence and attitude to work to enable people to contribute to thrive within the workplace and play an active part in their community.
Dr Nik Johnson, Mayor, Cambridgeshire and Peterborough Combined Authority, said: "As a NHS Paediatrician myself, I am always thrilled to hear when people enter the medical profession. Margaret's story is a perfect example of why we invest in adult education, to give those the opportunity to develop the skills necessary to reach their career goals.
"I'd like to wish Margaret the best of luck in her studies and in this new, exciting, chapter of her education."
Since the Combined Authority took responsibility for the region's Adult Education Budget in 2019, more than 200 learners have completed an Access to Higher Education course.
CWA Principal, David Pomfret, said, "Our Access to Medicine course has an excellent reputation with many medical schools and is a proven route into the medical profession for those who have achieved in other backgrounds. Our course curriculum was influenced by the schools themselves, so students can be confident that they are being prepared for their next level of study. This year, 71% of students completing the course have gone on to university, with the remaining students making their applications this year. Congratulations and well done to them all."
"Looking to the future, I would like to go back to working in A&E when I qualify as a doctor," Margaret concluded.
Anyone interested in enrolling in an Access to Higher Education course with CWA can find out more information on the CWA website.