Published on March 7, 2022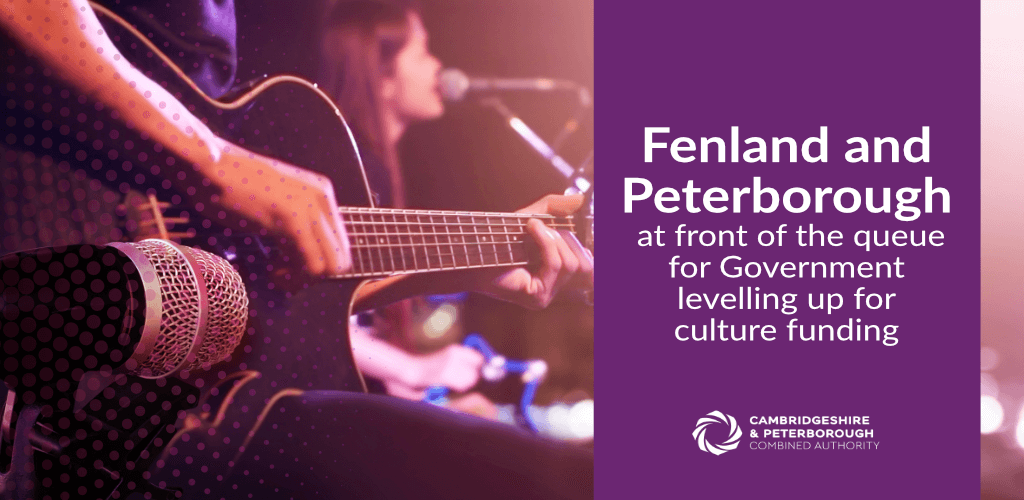 Fenland and Peterborough at the front of the queue …
Statement by Mayor Dr Nik Johnson
Arts and cultural organisations in Fenland and Peterborough have been given places at the front of the queue to bid for a share of £75 million the Government is tabling to move forward its plans to level up culture.
Last week, I met the Arts Minister and told him how vital it is that 'levelling up' must include the sphere of culture. This decision now gives our communities a privileged chance to share money that has in the past mostly gone to reinforce the prestige of grand venues in central London.
In what is a welcome and truly ground-breaking initiative to spread arts money out of London and around England, bringing high-quality cultural experiences and arts jobs within far more people's reach, our local and cultural organisations will now have their priority chance to bid for Arts Council England funding.
The Combined Authority, and our member councils, will be encouraging local groups to stake their claim – and we'll keep an eye on ACE to make sure our area, whether city, market town, or village, really does get its fair share.
Let's now get together to make the most of this opportunity, to fan the bright sparks of Peterborough and the Fens and work in creative partnership to support and showcase their art, performances, and cultural activities.
If cultural groups in Peterborough and Fenland are successful in their bids – and the Combined Authority is determined to help, make that happen – the money will have a ripple effect for all of us. It will catalyse and inspire so that communities across our county benefit. It is not investment solely in Peterborough and Fenland but in the whole county, in now-and-future Cambridgeshire, in the creativity of its people, and in the pull of its wonderful places.
Working with our own member councils, partners, and stakeholders, the Combined Authority's central mission involves bringing forward all our left-behind communities, especially those in Peterborough and Fenland.
Over time, Peterborough and Fenland have been neglected by successive governments of every shade, and this announcement is a key step, not merely in redressing a historic wrong, but in acknowledging and encouraging the talent on our doorstep.
British culture is regional and local, not merely metropolitan and national. This less London-centric approach to funding recognises the marvellous heritage of communities beyond the capital, the contribution of their culture – not just to leisure, pleasure, and job creation – but to public health and wellbeing.
Investment in our culture will increase economic activity and decrease inequalities. This Arts Council England opportunity will help us to ensure that no one is left behind, and that places historically passed over are back in the game, enriching the life of our own residents but also attracting tourists to experience the county through the arts, heritage experiences, and entertainments on offer.
Culture, from poetry to football, brings satisfaction and a sense of place and identity to local people and can generate huge revenue from visitors, boosting the hospitality trade in particular. It is in every way uplifting and the Combined Authority will continue to work to bring about equal access for all, so that everyone can fulfil their creative potential and be enriched by the creativity of others. Our culture is about our sense of self in a place and in a community, and of that community in a country and a civilisation, not just here and now, but out there, in history and in the world beyond.