Published on March 26, 2021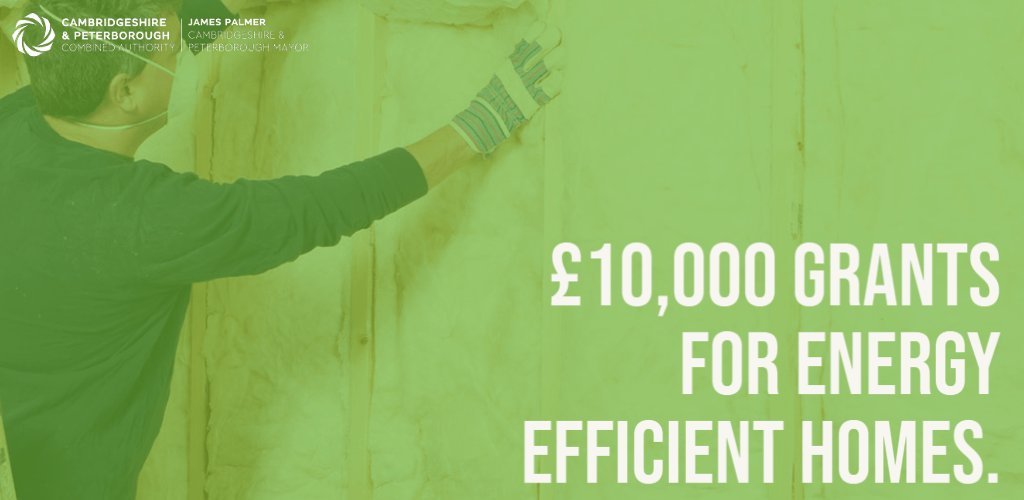 £79.6m scheme to improve lives and reduce carbon emission across the South East of England
In a meeting of the Cambridgeshire & Peterborough Combined Authority today (26 March), approval was given for the Combined Authority to act as the accountable body for a £79.6m funding scheme to support the Government's commitment to achieving Net Zero carbon emissions by 2050.
The ask for the scheme is to deliver greater energy efficient homes, support a green recovery and deliver progress towards fuel poverty targets, clean growth, economic resilience and increase the capacity of the renewables supply chain, accredited retrofit business and skills across the region covered by Greater South East Energy Hub.
The scheme focuses on improving the energy efficiency of around 10,000 low income and low energy performing households across this region, by offering the retrofit improvements such as cavity wall, underfloor and loft insulation, and replacing gas boilers with low carbon alternatives like heat pumps where appropriate. It will also include installing solar panels on many social housings, helping residents on low incomes create their own green energy to power their homes.
In the scheme which will be launched later this Spring, eligible owner/occupiers will receive a £10,000 grant to complete the work. Social and private landlords will receive £5,000 towards their costs of improvements.
Around 1,100 of the 10,000 homes identified by the Greater South East Energy Hub, sit within Combined Authority's area, and 5,000 within an area serviceable by a Cambridgeshire supply base.
The scheme is also predicted to directly support around 2,000 energy sector jobs, including local plumbers, builders, and tradespeople, needed to deliver retrofit over the next 4 years.
The Combined Authority will also use its refreshed Skills Strategy to identify Green Skills as a priority for investment of future education budgets, such as the Lifetime Skills Guarantee and the Adult Education Budget and Further Education Capital Transformation Fund. It could provide significant opportunities to upskill and reskill Cambridgeshire and Peterborough residents in Green Skills and jobs that are in‐demand and better paid, improving prosperity in the region. Local Colleges are already developing Green Skills Academy ideas to address the skills needs of this emerging sector.
This scheme is part of a nationwide programme, announced yesterday by the UK Government (23 March), where 50,000 households will be upgraded with green improvements from a £562 million fund, reducing carbon emissions and supporting thousands of green jobs across the country.
It also come a week after an initial recommendations report presented by the Cambridgeshire & Peterborough Independent Commission on Climate suggested:
"All existing building should achieve high energy efficiency standards and be heated from low- carbon sources.
"Every building, starting with those properties below EPC"C", have a renovation plan setting out a clear pathway to full decarbonisation and home retrofits will need to be rolled out across building stock incorporating cooling measures as well as energy efficiency, water efficiency and heat decarbonisation.
"The Combined Authority and constituent authorities should priorities achievement of net zero emissions for social housing."
Speaking after the Combined Authorities Board meeting, Mayor James Palmer said:
"The Combined Authority is focussed on delivery, on sustainable housing, on jobs and on economic growth. This exciting scheme touches on all these areas and shows how doing right by the environment can also do right by the economy.
"I am pleased that we have been able to support this clean home scheme both directly and indirectly. The Climate Change Commission has showed us what we need to do to tackle climate change in Cambridgeshire and Peterborough, and this scheme is one of the first to deliver on that aspiration."