Published on March 26, 2021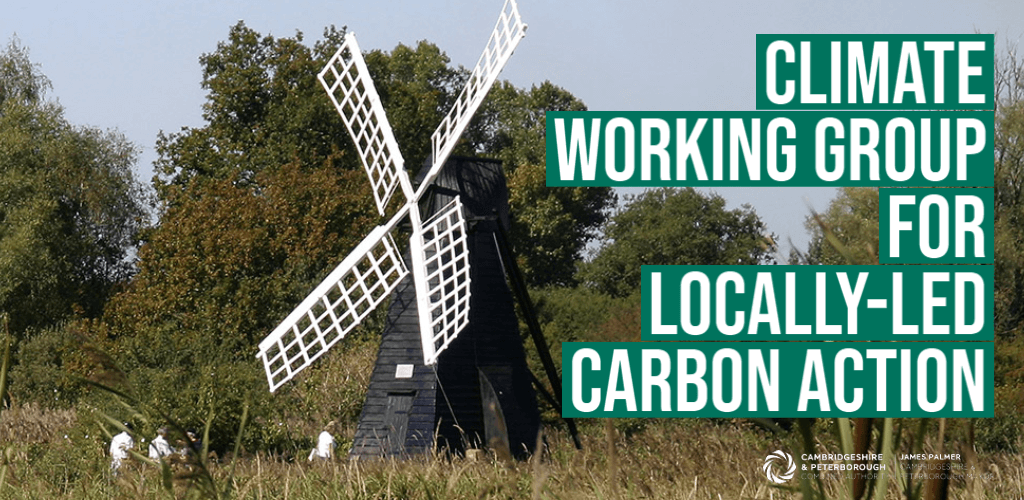 Mayor to set up Climate Working Group to put locally-led carbon action at the heart of a prosperous post-Covid future
At a meeting of the Cambridgeshire & Peterborough Combined Authority Board today (26 March), the Board welcomed the findings of an initial report by the Cambridgeshire and Peterborough Independent Commission on Climate Change.
Approval was given for the creation of a Climate Working Group and funding of additional work to put in place the steps needed to help mitigate the risks of flooding, high summer temperatures, water shortages, and damage to the natural carbon stores in the deep peat of the Fens which this region is now facing due to climate change and grasp the green growth opportunities.
The Combined Authority Board thanked the Independent Commission's Chair, Baroness Brown of Cambridge, and members of the Commission for their work so far and commits to engage with member councils and the Cambridgeshire & Peterborough Business Board to agree and implement an action plan in response to the recommendations made within the report. A formal response to the recommendations is expected to be ready after the mayoral election in May.
In the report, the Independent Commission, which was originally proposed by Mayor Palmer, acknowledges the scale of the task ahead, identifies potential investment in green growth opportunities. It emphasises both the need to get on track to reduce emissions in line with UK targets and to prepare for the impacts of climate change that are already happening, stressing the need for fairness to be at the core to the approach.  The report sets out over 30 recommendations for action including in relation to reducing transport emissions and making homes more energy efficient.
The Combined Authority also made a commitment and approved funding of £50,000 a year to create a Fenland Peat Committee. The remit of this committee will be to work closely with our nationally important farming community and landowners across the Fens to establish sustainable and realistic ways to mitigate the impact of climate change. The focus will be to bringing adaptation and biodiversity to the area whilst managing local soil and lowland peat to reduce emissions, help double nature and produce healthy food.
Speaking after the meeting, James Palmer, Mayor of the Cambridge & Peterborough Combined Authority said:
"Like the Cambridgeshire and Peterborough Independent Economic Review, my intention with the Climate Change Commission was to properly frame the issue in our local context, provide a firm evidence base on which to base our response and for its findings to run as a golden (or green) thread through all our work at the Combined Authority.
"Given the detailed and thorough work we have received from the Commission, and the level of action to be taken at all levels of Government, it is right that we take the time to properly formulate our full response. The Climate Working Group will be a vital part of that response and ensure the right action is taken.
"However, the Government's recent creation of the Lowland Agricultural Peat Taskforce and commitment to developing a new England peat map by next year means it is right that we fund the work to properly input into that now. Fen farmland is so important to our economy and food supply; we have to make sure that national policy does not damage that and lead to more flooding of people's homes and some of the most valuable agricultural land in the country."