Published on December 19, 2022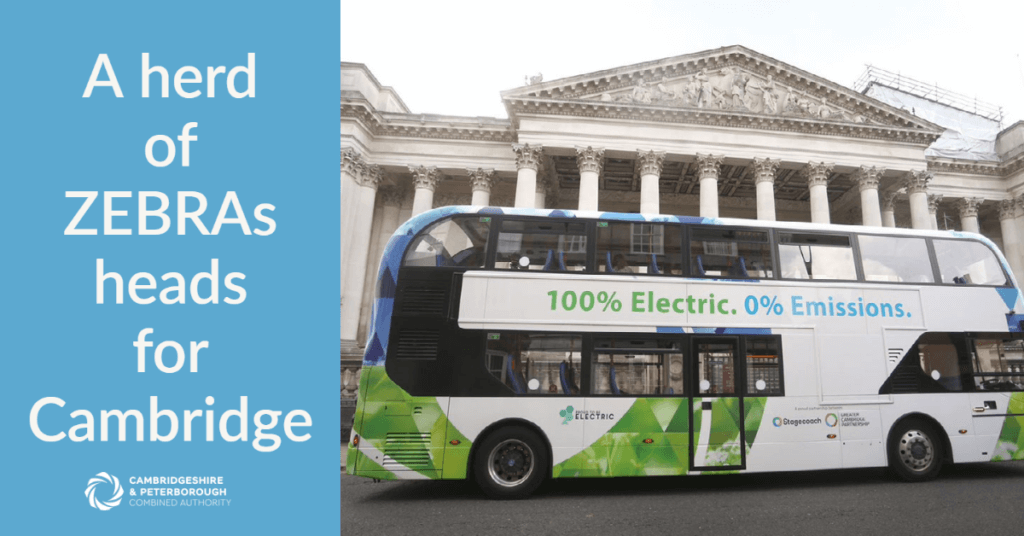 A herd of ZEBRAs heads for Cambridge
Reindeer will be making a magical visit to the region this week but a 'herd of ZEBRA' will soon be travelling around the streets of Cambridge – with new electric buses arriving soon.  
The 30 zero emission electric double decker buses are due to join the city's ever expanding fleet of cleaner vehicles early next year as part of the Zero Emission Buses Regional Area (ZEBRA) scheme.   
The ZEBRA buses will make a significant contribution to improving air quality in the city and assist in making buses a greener and more attractive travel choice in Cambridge funded by the Cambridgeshire & Peterborough Combined Authority, Department for Transport,  Greater Cambridge Partnership (GCP) and Stagecoach.  They will be used on the five Cambridge park-&-ride routes, as well as the Citi 2 service which links Cambridge North Station with the city centre and Addenbrooke's Hospital.   
These are primarily short routes in central Cambridge where they can maximise their time in the city centre Air Quality Management Zone, an area of Cambridge that has by far the poorest air quality across Cambridgeshire and Peterborough.  
The introduction of these buses is part of a commitment to a rolling bus replacement programme, replacing 30 vehicles a year across the Combined Authority area. There is an ambition to convert the entire bus fleet from diesel buses to zero emission vehicles within the Combined Authority region by 2030 to hit carbon emission targets and help tackle climate change.  
The Combined Authority and GCP put forward a successful business case, submitted to the Department for Transport (DfT) in August 2021, for a grant of £4.295m to help fund the 30 buses. The grant represents 26% of the overall bus replacement project of over £16.5 million, with the balance being funded from the Cambridgeshire & Peterborough Combined Authority's Transforming Cities Fund, Greater Cambridge Partnership's City Deal and Stagecoach. 
Speaking of their impending arrival Oliver Howarth, Bus Strategy Manager at the Combined Authority said: "The arrival of these buses will mark the start of an exciting new era for public transport in Cambridge City centre.  We are committed to decarbonising our roads and cutting emissions and air pollution.  By replacing 30 of those buses with the ZEBRAs, we can expect to see a reduction of emissions in that central zone of over 40%, contributing significantly to improved air quality and public health."  
Cllr Elisa Meschini, Chair for the GCP's Executive Board, said: "This is great news for bus users and residents, as these cleaner buses will help to reduce carbon emissions to improve air quality and make our city a greener, healthier place to live, work and visit. It also demonstrates how, working together, the GCP and Combined Authority can transform public transport and deliver change to improve the quality of bus services and vehicles to benefit our communities."