Published on December 18, 2020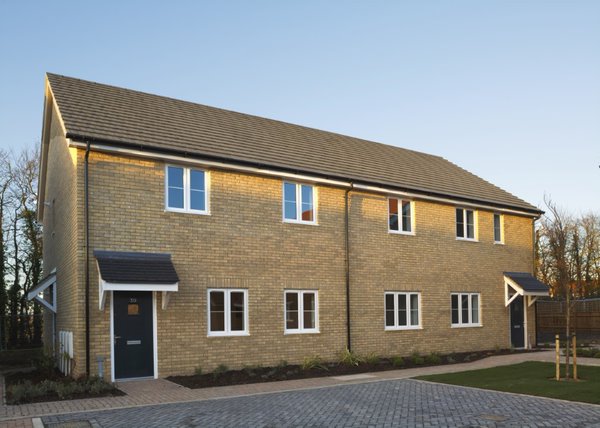 A look inside the first £100K Homes
For the first time, the public get to look inside the first £100K Homes as James Palmer, Mayor of Cambridgeshire and Peterborough releases exclusive photos of the recently completed properties in Fordham.
Despite construction setbacks this year due to Covid-19, the eight £100K homes have been delivered by Hill development in time for Christmas and to the original programme.
The Cambridgeshire and Peterborough Combined Authority invited applications on properties in mid-September, with nearly all the 228 applications received eligible for the £100K Homes scheme. Of these, 147 of these applicants already live or work in Fordham, and so were eligible to purchase one of the eight 100K Homes currently available. This means that demand for £100k Homes in Fordham is so high they could have been filled nearly 20 times over.
The Combined Authority quickly processed the applications and informed the eight lucky purchasers within a few weeks of their application. All eight purchasers are currently going through the conveyancing process and applying for mortgages before moving into their new homes.
Market rate valuations on the £100K Homes at Fordham, Cambridgeshire valued the ground floor flats at £150K and the first-floor flats at £155K, revealing a discount rate of 35%. This means that all subsequent buyers will purchase the homes at the same discount, over a third of the market value, whenever current owners choose to sell.
Mayor James Palmer said:
"We said we would deliver £100K Homes for Christmas and that's exactly what we have done. From these pictures it is clear to see these properties are of the highest quality, comparable with any newly built one bedroom property available for open market purchase or rental.
"We need new solutions to the housing crisis, and I am proud that together with forward thinking developers such as Hill, we can provide these well-appointed properties at such a significant discount and give these hardworking local people a step on the ladder and a home of their own. I look forward to handing them their keys once they have completed the conveyancing process."
Andy Hill, Chief Executive of Hill said:
"This initiative represents a special opportunity for first time buyers from the local area to get a fantastic head start in life by making their first step onto the property ladder more affordable. It is only by taking a different approach that we can make the housing market more accessible. We look forward to continuing to work with our partners to deliver more high-quality new homes to those that need them."
£100K Homes are allocated on a points system, designed to give a fair representation of an applicant's local connection to the area. Those with the strongest local connection to Fordham, either by living or working there or having strong family connections, will be the first to be offered the opportunity to purchase a £100k Home.
The Mayoral Combined Authority continues to work with developers across the region to bring forward more £100k Home with new sites coming forward in Great Abington, Ely and Cambridge City. Those who are not eligible for Fordham properties will remain on the waiting list for new builds that come forward in other areas.
£100K Homes are made available at a discount to their full market value through a legal covenant which stays with the property. The new purchaser would also be found through the £100K Home scheme, and they would also benefit from the same percentage discount on the open market value of the property the initial buyer received.
Rather than their monthly payment disappearing into the bank account of their landlord, those who buy a £100K Home own it outright and build their equity as they repay their mortgage. As the monthly mortgage payment is expected to be lower than the equivalent private rent amount, £100K homeowners also have the chance to save more each month; savings that can go towards the deposit on their next homes, in the open market.