Published on December 17, 2020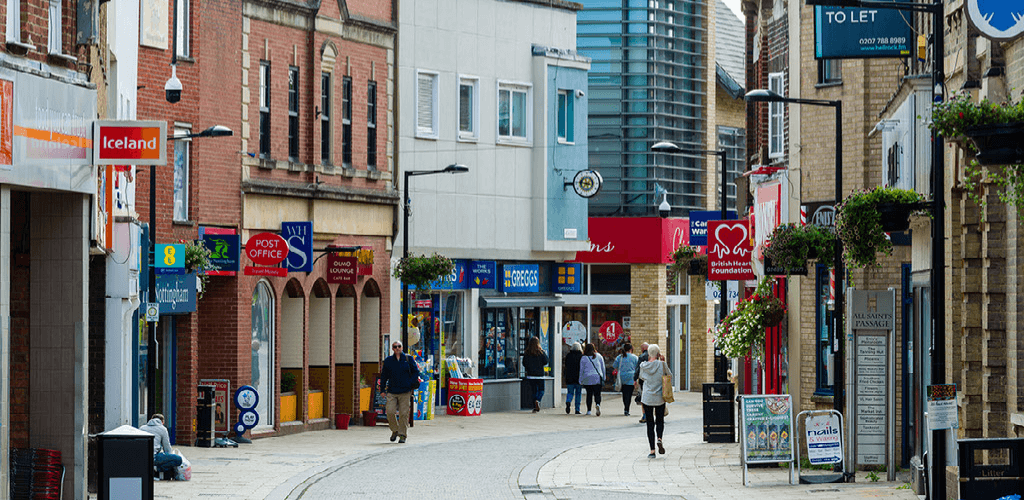 Free Wifi gives Huntingdonshire market towns a pre-Christmas boost
Supported with funding from the mayoral Combined Authority, free public access Wifi is now live in Huntingdonshire market towns, bringing a welcome pre-Christmas boost for local businesses and residents.
The CambWifi network has been extended by Cambridgeshire County Council's Connecting Cambridgeshire programme, with the support of Huntingdonshire District Council, and additional funding for market towns from  the Cambridgeshire & Peterborough Combined Authority, headed by Mayor James Palmer.
CambWifi is already available in Ramsey, St Neots, and St Ives marketplaces and town centre streets with Huntingdon coming soon – providing safe internet access and free data to help everyone stay connected through and beyond the Covid pandemic.
As well as keeping people in touch and backing local businesses, the free Wifi supports Covid safety measures such as using contactless payments while shopping for essentials, registering for 'track and trace' using QR codes, or accessing the latest local health advice and support.
CambWifi is safe and simple to join in a few short steps* via CambWiFi_Public
The secure network is also widely available in public buildings, libraries, leisure centres and park & ride sites across the county, so users only need to register once to be able to get free internet access.
Business and community leaders have welcomed the provision of free CambWifi through collaboration and investment by local authorities, which recognises the importance of digital connectivity for everyone – now and for the future prosperity of the region.
Mayor of Cambridgeshire & Peterborough James Palmer said:
"Digital connectivity brings flexibility and opportunity, in business and life. By funding free public access Wi-Fi for market towns across Cambridgeshire, the Combined Authority will both help the market towns individually but also get the county of Cambridgeshire more linked in, more levelled up, and much better equipped to work round the pandemic and beyond it.  This is about connecting people, bringing opportunity beyond mere geography, and I'm proud that highly effective partnership between the Combined Authority, councils, and industry is delivering this."
Councillor Ryan Fuller, Executive Leader, of Huntingdonshire District Council said:
"The rollout of CambWifi across Huntingdonshire's market towns is now complete, and we are proud to have been so involved in its implementation. St Neots went live a few weeks back, but now the free Wifi is live across St Ives and Ramsey, with Huntingdon coming soon. It is a sign that we are moving forward for our town centres, embracing digital connectivity, providing long-term opportunities for residents and businesses, and ensuring that our market towns are fit for the future.
"Free wifi on our high streets offers opportunities for businesses, previously unable to operate digitally, to diversify their offering. Residents and visitors can now be seamlessly connected online from town to town, just one of the steps we are taking to promote the market town experience."
Cambridgeshire County Council Leader, Councillor Steve Count, said:
"The Covid-19 pandemic has made us all more reliant on internet services to keep in touch. It's vital that businesses and communities can keep connected to get the support they need to get through these difficult times.
"I am delighted that we've been able to work together to expand the CambWifi network to market town centres in Huntingdonshire so that more people can get online for free. Using CambWifi can also help us to behave safely and responsibly within the Covid guidelines, whether it's for shopping locally, visiting the library, or meeting outdoors."
It's safe and simple to join:
Find CambWiFi_Public in your Wifi settings and connect
Enter your name and email address, accept the terms and 'Register'
A new web page will open. Click the 'Login' button. The page will refresh and send you to the Connecting Cambridgeshire website's CambWifi page (Please note: If you are logging in through a mobile phone or tablet you can click 'Done' to close the screen, but you are still not fully logged in)