Published on December 11, 2020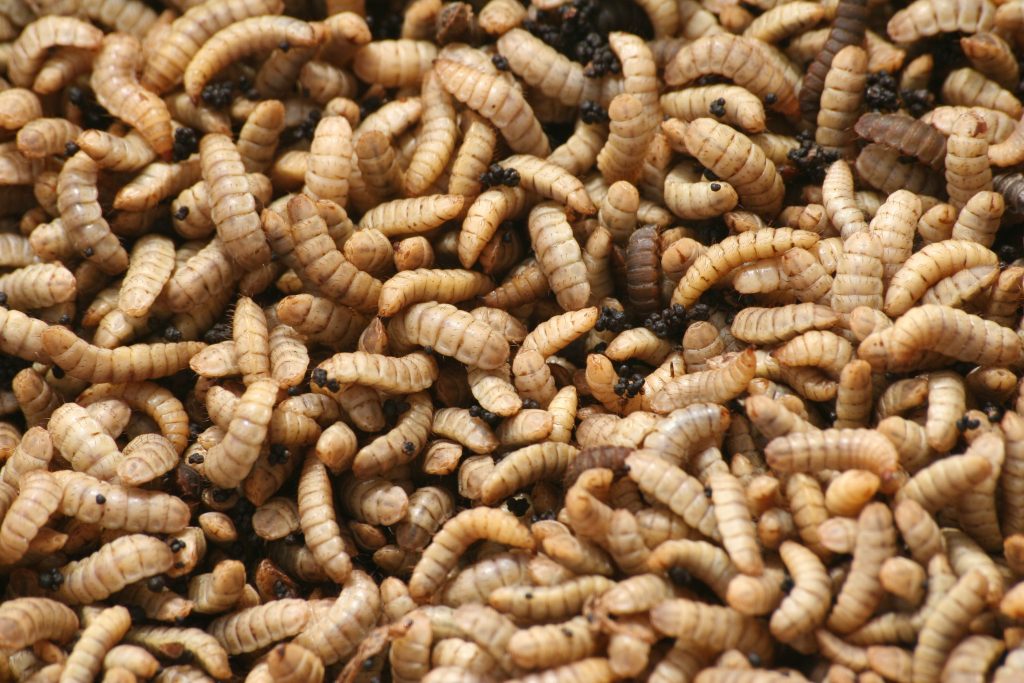 AgriGrub's sustainable solution to food waste backed by the Cambridgeshire & Peterborough Combined Authority
A Soham-based business that is pioneering a sustainable solution to food waste in the UK has been backed by a £62,000 grant from the Cambridgeshire & Peterborough Combined Authority's Eastern Agri-Tech Growth Initiative.
AgriGrub uses waste fruit and vegetables from AMFresh which can't be eaten by people or fed to livestock and feeds them to Black Soldier Fly larvae (BSFL).
These grubs are naturally amazing at breaking this waste down, and they also make a fantastic live food for birds, reptiles and hedgehogs. The grubs are also dried for use in bird food, and AgriGrub's aim is to use them to replace soy in chicken feed. The insect droppings make an excellent and sustainable organic fertiliser.
AgriGrub is currently able to process around 250kg of waste a day and have been awarded a grant from the Combined Authority's Eastern Agri-Tech Growth Initiative to enable them to increase their capacity to process 10 tonnes of waste a day by the end of 2021.
The Eastern Agri-Tech Growth Initiative is designed to support the development of new and innovate ideas within the Agri-Tech sector. Run by the Cambridgeshire & Peterborough Combined Authority, the Initiative has two main funds that can help support local businesses.
The Agri-Tech Growth Fund offers grant funding of between £10,000 and £150,000 to support product development and improve agricultural productivity and a Research, Development and Prototyping Fund which helps to support the research and development of new products or processes with grants of between £10,000 and £60,000.
AgriGrub will achieve their ambitious expansion plans in three ways:
1)           Increasing the manpower available by hiring a team of new insect farmers.
2)           Buying the equipment required by a 10tn/day facility.
3)           Utilising a new software system to manage operations.
AgriGrub is currently looking for a new site within the Great Cambridgeshire / Greater Peterborough area as part of their exciting development plans.
Joe Halstead, Managing Director of AgriGrub Ltd said:
"At AgriGrub we're grateful to have been awarded a grant which will enable us to grow and scale operations dramatically.
With this project we'll expand our waste processing and product processing pipelines, expand rearing and breeding infrastructure and upgrade our software system to operate at scale.
This facility will be a perfect demonstration facility for farmers, food processors and waste management to see how they can take their first steps in insect production and join a rapidly growing sector.
This Eastern AgriTech Growth Initiative project is lift-off for AgriGrub, launching a period of sustained growth."
James Palmer, Mayor of Cambridgeshire & Peterborough said:
"I am really pleased we have been able to support AgriGrub with a grant, not only will the funding help them to achieve their ambitious growth plans but also have a real impact on how we tackle the challenges around food waste.
"WRAP (The Waste and Resources Action Programme) says that £19bn worth of food is wasted in the UK annually and AgriGrub are doing great work to make the food sector more sustainable.
"Joe and his team are incredibly passionate about what they do and I am look forward to seeing their plans come to fruition over the coming months.
"The agri-tech sector is hugely important to the Cambridgeshire and Peterborough economy and AgriGrub are an example of the incredibly innovative companies doing extraordinary work across the region."