Published on July 3, 2023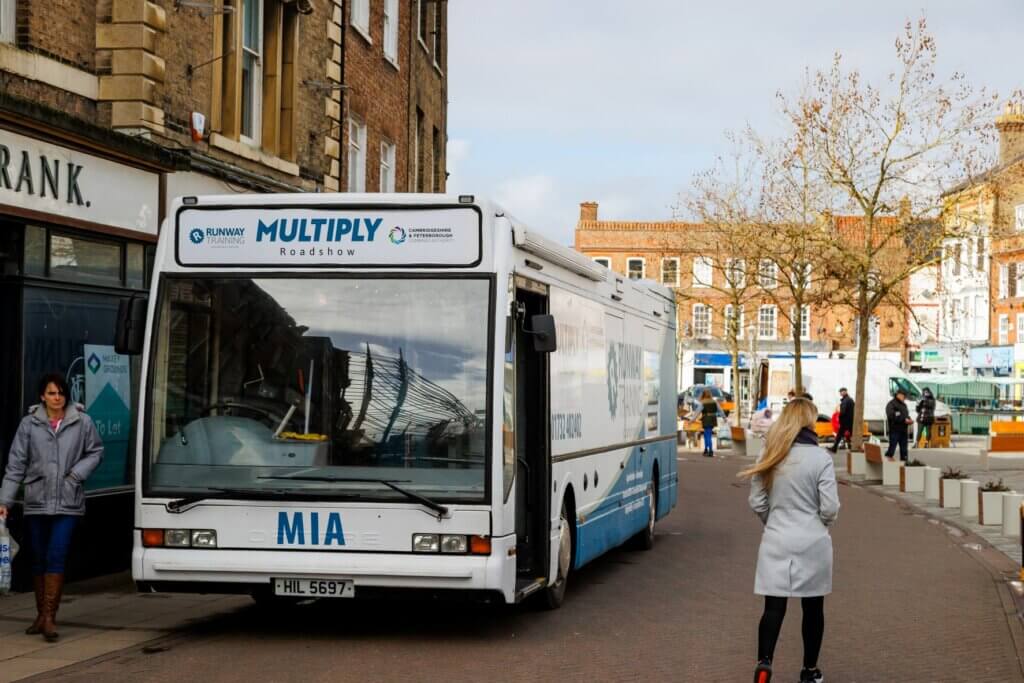 Bus promoting maths skills in Cambridgeshire and Peterborough is back for two summer dates
A bus promoting free maths courses in Cambridgeshire and Peterborough is once again welcoming people aboard to find out more.
Multiply is a £4 million initiative run by the Combined Authority and which offers everything from basic maths skills for budgeting and parents wanting to help with homework, through to professional qualifications to help people in their careers. The courses are free for learners.
A dedicated bus helping to promote the courses and which also serves as a mobile classroom has been set up by one of the Multiply training providers, Runway Training.
Many people lack confidence with numbers, either in daily life or in the workplace and Multiply offers a range of courses to help people improve their maths skills.
The bus will be stopping at:
July 7: Cambridge Retail Park, Newmarket Rd, Cambridge CB5 8WR. From 9am-4pm
July 8: Paxfest & Fun Dog Show, QEII Playing Field, Little Paxton. From 10.30am-4pm.
People are welcome to board the bus, find out more about the courses and talk to staff. The bus is fully equipped with ten laptops, wi-fi, screens and a coffee machine, and has a relaxed, friendly feel. People can sign up to a course on the day if they want to.
A range of colleges and training providers across the region are offering Multiply courses. The public can find out more about the Multiply programme, find out about courses and sign up on the Growth Works With Skills webpage.
Examples of the upcoming Multiply courses offered by Runway Training are:
Tuesday 11th July – Family Budgeting 10-1pm
Thursday 13th July – Supporting Children With Homework 2-5pm
Wednesday 26th July – Family Budgeting 10-1pm
Friday 28th July – Supporting Children With Homework 10-1pm
Some courses for Ukrainians who have come to the UK following the Russian invasion are:
Wednesday 5th July – Effective Family Budgeting online
Wednesday 12th July – Financial Awareness At The Workplace.
Mayor of Cambridgeshire and Peterborough Dr Nik Johnson said: "It's great to see the Multiply bus back out there and promoting fantastic free courses to help people boost their maths skills. It's really important as many people as possible know about these opportunities because a lack of maths skills can impact people's quality of life and their job potential.
Martin Bartlam, Head of Business Development at Runway Training, said: "Taking the Multiply bus out is something I'm extremely excited about. Especially when it comes to budgeting, Multiply is a valuable resource for families. Not everyone finds maths easy, so Multiply is an excellent way to introduce soft skills, while simultaneously making maths relevant to everyday family life, and I am delighted that we are able to provide additional assistance to Ukrainian families. By visiting new locations, we are reaching more communities and interacting with a wider audience, so more people can benefit from this fantastic initiative across Cambridgeshire and Peterborough."