Published on July 12, 2021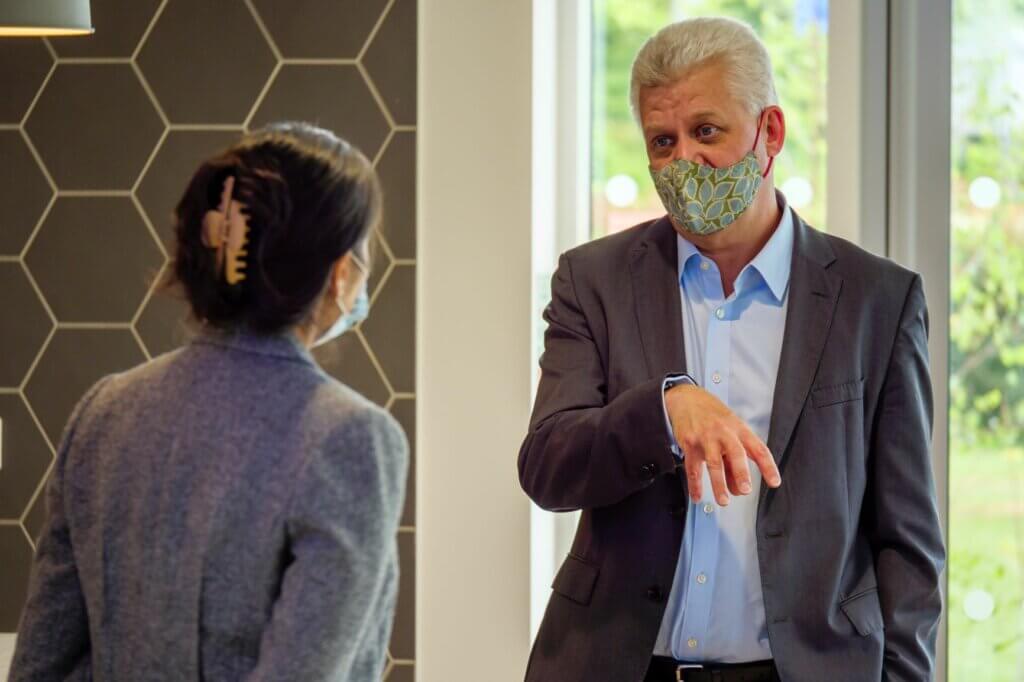 Business Board vice chair sees how Haverhill innovation centre investment is paying dividends for local economy
Investment into a flexible, modern business centre for entrepreneurs and growing enterprises is already supporting growth and jobs in the local economy just nine months after its launch.
Vice chair of the Cambridgeshire and Peterborough Combined Authority Business Board, Professor Andy Neely, visited The EpiCentre in Haverhill to take a tour of the modern, flexible suite of workspaces and to see how they are being used by local businesses.
Watch the video below:
The centre was built with support from £2.7 million of Local Growth Fund investment from the Business Board and a loan of £3.5 million by West Suffolk Council. The aim was to support small and medium sized businesses (SMEs) to grow and deliver jobs for local people.
The four-storey centre launched in early November 2020 and is located at Haverhill Research Park, off the A1307. The location is seen as a gateway to East Anglia and accessible to Cambridgeshire, Suffolk and Essex.
The EpiCentre offers a range of office space, hot desking and co-working options, designed to support businesses to launch or expand quickly and easily. There are also ground floor labs, offering space for the companies including in the life sciences sector – something for which the region has global renown. CodiKoat are an example of a business using the centre's Tissues Culture Lab to develop pioneering anti-viral technology which has been ISO accredited following a trial in the London Opera House.
The centre aims to support collaboration between businesses, fostering innovation and growth, building on the ingredients which have made Greater Cambridge and its surrounds a nationally important and dynamic subregional economy. The EpiCentre also offers access to business advice and helps open up networks with other companies and investors.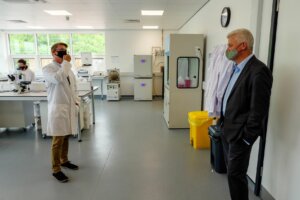 Professor Neely, who is also Pro-Vice-Chancellor for Enterprise and Business Relations at the University of Cambridge, said: "It was fantastic to see the diversity of companies operating from this impressive space. What struck me was the energy and enthusiasm of the innovative and growing businesses and the space felt like an exciting launchpad for their futures.
"With the building launching during a pandemic, a key aspect of the success so far has been the flexibility of its offering. The EpiCentre has helped growing SMEs in a turbulent period to find space to adapt and scale.
"This has been a very positive start and I would love to be able to fast forward 12 or 24 months to see how The EpiCentre develops as it has a really promising future."
Centre manager Kelly Boosey, said:
"The EpiCentre's great advantage is that it is managed by Oxford Innovation that has an outstanding track record of success in incubating and accelerating high growth businesses throughout its network of 27 Innovation Centres around the UK, providing specialist coaching services and funding support through its established investor networks.
"At The EpiCentre we are continuing that goal with the government's 'back to business drive' and are delighted there is so much interest in creating an entrepreneurial business hub."