Published on August 10, 2021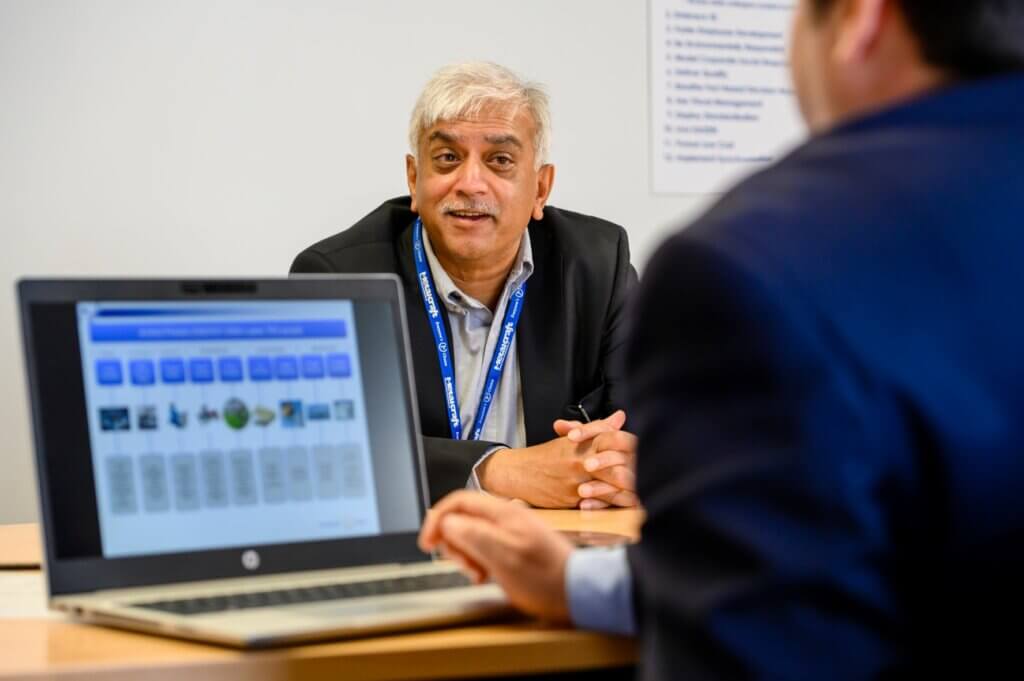 WATCH: Business Board's Nitin Patel visits Stainless Metalcraft to see how it is securing its skills future
Member of the Business Board, Nitin Patel, visited Stainless Metalcraft in the Fenland town of Chatteris to find out how more about one of the region's flagship advanced manufacturing companies is ensuring it has the skills it needs to thrive.
Growth in the sector in Cambridgeshire and Peterborough is a key priority in the Local Industrial Strategy, which the Business Board is responsible for implementing. Linked to this is a focus on tackling skills deficits in places like Peterborough and Fenland, and opening up new jobs and opportunities for people.
The Combined Authority and Business Board has a long-term ambition to create an advanced manufacturing innovation launchpad in Chatteris, aligned with the aim of the Combined Authority's Local Industrial Strategy to promote growth in the sector.
A key investment is a £3.16 million Local Growth Fund grant to develop a new training school at the Metalcraft site, which will provide skills for a new generation of between 80 and 130 apprentices per year. The aim is to help them secure good careers in the industry and some will be recruited by Metalcraft directly. Work has just begun on the site and the occasion was marked with a 'spade in the ground' event which included Mayor of Cambridgeshire and Peterborough Dr Nik Johnson.
The facility will both tackle skills gaps in the region and support companies like Metalcraft to continue to grow, attract new investment, create jobs and ultimately level up the economy and life chances of local people. The school is planned to be completed in spring 2022.
On his tour, Mr Patel heard about the importance of the existing Metalcraft apprenticeship programme in developing people with the right skills to keep pushing the company forward. Almost half of its current employees have been trained by Metalcraft. This included Martin Lawrence, Metalcraft's commercial director, who himself started as an apprentice, and was showing Mr Patel around.
With the company celebrating 100 years of training apprentices in 2016, Metalcraft has a rich history of bringing forward new talent.
Mr Patel, who has a background in manufacturing and innovation, and currently works as a consultant and lecturer on business transformation said: "Stainless Metalcraft would not be able to survive in the globally competitive world of advanced manufacturing if it didn't invest in excellence.
"Bringing through the next generation is always on their mind and their exceptional commitment to training and apprenticeships is a big part of their success story.
"The support from the Business Board to develop the new training school will help build on that heritage of developing skills. This will be vital to attracting more investment and creating more jobs in one of our priority economic sectors. This will hopefully be a springboard and a magnet for more manufacturing excellence, powered by a hotspot of local skills which will support the local economy for decades to come."
Martin said: "We were delighted to welcome Mr Patel to Metalcraft and talk to him about current work and our plans for the future. As recipients of the Queen's Award for Enterprise for Creating Opportunity through Social Mobility, we're committed to creating rewarding, long-term careers in the local area and this new training school will play a key part in realising that vision, helping local people develop the skills they need to embark on rewarding, long-term careers in the industry."