Published on August 11, 2021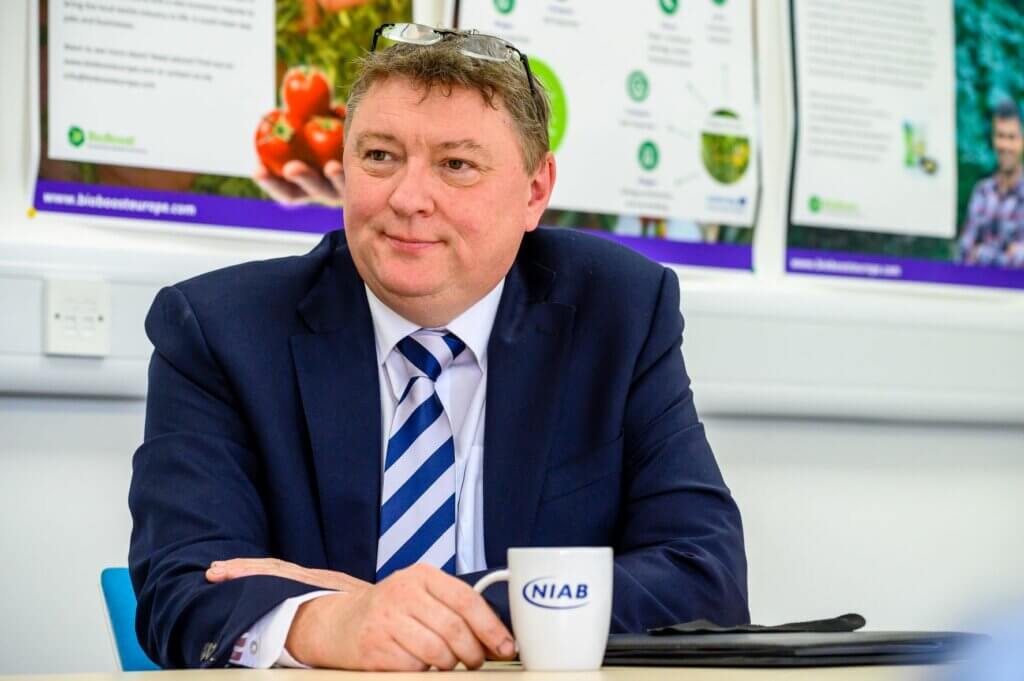 Business Board chair visits upgraded Soham centre nurturing pioneering agri-tech companies
Chair of the Cambridgeshire & Peterborough Combined Authority Business Board Austen Adams visited a newly upgraded business innovation centre to find out how it is supporting more commercial and job opportunities in agricultural technology and science.
Mr Adams was shown around the new £1.25 million facilities at the Eastern AgriTech Innovation Hub in Soham, to find out more about some of the exciting businesses based there and how the new facilities are helping them to grow.
£625,000 of the funding for the upgrades was provided by the Business Board through a Local Growth Fund grant. The Hub is run by crop research organisation NIAB and is a base for small and medium sized enterprises and start-ups involved in both waste reduction and improving the value of waste products in the food and crop supply chain.
The upgraded facilities include new polytunnels, a glasshouse, heat pump, sustainable water-use facilities and a 33KW solar farm installed on the site. Those green technologies, alongside the business focussed on reducing waste, will support the National Farmers' Union's net zero carbon goal for agriculture by 2040.
Mr Adams heard how the hub, which opened in 2015, works closely with local farmers to ensure innovations are aligned with what agriculture wants and needs. The facility offers new start-ups not just lab and office space, but also access to fields and farm machinery to allow pilot testing and the better commercialisation of ideas. NIAB also offers advice and support to help the businesses scale and bring products to market.
Another benefit of the hub is the networking potential for businesses, where talented people from different businesses mix in the same space, creating a mutually beneficial environment for growth.
An example of a business growing with support of the Hub is Agrigrub. It uses waste fruit and vegetables that would otherwise end up in landfill as feed for black solider fly larvae. These larvae are used in pet and livestock feed and their waste products may have a role in crop nutrition and protection. Another, Cambond, is developing a carbon neutral bio-resin adhesive from waste from the brewing industry.
Austen Adams said: "Cambridgeshire and Peterborough has some of the best quality farmland and most advanced farming enterprises in the UK. Linked to that, we also have great pedigree in agri-tech, a growing sector which is pioneering what food and farming will look like in decades to come. Our region has always been open to farming innovation and the upgraded facilities on show at this fantastic centre will contribute to furthering to our region as a world leader in this area.
"The obvious observation from the visit was not just the jobs that have been created on the site but the potential for the technologies which are being developed to evolve and scale up, creating even more employment and business opportunity in the future.
"Some of the environmental benefits that can flow from work being done here in waste reduction is really quite breathtaking, so I applaud NIAB for all they are doing to support this flourishing sector."
NIAB's Dr Lydia Smith, who manages the Eastern AgriTech Innovation Hub said: "It's vital for our current, and future, licensees that investment was made in the site and we're incredibly grateful for the Cambridgeshire and Peterborough Combined Authority Business Board's support and funding.
"These emerging companies need a sustainable infrastructure to grow and create their products. We're confident the improvements in the Eastern AgriTech Innovation Hub will allow SMEs to grow and prosper in the waste valorisation sector.
"It was a pleasure to show Austen around the Hub, including how the new and improved facilities are already starting to benefit our licensees."