Published on November 2, 2022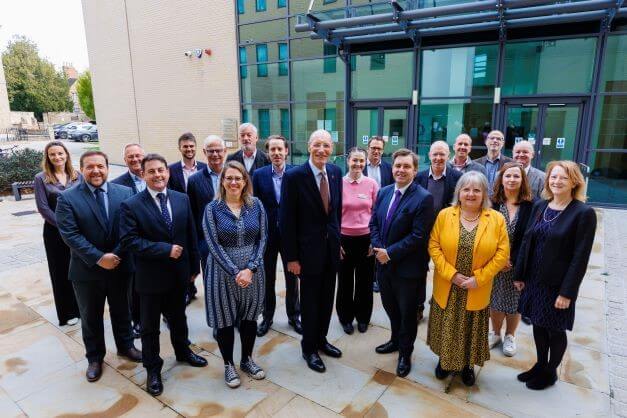 Cambridgeshire and Peterborough leaders inform national infrastructure advisers' fact-finding tour
Ensuring Cambridgeshire, Peterborough and the surrounding areas have the infrastructure in place to help connect people to well paid jobs and sustainably grow the local economy was on the agenda as the government's official advisers on infrastructure visited the region today (Wednesday, 2 November).
Improving rural connectivity through better public transport and broadband, enhancing flood mitigation measures and preparing for future weather extremes were all discussed during a series of meetings between the National Infrastructure Commission and Mayor of Cambridge and Peterborough Dr Nik Johnson, alongside local business leaders and officials from Cambridgeshire and Peterborough Combined Authority.
The Commissioners discussed how government policy, reforms to funding mechanisms and decision-making processes can better serve the needs of the East of England.
The Commission's visit was the fifth in a series of engagements with city regions across the country to gather evidence in the run-up to the next National Infrastructure Assessment – a major five-yearly report with costed recommendations to government on the UK's long term infrastructure priorities, to be published in 2023.
During the visit, Commission Chair Sir John Armitt held talks with regional infrastructure and utilities operators, and Commissioners visited Earith Sluice near Huntingdon to hear how Anglian Water and partner agencies manage the Ouse Washes to balance flood protection, biodiversity and water quality.
CBI East of England also hosted a roundtable event at the Milton Road offices of Cambridge Consultants, where Sir John discussed with local business leaders how transport and energy networks can evolve to create a greener economy and support more skilled jobs in the region and beyond.
Mayor of Cambridge and Peterborough, Dr Nik Johnson, said:
"The National Infrastructure Commission plays an influential role in government decision making and we were keen to help them understand the challenges and the opportunities facing our region. The visit was an opportunity to showcase our plans to nurture sustainable growth by improving access to education and employment through better transport and digital networks, as well as steps to protect our natural environment and prepare for the impacts of climate change.
"We will build on this visit with a regional collective long-term vision for major infrastructure that allows us to take advantage of our dynamic enterprise, entrepreneurism, world-class academia and research and sustain our economy as globally competitive and nationally significant.  At the same time making life better, healthier, and fairer for all by reducing inequalities the unacceptable gaps in income, skills, health, and life expectancy across the region with well-planned long-term infrastructure."
The Chair of the National Infrastructure Commission, Sir John Armitt, said:
"The East of England has always played a huge role in the prosperity of the UK, both as an agricultural heartland and a scientific powerhouse, and we want to help ensure that the infrastructure is in place to strengthen this position. As we face an array of challenges and opportunities in the second half of this century, our visit has given us invaluable insights to inform our future recommendations on government policy."
The next National Infrastructure Assessment will be published in the second half of 2023. The Commission has already announced that it will focus on three strategic themes: achieving the legally binding net zero emissions target, protecting the environment and enhancing climate resilience, and levelling up economic prosperity and quality of life the UK. Ministers are required to respond formally to the Commission's recommendations within a year.
The National Infrastructure Commission was established in 2015 to provide the UK government with impartial, expert advice on major long term infrastructure challenges. The Commission's Chair, Sir John Armitt, leads nine other Commissioners with a range of senior experience across infrastructure and economics.
At the Cambridgeshire & Peterborough Combined Authority, our mission is to make life better, healthier, and fairer for all by driving growth that is evenly spread and sustainable.  We want to close the gap in healthy life expectancy and salaries, increase access to employment and education, protect our environment and boost innovation. By investing in flourishing communities, we will unlock more sustainable growth across the region.