Published on October 13, 2021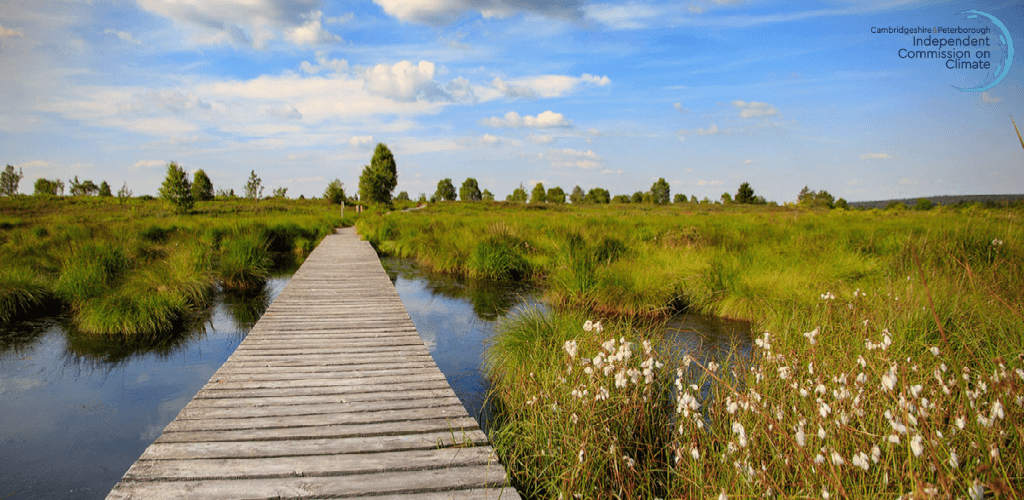 Cambridgeshire Fens Climate Panel: Citizens of the region inform new report on fairness and equity in green transition
Residents from across the Cambridgeshire Fens came together recently as a climate panel to discuss and to gain a better understanding of the specific climate challenges the district will face in the next ten years and beyond, and what residents would like to see from climate action locally.
The collaborative panel of 17 residents from across the area, representing a diverse set of communities and viewpoints, joined forces in a set of focus groups over the course of a weekend, to consider the question, 'How can responses to the nature and climate crises be fair for the people of the Cambridgeshire Fens?'
The Cambridgeshire Fens Climate Panel heard from experts who provided a local context for the climate and nature crises together with details of the implications for farming and transport, before coming together to develop a set of just and fair principles, which they felt must be followed to respond to the crises.
The panel wanted to see an end, wherever possible, to activities that damaged the environment under a 'do no harm' principle and called for bold ideas and leadership. The principles also establish the need to provide clear information about the current challenges and opportunities we're facing, making it easy for everyone to understand and allowing them to make informed affordable choices, based on practical help and support at an individual and a local community-based level.
Panel members expressed the need to value open and green space and the natural environment around them. They emphasised that everyone has their part to play, and this includes businesses and industries, not just in this region but on a wider, national, and international level and calls for them to come up with bigger picture solutions to help mitigate the impacts of the changing climate rather than tinkering around the edges.
These principles will be used to inform the Cambridgeshire & Peterborough Commission on Climate as they finalise their upcoming report which is due to be published on 18 October.
This new report will expand on the Commission's interim report published in March 2021, with additional areas including what a 'just transition' would look like for the region. The just transition chapter will discuss how climate mitigation and adaptation intersects with other issues facing the region such as inequality, jobs, and quality of life, and how we can make sure that the recommendations of the Commission for actions to address climate change also addresses justice and fairness.
Dr Nik Johnson, Mayor of Cambridgeshire and Peterborough said:
"Having been invited to speak to the Cambridgeshire Fens Climate Panel, I was enthused by their passion to tackle some of the specific challenges like the need to have access to affordable and high-quality public transport; and supporting sustainable agriculture whilst continuing vital food production, which is both important to the Fenland economy and our food security.
"I felt a real desire by the panel to make changes to reduce the impact that climate change is having on the Cambridgeshire Fens and right across the region.  And this came out in the principles which they have created. I look forward to receiving the principles as part of this seminal report which is due to be published later this month."
Rhiannon Osborne, Commissioner for the Cambridgeshire & Peterborough Commission on Climate said:
"It was an amazing experience to hear the concerns, ideas and expectations of Cambridgeshire Fens residents over the weekend. Participatory democracy initiatives are incredibly important in climate action and the fantastic outputs of this panel show just how valuable it is to meaningfully involve people in the design and implementation of climate policy."
Cambridgeshire Fens resident and Climate Panel member, Ben, said:
"Not only do I feel like I have learned a lot, I feel like the organisers of the panel took the time to listen to each and every one of us, valuing every point that we each made. It really was a pleasure to give up my weekend for something so vitally important for all of our futures."