Published on October 16, 2023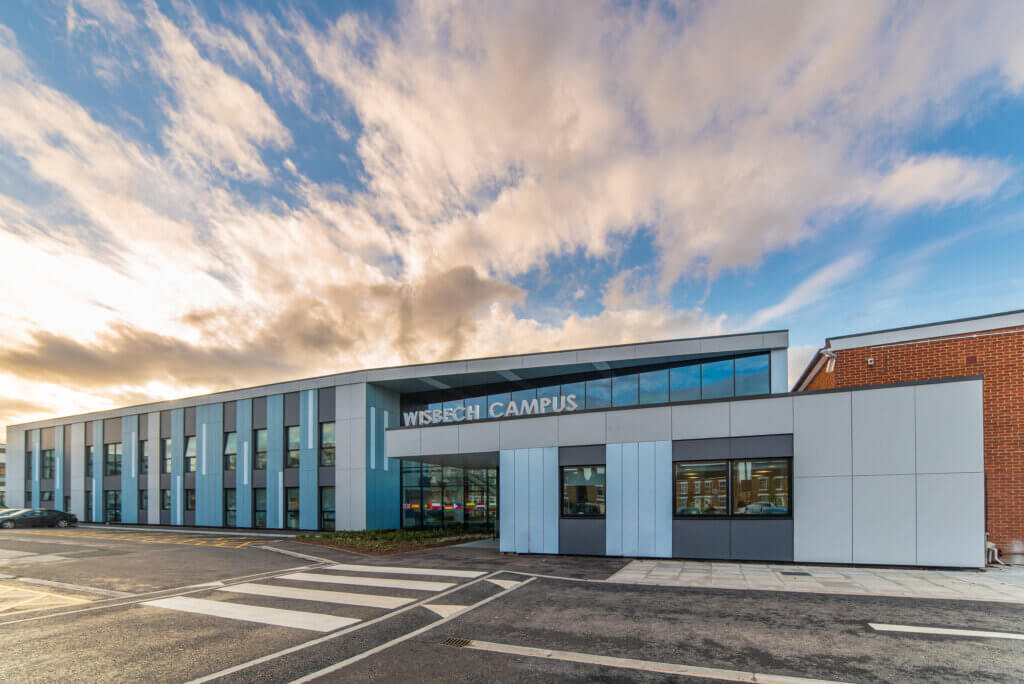 Carbon Net Zero Training Centre to deliver hundreds of green skills opportunities
A project to build a training centre in Fenland supporting a range of courses in the green skills demanded for a net zero carbon future continues to move forward.
The Carbon Net Zero Skills Centre has been given £2 million in funding by the Combined Authority to enable the College of West Anglia (CWA) to expand on their Wisbech campus in Ramnoth Road, offering more opportunities for local people to access high quality skills development.
The £4 million centre is planned to be sustainably built. Solar panels will charge batteries to power the centre and an air source heat pump will heat or cool the building. The centre is planned to have 10 per cent better insulation standards than those set out in building regulations to make it highly energy efficient, while rainwater harvesting will reduce water use. The technologies and monitoring equipment in the building will themselves be used to support learning.
Some of the space will be double height, allowing for retrofitting of energy efficiency and renewable energy installations on buildings, including solar panels on roofs. The space will also be used for training to fly drones which can be used for building surveying and thermal imagining in support of making them more energy efficient.
The building will be flexible, allowing for the training to change as technology and demand develop, and will also allow CWA to repurpose existing space to deliver courses linked to electric vehicles and electric vehicle charging.
Over 20 years, the centre is forecast to train around 900 students and create an additional 30 jobs supporting the centre and courses. Subject to planning permission, the aim is for it to open in September 2025.
As well as the £2 million grant from the Combined Authority's Recycled Local Growth Fund, further funding has been provided by the College of West Anglia (£200,000) and the Anglian Water @One Alliance (£2 million).
The funding supports the wider Combined Authority goals of improving skills across Cambridgeshire and Peterborough, including in sectors where demand is growing.
There is already a large need for technical green skills across a variety of industries to support the transition to net zero. For example, in Cambridgeshire and Peterborough, 350,000 homes will need to be converted to low carbon heating. The Combined Authority's industrial strategy, called the Economic Growth Strategy, and its Skills Strategy, both support investing in net zero skills. The Combined Authority is already funding training for electric vehicle maintenance and repair, and installing energy efficiency measures in homes, but more is needed.
Mayor of Cambridgeshire and Peterborough, Dr Nik Johnson, said: "I'm a big believer in the Fens' potential and see huge opportunity for investing in its future. A highly skilled eco-economy with carbon net zero the aim are essential parts of that future, and we're helping get there. Supporting this state-of-the-art training centre in Wisbech will open the door for more local people to secure the training and qualifications they need for a new and invaluable career and shows that tackling the climate emergency can also create sustainable growth and more prosperous communities."
Chair of the Business Board, Al Kingsley, said: "The Business Board is in full support of this project. Our Economic Growth Strategy recognises both the incredible opportunity for business growth and exciting careers in net zero, but also the urgency of investing in that better future right now. People in Wisbech and Fenland need more opportunities to gain the skills needed for great jobs. And industry needs a better pipeline of highly skilled people to support its transition to net zero carbon. Like the Business Board's investment in the North Cambridgeshire Training Centre in Chatteris, this puts opportunity in the heart of where it is needed most. College of West Anglia has shown fantastic determination and vision to get this far and I look forward to seeing this project continue."
David Pomfret, Principal of the College of West Anglia, said, "I am delighted we have now secured external funding to progress this important project. Skills are vital to the socio-economic prosperity of the area and this centre will enable us to meet local green skills needs whilst providing great career opportunities for local people. We are grateful to the Combined Authority for having the vision to fund this exciting facility and excited to build on our strategic partnership with the Anglian Water @One Alliance, through their transformational investment."
Jason Tucker, Director of Strategic Delivery and Commercial Assurance at Anglian Water, said, "Anglian Water, along with its strategic alliance partners, are delighted to continue in our long-term partnership with CWA, by co-investing in this Green Skills Academy. We recognise the importance of developing our workforce of the future and the positive impact that businesses can have in the community."