Published on October 23, 2023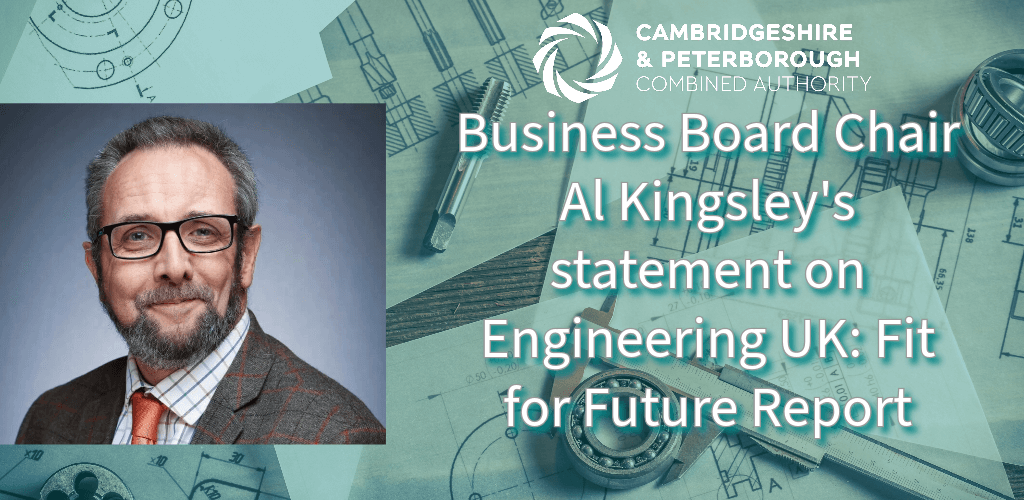 Al Kingsley's statement on the publication of Engineering UK report
"Some of the biggest challenges we face, from the energy transition to carbon net zero, greener transport and food security, will require a pipeline of talented engineers. As an East of England Apprenticeship Ambassador, I welcome the findings of this comprehensive study, led by Lord Knight and Lord Willetts, which shines a light on the vital role that apprenticeships play in addressing the UK's skills needs, particularly in engineering and technology. I also welcome the fact that many of the key points submitted to the inquiry by the Combined Authority have been recognised.
"The report rightly emphasises the importance of apprenticeships as not only effectively delivering essential skills for individuals but also giving businesses the technically able, motivated workforce they need to thrive. From a personal, business, perspective,  I have had an overwhelmingly positive experience with apprenticeships, NetSupport have been past regional winners of the National Apprenticeship Awards.
"One of the report's key findings, the decline in engineering apprenticeship starts in recent years, is a matter of concern. We echo the report's observations that there are many misconceptions about the engineering sector. These stereotypes and myths have deterred potential apprentices from considering careers in engineering. In our region, engineering, one of our local economy's strongest sectors, is attracting fewer young people despite significant opportunities
"The Cambridgeshire & Peterborough Combined Authority has a strategic goal to grow apprenticeships. Building a world class skills system, which our local industrial strategy mandates us to do, requires better pathways to the technical skills needed by our employers.
"The Combined Authority has taken action. One of its key projects, ARU Peterborough, the city's new university, offers degree-level apprenticeships. Grant funding has been provided for the new North Cambridgeshire Training Centre in Chatteris, supporting engineering and manufacturing-related apprenticeships. That is paired with support for innovative apprenticeship models like flexi and rotational apprenticeships, which encourage collaboration among businesses.
"The Cambridgeshire & Peterborough Combined Authority recognises the importance of increased awareness and careers education, starting from the primary level, to break down these barriers and stereotypes. Our region, known for its innovation clusters and technological advancements, offers significant opportunities for apprenticeships in engineering and technology. The Combined Authority's commitment to working closely with businesses to promote apprenticeships and encourage diversity and inclusion in these opportunities, including through the Careers Hub service, is important in changing how apprenticeships are perceived.
"The report identifies barriers such as funding disparities, lack of awareness, and application process challenges for young people and businesses, all of which must be addressed to make apprenticeships more accessible.
"The report aligns with the Combined Authority's strategic approach, emphasising the importance of engaging more employers, diversifying job boards, and promoting diversity champions. We believe a collaborative effort between government, educational institutions, and the business community is essential to increase the number and diversity of young people entering engineering and technology apprenticeships.
"I endorse the report's recommendations and insights. In alignment with those I would highlight the Combined Authority's potential role in further developing and promoting engineering apprenticeships. I would also welcome a national skills campaign to highlight the wide ranging opportunities on offer.  Apprenticeships create opportunity, and for our young people, can be a pathway to a career every bit as exciting, challenging and rewarding as any other. A technical education should have parity of prestige with an academic one.
"Ensuring that apprenticeships in engineering and technology play a central role in our economic growth and technological innovation journey has never been so important."