Published on June 30, 2021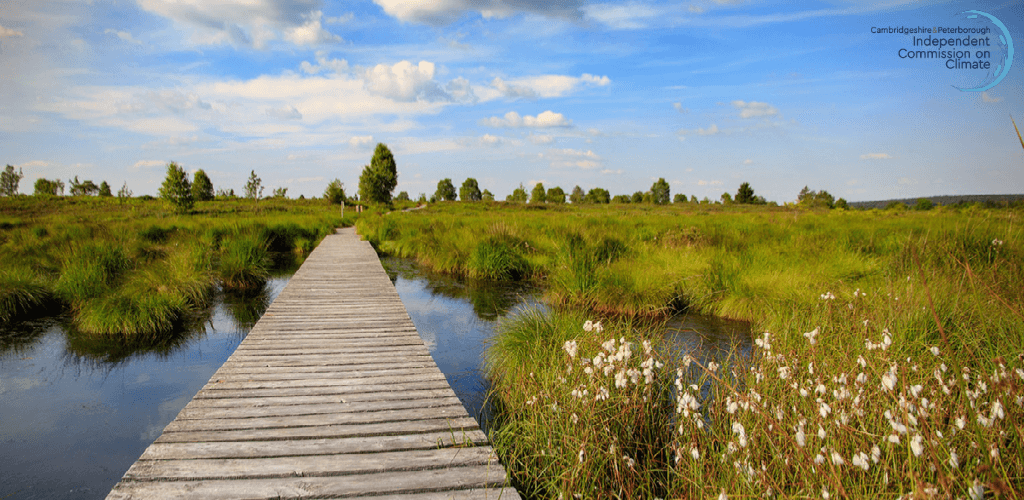 Combined Authority Backs Action on Climate
Following an interesting debate by the board of Cambridgeshire & Peterborough Combined Authority today (30 June), Dr Nik Johnson, Mayor of Cambridgeshire and Peterborough led a majority vote to act on 31 recommendations, covering transport, buildings, energy and peat, and also a number of overarching recommendations, to tackle the impact of Climate Change across the region, as identified in the seminal interim findings of the Cambridgeshire & Peterborough Independent Commission on Climate (CPICC) published in March 2021.
The CPICC, chaired by Baroness Brown of Cambridge, drew on the commissioned work of experts, public consultation and best practice to develop a green print of recommendations which highlighted that the regions allowed share of carbon emissions to 2050 could be exhausted within as little as six years if no action was taken.
The Combined Authority recognises the vital role it must play in helping the region meet the 2050 Net Zero target for carbon emissions and has voted today to make its own operations net zero by 2030.
Six of the CPICC's recommendations are aimed at Government and call on it to give local partners enhanced powers and funding to tackle climate change. The Combined Authority has committed to work with and press on Government the part they need to play in supporting the region in its challenge to hit the Government's target of 2050.
The remaining 25 recommendations accepted today, cover a range of measures from providing better and greener public transport, supporting homes to become more energy efficient and helping families out of fuel poverty, and investing in retraining and giving people the skills to help them find new opportunity of green jobs across the region.
Following this decision, the Board also approved £50,000 from the allocated climate change budget for development of the CPICC's final recommendations report, which is due in the Autumn and will focus on Business and innovation, adapting to climate change, nature and water, waste, and achieving this in a fair manner.
Dr Nik Johnson, Mayor of Cambridgeshire and Peterborough said:
"Committing to all the Commission's recommendations is an important step in our regions fight to tackle the impacts of climate change.
"I've been particularly concerned by the Commission's finding that carbon emissions across our region are 25% higher, per person, than the rest of the country and although there may have been some reservations from member councils, it's important for the Combined Authority to step forward and embrace the challenges laid down in the first set of recommendation from the Commission.
"I believe the right approach for the Combined Authority to set a clear target for reducing emissions and get on with delivering that in a fair and compassionate way. Equally, we must all be prepared for the impacts of a changing climate that are already with us, such as more risk of flooding. This is why we need to act on the Commission's recommendations now and agree the actions that the Combined Authority will take.
"Our house is on fire and sometimes, when you're confronted with an emergency and someone in your family won't jump from the window, you just have to grab them and take them with you and believe the safety net will be there for you.
"I'm determined to take a strong leadership approach on this.
"I will now work enthusiastically with the Combined Authority officers to get acting on this green print.
"This includes making the Combined Authority responsible for its own carbon footprint and hitting our Net Zero Carbon target by 2030 as well as tackling measures to reduce carbon across our transport, housing and embrace the huge opportunities this will have in the green economy.  I am particularly keen to see the support and access given to those seeking to retrain or a career in the green economy.
"Cambridgeshire is well placed to be at the cutting edge of green innovation and now we can get on with the job of supporting the whole region to make the changes needed to safeguard our planet and our future.
When launching the initial recommendations report in March 2021, Baroness Brown, Chair of the Independent Commission on Climate had said:
"Cambridgeshire and Peterborough are well placed to play a leading role in delivery of policy both to reduce emissions and develop resilience to our changing climate.
"Emissions in our area are higher than the national average. We also face high risks from the changing climate in relation to rising summer temperatures, water shortages and flooding.
"Urgent action is necessary, both to play our part in delivering the UK's ambition to achieve net zero emissions by 2050, and to prepare for the impacts of climate change. It is a big task.
"But we have the resources in our businesses, farming communities, academic and research institutes and most importantly our people, to rise to that challenge and become an exemplar for the rest of the country".