Published on January 25, 2023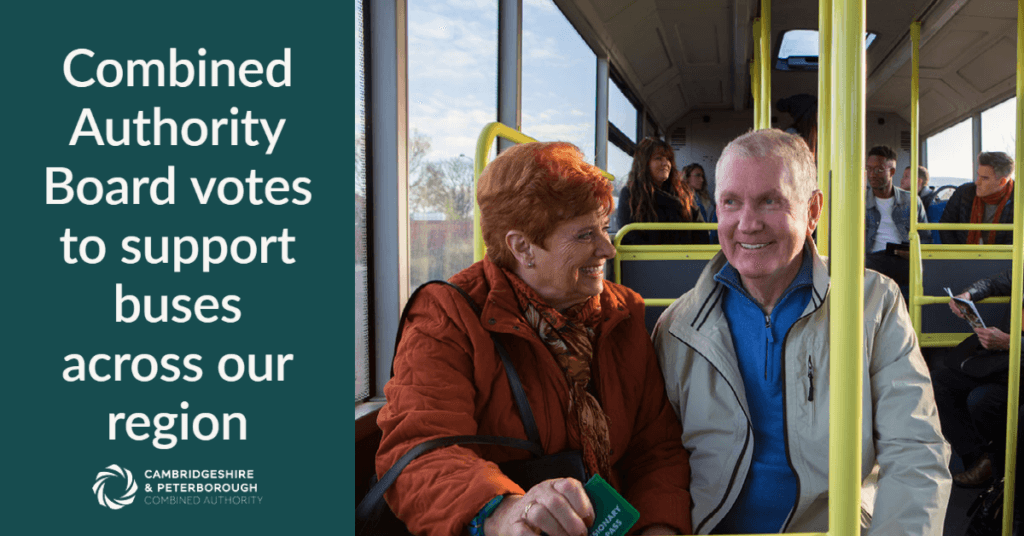 Combined Authority Board votes to support buses across our region
At the Combined Authority Board meeting on 25 January the Board approved the Mayor's draft budget for 2023/24 incorporating a Mayoral General Precept to support buses across our region.
The Mayoral General Precept, will be an annual charge of £12 for a band D property and, based on forecasts from collection authorities would raise £3.6m in 2023-24.
The precept is in response to the financial pressure facing the Combined Authority across its supported bus services. As was widely reported at the time, Stagecoach withdrew from 18 bus routes and reduced a further 5 citing that declining bus travel compounded by the pandemic made these routes financially unsustainable. Following an outcry from residents who were no longer able to get to work, school or doctors appointments, the Mayor, Combined Authority and local politicians reacted quickly and decisively to protect these services. A rapid re-tendering exercise resulted in all services being partially or fully continued, avoiding significant hardship on the residents who rely on them.
The cost of the services is considerably higher than they were previously, reflecting the substantial increase in fuel, energy, and driver costs that are facing the public transport industry at large. This pressure is expected to continue, and the forecast costs of sustaining the currently supported service are £7m in 2022-23, compared to an existing budget of only £3.5m.
More generally, the Combined Authority's central funding source is from 'Gainshare' funding secured from Government as part of the devolution deal. It is £20m per-year for 30 years and because this amount is fixed it buys less each year due to inflation. Currently inflation is in the double digits and so the effective amount the Combined Authority can provide is eroding faster than it has in the past.
Historical underfunding in our area also has a part to play in this. Sadly, Government spends only £16 per head on public transport in the East of England as opposed to £32 per head in Yorkshire and Humber or £36 per head in East Midlands.
Speaking of the precept, Deputy Mayor of Cambridgeshire & Peterborough, Cllr Anna Smith, said: "The decision to introduce a Mayoral precept has not been taken lightly and I would like to thank everyone at the Board meeting for their thoughtful contributions as part of such a considered debate. The decisions made are testament to the Board's commitment to the mayor's vision to improve public transport for all those in our region and not just in our cities and towns but in our rural areas too. Dr Nik Johnson has always been very clear that the future for our region has to be better public transport, not more cars and congestion. Buses are integral to a cleaner, healthier and lower carbon future for our region, and so our work to make services better is vital.
The responses to the Medium Term Financial Plan survey were carefully considered as part of the debate. We know that this is an incredibly difficult time for everyone, and that during a cost of living crisis adding a precept of even £12 for a band D property will be hard to hear. However, we also know that buses have a great impact on the region as a whole and even those who do not use their services reap their benefits. For every £1 invested in local bus priority measures, up to £7 of net economic benefit is delivered.
Additionally, it is estimated that it takes just three buses to replace as many as 200 cars on the road. If we needed to reduce services due to a lack of funding, removing buses will increase congestion, which in turn will affect the physical and mental wellbeing of residents across the Combined Authority region.
The Combined Authority will continue to fight for fairer transport funding. We will continue to work hard, lobbying the government for further funding by continuing to make them aware of the current situation and the impact that is being felt by those in our community who rely on them to live their lives. We will also be looking at how to design the best network for the future and how to use the limited funding for bus subsidies for the best use.
Today shows that as a Combined Authority we are able to make the decisions we need to serve all our region. The Board has demonstrated the capacity and capability to deliver for our residents that everyone expects of an authority like ours."