Published on January 27, 2023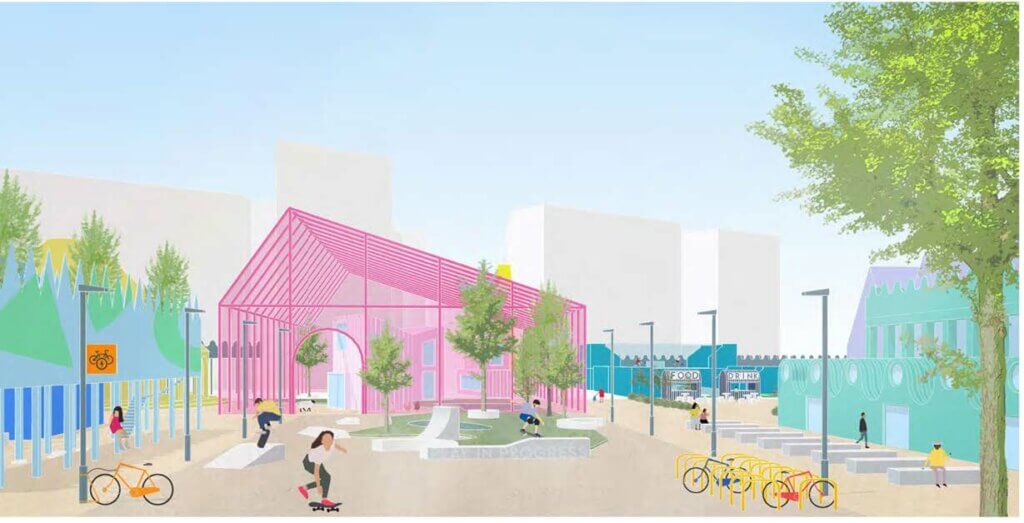 Combined Authority pledges £1.1m to help sustainable meanwhile project in new North East Cambridge district move a step closer to delivery
At the Cambridgeshire and Peterborough Combined Authority Board Meeting in January,
£1.1 million in Combined Authority funding was approved towards plans to develop a 'meanwhile' project focusing on tackling the climate emergency, food sustainability and green business initiatives within North East Cambridge.
The initiative would be a collaboration between U+I and TOWN, the appointed master developers of the site, and Cambridge City Council and Anglian Water as landowners, with the Combined Authority funding enabling the project.
Subject to planning, the proposed meanwhile project will be located on Cowley Road, on land that will be integrated into the Core Site development at North East Cambridge. The Core Site is the last undeveloped large-scale brownfield regeneration opportunity in Greater Cambridge, measuring 49 hectares and set to deliver 5,600 homes over the next 15-20 years. The site is ideally positioned, seven minutes' walk from Cambridge North station, very close to the guided busway, and is within easy reach of several residential communities including Orchard Park, Chesterton, Milton and Histon.
The meanwhile project sets out the ambition to deliver a campus of diverse and innovative initiatives, unified by a shared commitment to social and environmental purposes, around themes of developing sustainable food systems, tackling climate change and reducing inequality.
Cllr Bridget Smith, Leader of South Cambridgeshire District Council and Lead Member for the Environment for the Cambridgeshire and Peterborough Combined Authority, said: "Providing 'Meanwhile space' for new communities while they are still being developed is an innovative and exciting way to provide vital community facilities and job opportunities. Even better is to ensure that the energy efficiency and environmental benefits are central to the offer as is the case here."
Cllr Mike Davey, Cambridge City Council's Executive Councillor for Finance, Resources and Transformation said: "We are really pleased that the Combined Authority has approved this funding to support the exciting and innovative Meanwhile Project. The project will support activation of the site and help drive community engagement in the wider North East Cambridge area, but in addition could play a vital role in the coming years to help Cambridge tackle some of the greatest challenges facing us, like addressing climate change, lowering carbon emissions and reducing inequality."
The approval of funding from the Combined Authority is a crucial step in the journey to delivery and the project team will be working hard in the coming months towards kick starting a planning application to fulfil the ambitions that have been set out.