Published on February 3, 2023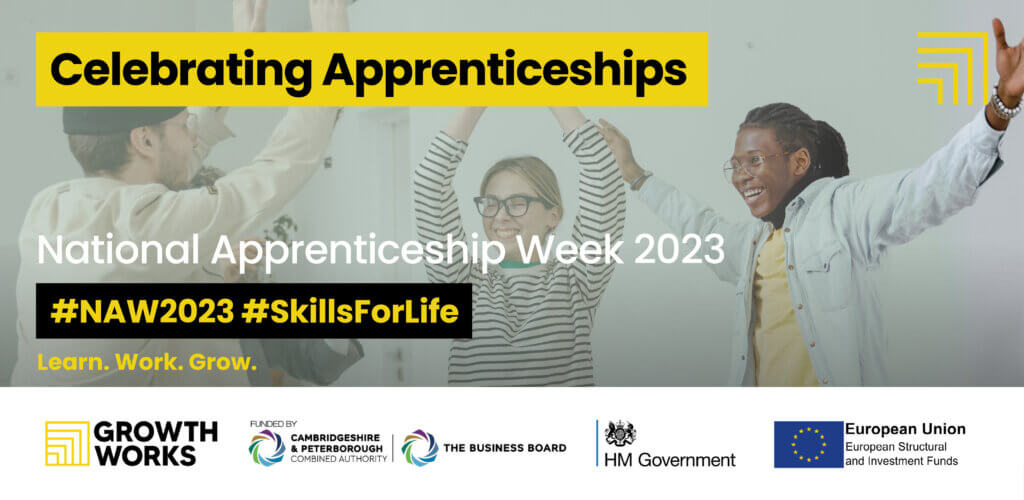 Celebrating National Apprenticeship Week across Cambridgeshire and Peterborough
National Apprenticeship Week 2023 is taking place from the 6th – 12th February and is an opportunity to celebrate and shine a light on the positive impact that apprenticeships make to individuals, businesses, the community and the wider economy.
This year's theme is 'Skills for Life' – reflecting on how apprenticeships can help individuals to develop the skills and knowledge required for a rewarding career, and businesses to develop a talented workforce that is equipped with future-ready skills.
During National Apprenticeship Week, Cambridgeshire and Peterborough Combined Authority will be bringing together all the latest news, advice, events and information for business and individuals across all districts.
The Combined Authority will celebrate the many ways in which apprenticeships can benefit and support our region.
Apprenticeships in Cambridgeshire and Peterborough
The Combined Authority wants to reduce inequalities and boost inclusivity in the region, with a focus on supporting and empowering people to find the skills they need to secure a great job or accelerate their career.
Apprenticeships are a key part of bringing this vision to life. Our region is home to approximately 4,500 apprenticeships annually with many individuals and businesses reaping the benefits that modern apprenticeships offer.
Working with Growth Works with Skills – an innovative demand led skills service – the Combined Authority wants to go further in 2023. The aim is to create increasing numbers of apprentices, funded and supported by the best training and a mutually beneficial working relationship with employers to raise productivity in our region.
Growth Works with Skills was established by the Combined Authority and Business Board in 2020, as part of the wider Growth Works economic growth service.
Ready to get involved?
The Combined Authority is helping employers to understand how best they can take on an apprentice. There is a wide range of advice and financial support available.
Through offering an apprenticeship, employers can ensure that the skills developed are matched to current and future needs. It will also help to raise skills levels in the area and ensure local employers have a robust pipeline of talent to guarantee a sustainable future.
Martin Lawrence, commercial director at Metalcraft, who began his own career as an apprentice at the Chatteris-based manufacturer, said: "Having run an apprenticeship scheme for over 100 years, training our own people is part of Metalcraft's DNA.
"Since reinvigorating our apprenticeship programme in 2008, we have trained over 50 apprentices who have gone on to develop successful careers with our business; winning awards, going on to higher-level studies and taking on leadership and management roles.
"Our investment in the apprenticeship programme is paying dividends for our business, helping us win and deliver on key contracts, retain skilled workers in the area and stave off what was an impending skills crisis by reducing the average age of our workforce by over a decade."
Deputy Mayor of Cambridgeshire and Peterborough and chair of the Combined Authority Skills Committee, Cllr Lucy Nethsingha, said: "Apprenticeships are a fantastic way to start a great career and we want to raise greater awareness of their potential to transform lives. With apprentices now being able to study up to degree level, the sky really is the limit in terms of how they can both meet learners' aspirations and support employers to get the skills they need.
"The Combined Authority is supporting the creation of more apprenticeships everywhere in the region, and a big part of that is making people and employers aware of the great benefits and opportunities they bring."
Alex Plant, Chair of the Cambridgeshire and Peterborough Business Board, said:
"Securing a pipeline of talent in a competitive labour market is vital for employers across a range of sectors. Although it is a tough time economically, we want to make sure employers are aware of the benefits and resources available to those considering taking on apprentices. That's why the Growth Works With Skills service is on hand to help, and during this awareness week, I would encourage anyone thinking of setting up or taking an apprenticeship to look at the resources on our dedicated National Apprenticeship Week webpage."
This National Apprenticeship Week 2023, 6th – 12th February, we will be bringing together all the latest events, advice and information for the businesses and residents of Cambridgeshire & Peterborough.
Wherever you are on your apprenticeship journey we have resources available to support you. The team at Growth Works with Skills is on hand to answer your questions and guide you through the process, from accessing levy funding to hiring an apprentice.
You can head over to the NAW hub to find events and resources open to employers & individuals between 6th – 12th February. It will be on the Growth Works With Skills website during the week.